How to Be an Efficient Stay-at-Home Mom With Time for Self-Care!

We give you seven pieces of advice from stay-at-home moms who has experienced it all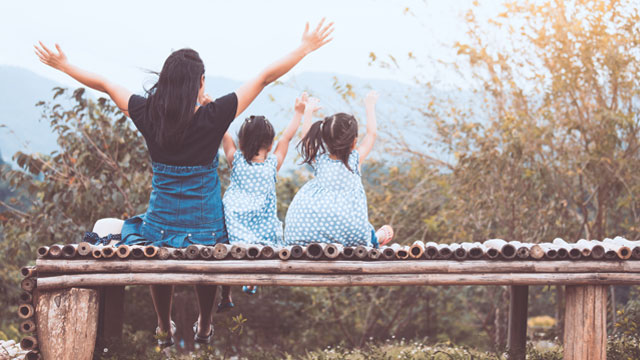 Stay-at-home moms see red each time anyone tells them they're fortunate to get "to stay home all day" like they are just sitting on the sofa watching TV. And the question of what they do all day should never pass anyone's lips because there is a LOT to do. In fact, one of the problems SAHMs have about running a household with young kids who want them at their beck and call is how to be more efficient and organized.

The good news is a lot of SAHMs out there have fantastic tips and advice, thanks to experience (and a lot of trial-and-error moments). Here's how you can be your best version of a stay-at-home parent: 

1. Pick five tasks you have to do every morning. 
No one likes feeling like they've wasted a whole day doing nothing. So Shannon Clark, the stay-at-home blogger mom of Affording Motherhood, suggests prioritizing. "I simply picked the things that, if they were the only things that got done that day, it would still be a good day," says Shannon. It can include anything you think should be done every day (or most days of the week) such as tidying up the bedrooms, sweeping the whole house, working out, praying or meditating, and others.  

What other parents are reading

2. Create a routine with at least allotted time for each task. 
School and work already have set structures. Students are given class schedules and told how long they could have recess and lunch. Offices have strict time-ins and deadlines for projects. You need that structure in your life too, mom, and no one is going to hand it to you — create it yourself. 

Mom Lauren Tamm who runs the blog The Military Wife and Mom says a written-down schedule keeps her sane and gives her focus to get things done. "I can rely on specific times of the day to get things done, and that makes me feel more organized and less crazy," she says. "I'm a lot more motivated to finish something on my to-do list when I only have a set amount of time." 

3. Be realistic — don't overstuff your to-do list. 
"The #1 problem when creating a routine is people try to overstuff it. This means you don't carry it out and think routines don't work. They do work — they just need some breathing room," said mom-of-four Rachel Norman who runs the blog A Mother Far From Home.

So, set realistic expectations. If doing all the laundry and scrubbing the bathroom in one afternoon seems like too much work, that's because it probably is.  

ADVERTISEMENT - CONTINUE READING BELOW

What other parents are reading

4. Expect the children to do their part around the house. 
Think of it this way: if you teach your child to put back his toys every time after he plays with them, you won't ever have to worry about a messy playroom. If your kiddo knows from the start not to leave his shoes around the house but to place them in the shoe rack, then you'll never have rogue shoes scattered on the floor. 

Teach your child that it's also his job to wash his hands and get his tableware during mealtimes, dress himself in the morning, water the plants and feed the fish, and more. Find a list of age-appropriate chores for kids 2 to 7 years old here. 

5. Stick to your schedule but allow room for flexibility
Life is messy, and living with children is even messier. That's why you need a schedule that comes hand-in-hand with the ability to adapt. "Leave some room for flexibility in there and don't get down on yourself if some nights dinner just doesn't get done," says mom-of-five Amber Mamian for Rookie Moms. "If things go off course, don't abandon ship, just adjust and keep moving forward. You got this." 

What other parents are reading

6. Make sleep a priority
Enough sleep is vital for the kids — and their parents. All moms know what lack of sleep can do to you the next day. "No matter how great your routine is, if you're missing vital hours of sleep you will struggle. You'll probably even go from being a calm mom to being an angry mom. It's hard to avoid when you're experiencing sleep deprivation because severe exhaustion is akin to torture," says Rachel. Take a power nap (around 20 minutes in the afternoon) if you need it.  

7. Self-care should be a part of the daily routine
Always remember: self-care isn't an indulgence — it's a necessity. "Moms need to take time to build up themselves, so they have something to give back to their kids," says Laura "Even if it's only for 30 minutes in the morning while your kids play alone. Thirty minutes of self-care recharges your patience. I'm a way better mom when I take a moment to breathe!" 

Mom Shannon says making herself a freshly brewed cup of coffee is her daily self-care ritual. For mom Amber, it's waking up before everyone else to find a bit of me-time. "Read a couple of pages of a book, do a mini yoga session, write in your journal," she says. "I promise you that even 5 minutes of awake alone time will set your day on the right path."

ADVERTISEMENT - CONTINUE READING BELOW

Recommended Videos

What other parents are reading

Celebrate your pregnancy milestones!


Enter your details below and receive weekly email guides on your baby's weight and height in cute illustration of Filipino fruits. PLUS get helpful tips from experts, freebies and more!

You're almost there! Check your inbox.


We sent a verification email. Can't find it? Check your spam, junk, and promotions folder.

Trending in Summit Network