Dear Exhausted, Overthinking Mom: How to Learn to Say No and Simplify Your Life

You'll be able to relate to this mom's 'hugot' on motherhood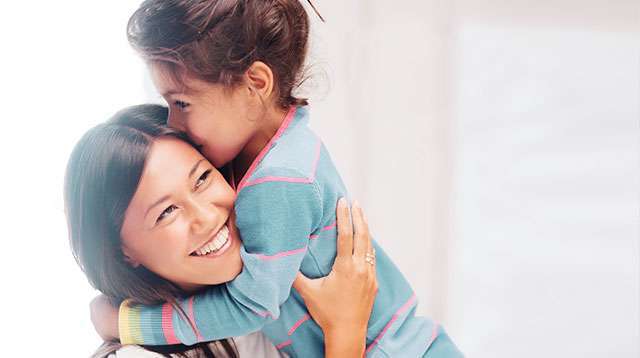 There's no doubt that motherhood is a life-changing experience. But when you're dealing with it for the first time, it can feel as if you're on an emotional rollercoaster. One minute you feel like Wonder Woman — "I can do anything!" — then the next thing you know you're left second-guessing yourself, wondering if you're really cut out to be a mother.

Guess what? You're not alone. A lot of moms feel the same way, and one woman named Hayley Hengst was not afraid to give voice to her feelings. She penned an essay about young motherhood and the guilt that settles in upon realizing that moms are not superwomen. The article, which was originally posted in 2016 on Austin Moms Blog, has recently been making the rounds on Facebook and resonating with a lot of Pinay moms.

In her essay, Hengst addresses the young moms in their early to mid-30s, who have "maybe two to four kids that range in age from newborns to 8-year-olds." She says that being a mom at this stage feels like the hardest. "In this stage of life, you are dealing with exhaustion. Mental, physical, and emotional," she writes.

What other parents are reading

This period is when moms struggle to deal with things like teething, ear infections, and stomach viruses. They have to schedule everything — naps, feedings, and even outdoor activities. "A million balls you are juggling and you probably feel like you are dropping most of them," she says.



When you feel like giving up because you're dealing with this part of your life, Hengst has five pieces of advice to help you get through it:

1. Stop feeling mom guilt.
Hengst pens a lot of things that moms feel guilty about, and more often than not, it's self-inflicted. You're guilty about pursuing a career and not having to spend enough time with the kids. But on the opposite side of the spectrum, you're also guilty for focusing on the kids but not being able to contribute financially. You feel guilty for being too harsh or being too lenient. No matter what, you always feel like you're at fault.

It's a cycle that needs to stop. A little indulgence does not make you a bad mother. "You need to not feel bad about using your kids' nap time every now and again to just do whatever the heck you want," Hengst writes. "You need to be okay [with] leaving your kids overnight and going away somewhere. Anywhere."

Hengst emphasizes self-care, and to start with the simple things. "You need to do something you enjoy, every day, even if it's for no more than 15 minutes. You need a coffee you love, a wine you love, and a bubble bath that you love," she writes.

2. Stop overthinking.
As a young mom, you're pressured into making decisions, and what makes it more difficult is that not every one of them come with clear-cut answers. "Do I vaccinate my kids? Do I send them to public school? Homeschool? Do I continue to breastfeed?"

ADVERTISEMENT - CONTINUE READING BELOW

What other parents are reading

You don't know the answers to everything, but the people around you make you feel as if you hold the sole responsibility for figuring things out. "You are on a constant quest for balance and can never find it," Hengst writes. "Someone is constantly wanting to be held, holding on to you, hanging on to you, touching you. You are overloaded with to-dos. There is so much to do. It never ends. You are overloaded with worry. You are overloaded with thoughts."

When things get this hectic, you need to remember to breathe, moms. It's okay to step back and re-assess.

"You need to lower your expectations…then probably lower them again," Hengst advises. "You need to simplify. Simplify every single part of your life, as much as it can be simplified." Most of all, you need to learn how to say 'no' and to practice contentment, she says.

3. Don't think you're supposed to do everything on your own. Ask for help.
For some reason, becoming a mom feels like you need to be a superhero — manage the kids, the household, your relationship with the husband. People expect that you can do it all, that you're supposed to do it all.

Wrong. Hengst reminds you that if you want to survive this stage of your life, you need to overcome your fear of asking for help and accept help when it's being offered to you. "You need girlfriends. You need your mom. You need older friends who have been there and done that. Who can reassure you that you aren't screwing it all up as badly as you think you are," she says.

4. Don't neglect your husband.
The reality is, some couples don't survive this stage because every day is a struggle. While it's another thing on your plate, you have to remember to put in the effort to make your relationship work.

CONTINUE READING BELOW

Recommended Videos

What other parents are reading

"You need to not neglect your marriage," Hengst reminds in her essay. "You need to put your kids down [to] bed early. Sit outside [on] the back porch with your husband, drink a glass of wine, and have a conversation."

5. Remember that this stage may be hard, but it's also beautiful.
It might be tough to look past the challenges at first, but Hengst points out that no matter how trying this period of life may be, there lies a beauty in it.

"It's the stage where your kids love you more than they are EVER going to love you again, for the rest of your life. It's the stage where they can fit their entire selves into your lap to snuggle…and they want to. It's the stage where their biggest problems ARE ear infections and teething and stomach viruses, and you're not having to deal yet with things like broken hearts or addiction or bullying.

It's the stage where you are learning to love your spouse in an entirely different…harder…..better…way. The stage where you are learning together, being stretched together, shedding your selfishness together, and TRULY being made into 'one.'

It's the stage where you get to watch your parents be grandparents…and they're really good at it. It's the stage of life filled with field trips, class parties, costumes, swim lessons, bubble baths, dance parties, loose teeth, and first steps. And those things are so fun.

It's the stage where you are young enough to have fun, and old enough to have obtained at least SOME wisdom. It's SUCH a great stage."

You know that she's right, moms. This is a once-in-a-lifetime moment — revel in it. We're cheering you on!

ADVERTISEMENT - CONTINUE READING BELOW

What other parents are reading

Celebrate your pregnancy milestones!


Enter your details below and receive weekly email guides on your baby's weight and height in cute illustration of Filipino fruits. PLUS get helpful tips from experts, freebies and more!

You're almost there! Check your inbox.


We sent a verification email. Can't find it? Check your spam, junk, and promotions folder.
Trending in Summit Network