How to Get a Solo Parent ID and the Benefits That Come With It

Who qualifies as a solo parent and what does he or she need to claim his benefits?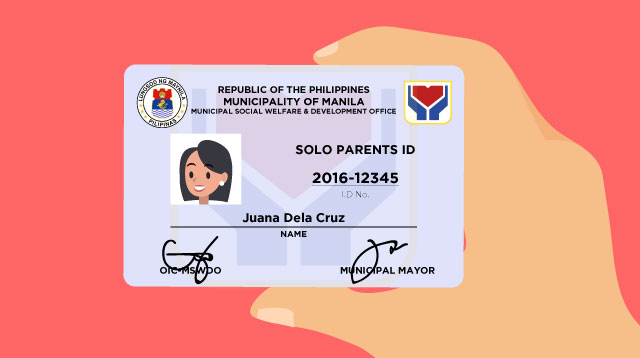 Kung gusto mong basahin ang nakasulat dito sa Tagalog, mag-click lamang dito.

There are 14 million solo parents in the Philippines, according to the 2007 data from the National Institutes of Health. Rappler reports the number is estimated to grow to 20 million this year. By law, each of these parents is entitled to benefits as stated under Republic Act No. 8972 or the Solo Parents' Welfare Act of 2000. Earlier this year, the Department of Social Welfare and Development (DSWD) had called for an amendment of RA 8972 to include additional benefits such as discounts on purchases of basic necessities, medicine, school supplies and more. (You can read more about it here.)

To claim the benefits and privileges, however, a solo parent must have his or her "Solo Parent ID." But, first, who qualifies as a solo parent? It's any individual who has the sole responsibility of caring for a child, whether you and your partner are separated (recognized by the court or not), your spouse has passed on, or any other circumstance that has left you and the child on your own. It also includes those who are caring for nephews, nieces, and godchildren, said Atty. Lorna Patajo-Kapunan in a column for BusinessMirror.

What other parents are reading

Who qualifies as a solo parent?

Specifically, RA. 8972 states that a solo parent is:

1. Parent left solo or alone with the responsibility of parenthood due to the following circumstances:

Due to death of spouse
Spouse is detained or is serving sentence for a criminal conviction for at least one (1) year
Physical and/or mental incapacity of spouse as certified by a public medical practitioner
Legal separation or de facto separation from spouse for at least one (1) year, as long as he/she is entrusted with the custody of the children
Declaration of nullity or annulment of marriage as decreed by a court or by a church as long as he/she is entrusted with the custody of the children

2. Unmarried mother/father who has preferred to keep and rear her/his child/children

3. A woman who gives birth as a result of rape and other crimes against chastity even without a final conviction of the offender, provided that mother keeps and raises the child

ADVERTISEMENT - CONTINUE READING BELOW

4. Any other person who solely provides parental care and support to a child or children

5. Any family member who assumes the responsibility of head of family as a result of the death, abandonment, disappearance or prolonged absence of the parents or solo parent

Note: Parents with OFW spouses are not considered solo parents unless the other parent who is abroad has not been in contact with the family for at least a year.

What other parents are reading

How to get a Solo Parent ID

Step 1: Prepare the required documents.

Barangay Certificate
Head to your barangay office to get this certificate that says you have resided in your barangay for the last six months. You may need to bring a valid government ID as proof of your address and cash for the processing fee.


Proof of financial status
This is your Income Tax Return (ITR). For working solo parents, your company should be able to provide you with your latest ITR. Otherwise (for stay-at-home and work-from-home parents), the DSWD worker will be able to identify what document you can file in place of an ITR. (Read more about a quick guide on financial support for solo parents.)


Proof of your solo parent status
This differs depending on your situation. If you're a widow, for example, this can be your spouse's death certificate. This can also be a declaration of nullity of marriage or a medical certificate for parents with a spouse who is incapacitated.

If you are separated de facto from your spouse, meaning your separation was not recognized by the court, you may submit a certificate issued by your Barangay Captain indicating your circumstances as a solo parent, according to the Philippine Statistics Authority (PSA).


Birth certificate/s of your child/children


Filled up Solo Parent ID application for
To be provided upon presentation and submission of requirements

Note: Parents with OFW spouses are not considered solo parents unless the other parent who is abroad has not been in contact with the family for at least a year.

Step 2: Submit your documents

Head to your city or province's city/municipal social welfare and development office (check with City Hall). Your documents will be assessed and evaluated here by a social worker. It can take up to 30 days before your ID is issued.

Note: a Solo Parent ID is valid for one year and is renewable.

What other parents are reading

Benefits of having a Solo Parent ID

Present your ID to avail of these benefits.

Flexible work schedule

The benefit of a flexible work schedule can mean that you may ask your employer for an earlier or later time-in and time-out to suit your needs as a solo parent. This is considering that it will not affect core work hours (as defined by the employer) and individual and company productivity.

ADVERTISEMENT - CONTINUE READING BELOW

Parental leave (7 days)

As a solo parent, you are entitled to an additional seven days of solo parent leave from work every year. This is provided that you have worked for your employer for at least a year and you have given at least a week's notice prior. The leaves are non-cumulative and not convertible to cash. More FAQs on solo parent leave answered here.

Protection against work discrimination

"No employer shall discriminate against any solo parent employee with respect to terms and conditions of employment on account of his/her status," as stated in RA 8972.

If applicable, additional support and assistance

If the parent falls below the poverty threshold (as set by the National Economic and Development Authority) and is deemed eligible by a DSWD worker, the parent can avail of educational, housing, and medical benefits and assistance from the following agencies: Department of Health (DOH), Commission on Higher Education (CHED), Technical Education and Skills Development Authority (TESDA), and the National Housing Authority (NHA).

ADVERTISEMENT - CONTINUE READING BELOW

Be aware of all the benefits and privileges a solo parent is entitled to by law by reading the full Solo Parents' Welfare Act of 2000 here.

Photo is used with permission from Mommy Donna who is a solo mom and runs the blog Homeschoolerkib.blogspot.com.

Trending in Summit Network