Kabado At Excited: Judy Ann And Son Lucho Have Mixed Feelings About Face To Face Classes

'My stomach is in knots and my heart is beating so fast,' says Lucho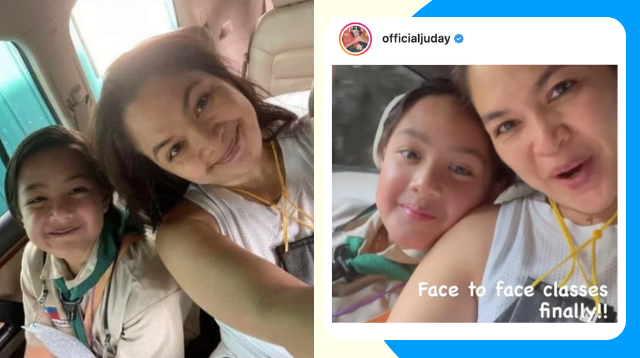 Judy Ann Santos couldn't contain her excitement for face-to-face classes. Just recently she shared on her Instagram stories how ecstatic she was that her son Lucho was going back to in-person classes.

"Face to face classes finally!" she captions a selfie with her son.

PHOTO BY

INSTAGRAM/OFFICIALJUDAY

On April 4, the mom and actress posted, "Sa sobrang excited… we're 45 minutes early. At least walang nerbyos ma-late."

Lucho, wearing a Boy Scout of the Philippines uniform, said, "My stomach is in knots and my heart is beating so fast because I haven't been to the school in two years.

PHOTO BY

INSTAGRAM/OFFICIALJUDAY

ADVERTISEMENT - CONTINUE READING BELOW

"But now I'm going to school and learning there." Judy Ann captions her story saying, "Oh my love… I feel you. You'll do great."

Face-to-face is now allowed in some schools

The mom of three's mixed feelings over her son's return to in-person learning is relatable. After two years of distance learning and online schooling, families are now adjusting once again to schools opening up.

Even if many students and parents have been praying for face-to-face classes to resume, the anxiety and the nervousness for both child and parent is understandable. 

In January 2022, President Rodrigo Duterte approved more schools to start face-to-face classes under alert level one and two. DepEd allowed over 10,000 schools to resume in-person learning.

The requirements include written consent from parents and only fully vaccinated teachers may hold classes.

5 ways parents can ease kids' anxiety over face-to-face classes

It's no surprise kids and parents alike have mixed feelings after over two years of online learning, working from home, and constant togetherness. There's lots of excitement, and there's also a lot of anxiety.

Below are tips on how parents can help their young kids overcome back-to-school anxiety.

1. Validate their feelings. 

If your child expresses they are nervous, scared, or worried, tell them it's okay and it's normal. Dismissing their feelings, especially by comparing it to in-person classes pre-pandemic, tells them their feelings don't matter. 

"Wag ka nang kabahan, tulad lang siya ng school bago mag-pandemic," sounds logical to adults but it is dismissive of the child's feelings. 

ADVERTISEMENT - CONTINUE READING BELOW

Recommended Videos

Remember that what they feel is normal. It's similar to an adult's anxiety over "return to office" programs at work, even if it's the same workplace and team you were reporting to before the lockdowns.

It's quite logical not to be nervous because it's not a new experience entirely, but you're still anxious even if you know what makes more sense, right?

Acknowledge your child's feelings but don't dwell on it too much. You can say "I know, I'll miss you too. And I'm so proud of you for going to school today." 

2. Practice separating.

Child Mind Institute (CMI) advises building your child's tolerance, parents know what their child can take. You can try Mommy and Daddy stepping out of the home while another trusted adult watches the kids.

If their tolerance is lower and your child is younger, try being in a different room from the child while he plays. 

If you know your child is still growing accustomed to being separated from you and you still have time before the full rollout of the school's face-to-face classes, you can already start practicing. 

The 'Back-to-School Anxiety During COVID' article by Caroline Miller on Child Mind Institute also suggests the use of a transitional object which "can be really helpful for younger kids to feel connected at home." 

It's something they can hold on to that fits in their pocket. "A piece of home, a piece of their caregiver that can help them feel better," says Dr. Jennifer Louie, PhD, a clinical psychologist, in the article. An example can be a button or a small toy.

ADVERTISEMENT - CONTINUE READING BELOW

3. Create a new routine. 

Routines help children manage their anxiety because they know what to expect. The predictability helps especially young kids feel secure. 

Centers for Disease Control and Prevention (CDC) encourages parents to ensure kids have proper and healthy meals and regular naps and bedtimes schedules. "Having a rested body and knowing what to expect at home helps children cope," says the site. 

Another predictabile routine you can establish can revolve around drop offs or school bus pick ups. It can be a goodbye or sendoff "ceremony" that signals to your child it's time to go to school. 

An example would be "I get a hug and a kiss from my parent before I'm picked up by the school bus." 

4. Set the tone. 

Parents are surely feeling just as, if not more anxious than the students themselves. But CMI advises not to let your anxiety take the lead. 

"If you lead with your own anxiety, you're only going to fuel anxiety," says Dr. Rachel Busman, PsyD, child psychologist. 

Remember to act calm, even when you're feeling otherwise. And if there are questions your kids ask which you don't have the answer to, it's okay.

You can say "That's a good question, I'm not sure but I'm going to find out what the answer is." And then find the answer for both you and your child. 

5. Help kids think positively. 

Some kids who are so excited to return to in-person learning might not need the extra help. But kids who have mixed feelings about it will benefit from being led.

ADVERTISEMENT - CONTINUE READING BELOW

If they used to physically attend school, you can ask them What are they looking forward to? What did they enjoy the day before? This helps them to see the positive things.

Remember that this adjustment period will take time. Be patient with yourself and with your kids. Remind your family that you're all going through an adjustment period.

Celebrate your pregnancy milestones!


Enter your details below and receive weekly email guides on your baby's weight and height in cute illustration of Filipino fruits. PLUS get helpful tips from experts, freebies and more!

You're almost there! Check your inbox.


We sent a verification email. Can't find it? Check your spam, junk, and promotions folder.

Trending in Summit Network