Want Your Kids To Help in Household Chores? Apply This Method At Home

This method might be the answer you've been looking for to raise kids who actually enjoy helping out around the house.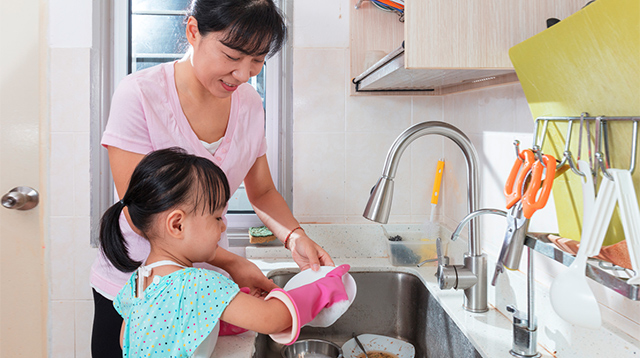 Let's face it—keeping house is one of the most stressful and overwhelming parts of being a parent, especially if you don't have the help of a kasambahay. Caring for a growing child (or children) in itself is already a 24/7 job—what more when you add a mountain of household chores on top of that?

Keeping a home spotless becomes even more difficult when you have kids, because it seems that all children really enjoy doing is making a mess and then running off somewhere to make yet another mess, without any intention to clean up after themselves, therefore adding to your already long list of things to do.

But halfway across the globe, particularly in the Yucatan Peninsula of Mexico, mothers have a different way of dealing with the cluttered chaos inside their homes: they teach their kids to help them out.

What other parents are reading

A study conducted in Mexico and Guatemala found that children of Mayan heritage are actually taught by their parents to collaborate with them in doing chores at home, starting at a young age. Because these kids have been encouraged to participate in household activities all their young lives, as they grow up, chores become like second nature to them, so much so that they eventually just help out at home without having to be instructed or watched over.

In an article for Motherly, Barbara Rogoff, a psychologist at the University of California, Santa Cruz, states that this practice done by Mayan mothers is more than just about parents enlisting their children's help to finish the chores needed to be done at home; rather, it was about these parents' desire to collaborate with and empower their kids. "It's kids and adults together accomplishing a common goal," Rogoff shares. "It's not letting the kids do whatever they want. It's a matter of children—and parents—being willing to be guided."

ADVERTISEMENT - CONTINUE READING BELOW

Why apply the Maya Method at home?

Now, you might be thinking: But wouldn't it be counterproductive to involve my kids in doing the chores? Wouldn't that just make my life more difficult? The answer: Yes, it would. Letting your kids help you out in folding clothes or washing dishes or sweeping the floors can definitely slow you down, since they probably have no idea how to do those things properly. But just like the children of those Mayan mothers, your kids can also benefit immensely from the application of this method in your own home—and so can you.

It allows them to learn

Though parents often try to teach their kids by instructing them, children actually learn best by observing what their parents do. ScaryMommy writes that though finishing chores can be slowed down by the participation of kids, Mayan mothers still let their children aid them and watch them work because that is how children can learn: "Even if they aren't truly helping as toddlers, they are learning and developing an interest and understanding for what is required to keep a home in order." So next time your little one starts following you around while you're trying to clean, don't be so quick to herd them back to playing by themselves!

ADVERTISEMENT - CONTINUE READING BELOW

Recommended Videos

It teaches them to show initiative

In an article for the National Public Radio website, writer Michaeleen Doucleff tried out the Maya Method on her own toddler daughter, after having seen it in action on a visit to the Yucatan. Doucleff did not hesitate to say that initially, things were not going very well in their home. "[My daughter] and I broke dishes, flooded the kitchen floor while washing dishes and ruined a load of laundry," she shared. "She also ended up with a tiny burn on her wrist – about the size of a ladybug – when I let her help me fry meatballs one evening."

Eventually, however, Doucleff began to see the positive fruits of the method on her 2-year-old. After a while, her daughter began to express initiative in helping Doucleff by participating in toddler-friendly tasks like folding laundry, feeding the dog, washing the dishes, sweeping the floors, or cracking eggs to make pancakes. At her young age, she learned the value of showing willingness to accept responsibilities, no matter how small.

What other parents are reading

It establishes work as a natural part of life

We all know that work is essential in order to survive in the real world, whether it's a job where you get paid or a job that is done at home. By allowing your children the chance to participate in small responsibilities at home, you also show them what they can do to contribute to the betterment of a whole—in this case, in helping make sure that the family home is kept in order. This lesson, which was discussed in a study by Julie Lythcott-Haims, a former Dean of Freshmen at Stanford University and author of the book How to Raise an Adult, is something that your kids will be able to apply as they grow older and begin to take part in larger ecosystems, such as in workplaces.

ADVERTISEMENT - CONTINUE READING BELOW

It helps them appreciate the beauty in collaboration

In her article, Doucleff also shared another lesson her child learned as a result of applying the Maya Method in their home: "Such contributions are tiny—and don't really help me. But I can tell she is learning something golden: To love collaborative activities and working together." One beautiful thing about letting your kids participate in housework is that you are given the opportunity to work together, in order to accomplish a common goal. The bonding time you get is also a great bonus!

It boosts their self-esteem

According to Dr Laura Markham, an author and the founder of AhaParenting.com, children, despite their young age, actually enjoy being given even small responsibilities. "All children want to see themselves as 'response-able'—powerful and able to respond to what needs to be done," she states. "They need this for their self-esteem, and for their lives to have meaning." When kids are given an opportunity to contribute positively and are able to do so, they experience a sense of satisfaction and fulfilment that can encourage them to continue contributing in whatever way they can, even as they grow older.

What other parents are reading

How to apply the Maya Method at home

If those advantages have given you the motivation to practice the Maya Method in your own home, here are some simple things you can do:

1. Encourage your kids

Instead of saving the chores for when your kids are asleep or playing or away at school, use the time when they're around and turn it into an opportunity to have them participate in whatever chore you're doing, whether they're helping out or simply watching you work. Since children learn best by observing, you won't even have to explain what you're doing. Also, don't force your kids to participate if they don't want to; they'll come around eventually!

ADVERTISEMENT - CONTINUE READING BELOW

2. Start by giving your child minor tasks

Obviously, your toddler won't really know how to do certain house chores at all, so instead, give them a small task they will actually be able to finish. It can be as simple as returning their toys where they belong or holding the dust pan while you sweep—just make sure to choose an age-appropriate task for them. As they grow older and more capable, then they can start doing more complex chores.

3. Keep calm, be patient

Again, involving kids in housework will definitely slow you down. The solution: Don't rush. Take as much time as you need to finish whatever chore it is, and don't feel too pressured to get the job over with right away. At the same time, be as patient as you can in showing your child how to do the task. Though they will likely not be able to follow through right away, they'll still be able to learn.

Celebrate your pregnancy milestones!


Enter your details below and receive weekly email guides on your baby's weight and height in cute illustration of Filipino fruits. PLUS get helpful tips from experts, freebies and more!

You're almost there! Check your inbox.


We sent a verification email. Can't find it? Check your spam, junk, and promotions folder.

Trending in Summit Network