Preschool Teacher Shares Learning Activities For Daughter Who Skipped School This Year

Be a Teacher Mommy just like her!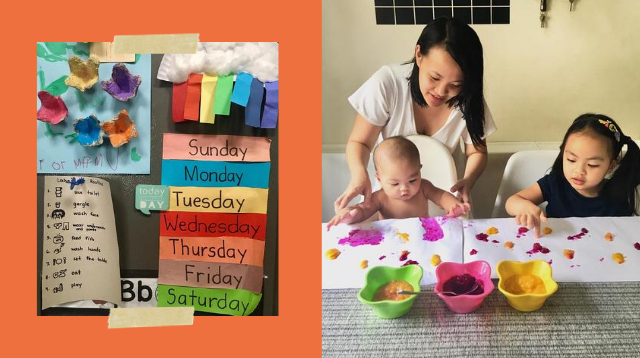 Welcome to Real Parenting, a space where parents can share the joys, pain, and the mess of parenthood. Want to get something off your chest? Share your parenting journey? Email us at smartparenting2013@gmail.com with the subject "Real Parenting." Click here to read more 'Real Parenting' stories.

Over 200,000 students transferred from private to public schools this year due to the uncertainties caused by the COVID-19 pandemic. While parents have various reasons for doing this, there are others who chose for their children to skip the upcoming school year instead. One of them is Joy Ona, a licensed preschool teacher with a degree in Family Life and Child Development from UP Diliman. Her 3-year-old daughter, Likha, was supposed to start kindergarten this year.

"I told her Teacher Mommy na lang muna," Joy tells SmartParenting.com.ph in an interview via Facebook messenger. Luckily, she had already chosen to be a stay-at-home mom when she got pregnant with her second child, Alab, who is now 6 months old.

ADVERTISEMENT - CONTINUE READING BELOW

How to hold "preschool classes" at home

Joy with her husband, Gene, and children Likha and Alab.

PHOTO BY

courtesy of Joy Ona

Transitioning to a preschool setup wasn't hard for Joy since Likha was used to having a routine at home. "We decided on her schedule together," Joy shares. "We also made a routine chart so even Daddy Gene (Joy's husband) and Ate Che, our helper, can keep track of her activities."

Joy says that she introduced routines to Likha while she was still a baby. "What's good about it is that she gets a sense of control, security, and responsibility [since] she is fully aware of what she is expected to do at particular times of the day," the mom of two shares. "It gives her a semblance of real life and how society is somehow governed by schedules. As a matter of fact, you would often hear her say, 'There's a time for everything, right?'" (Click here for the other advantages of having a routine.)

Likha's day starts with self-care tasks: using the toilet, washing her face, brushing her teeth, and fixing her hair. "We encourage her to do these tasks all by herself or with very minimal assistance, always with an emphasis that she is already an Ate," Joy says.

They also let her do minor chores like setting the table and feeding her pet fish before breakfast. Then, they eat their first meal of the day as a family. Next is exercise time with Ate Che — "we let her ride her bike or run around for an hour if no one is outside," Joy says.

ADVERTISEMENT - CONTINUE READING BELOW

Likha colored the illustrations on this chart and it was posted on the fridge so she could check it on her own.

PHOTO BY

courtesy of Joy Ona

While Joy bathes her son Alab, Likha will be doing her first activity for the day. Joy lets her choose: playing with her toys, coming up with a game, reading a book, or using the art supplies from their art cart. After her activity, she and Joy will take a bath together.

ADVERTISEMENT - CONTINUE READING BELOW

"Likha calls this 'Likha and Mommy Time,'" Joy explains. "To promote independence, we always request her to choose her outfit. She undresses by herself and places her soiled clothes in the hamper before joining me in the bathroom. We enjoy this time because we can talk, be silly, learn, and even play."

The mom adds, "I often teach her concepts and encourage her to share her thoughts during bath time. It's a perfect example of how learning can be intertwined with your usual routines."

Joy suggests playing the "blending game" with your kids during bath time. "I would segment or chop the individual sounds of 2- to 3-letter words (e.g. m-o-m) and ask her to guess what I said. This is a skill needed for writing," Joy shares.

"School" starts after Likha's morning snack. "We work on an activity together for 15-45 minutes depending on how engaged she is. Sometimes she would even ask for the activity to be extended," Joy shares. "We then post her most recent work together on the fridge for everyone to see."

ADVERTISEMENT - CONTINUE READING BELOW

After the structured period, Likha will choose another activity and then have TV time at 11 a.m. Lunch is at 12nn, then she plays or reads books until 2 p.m. Nap time is between 2 p.m. to 4 or 5 p.m. followed by an afternoon snack.

Likha's dad, Gene, always makes sure to view the day's activity on the fridge whenever he comes home from work. They then eat together as a family and brush their teeth together. After dinner, Likha is allowed to watch TV for another 30 minutes before winding down for bed. She and Joy would share stories, play, or read books with Gene, until the little girl becomes sleepy and finally dozes off.

Learning activities you can try at home

Finger painting using food!

PHOTO BY

Courtesy of Joy Ona

ADVERTISEMENT - CONTINUE READING BELOW

Joy says that she used to not plan activities for her daughter since she is a strong believer of "follow the child." But since Likha started to yearn for a school setup, and because friends and co-parents have been asking her for advice on how to start teaching their preschoolers at home, Joy decided to come up with thematic activities (which she used to do in her preschool classes) and document it on her personal Facebook account.

"The main theme is 'All About Me.' We talk about her name, age, birthday, gender, favorites, face, and her body parts. Right now, she is learning about herself as a member of our family," Joy explains.

The mom of two says that Likha is very vocal about planning and suggesting learning activities. She loves it when she gets to live out her favorite story books. For example, they made a toy halu-halo out of air-dried clay, inspired by the story Haluhalo Espesyal by Yvette Fernandez. "She asked if she could do a cooking show on how to make halu-halo," Joy shares.

ADVERTISEMENT - CONTINUE READING BELOW

What other parents are reading

Last summer, Joy came up with a color-themed week inspired by the book Asul na Araw. They assigned different colors per day and the activities were influenced by those colors.

"It was a week filled with various activities: Dressing up, math bowling game, sensory play, fruit pops making, arts and crafts, colorhunt, plant observation, etc," Joy shares.

ADVERTISEMENT - CONTINUE READING BELOW

They also had a week to learn about the different senses. "She had fun doing the sound bingo and playing the Touch and Feel guessing game," Joy says.

To improve her writing skills, Joy says Likha prefers "purposeful writing activities" like making her own grocery list, creating a birthday card for her best friend, and doing a camping party invitation for her dad.

ADVERTISEMENT - CONTINUE READING BELOW

Joy may be a licensed preschool teacher, but the activities she's come up with allows anyone to become a "Teacher Mommy." It's all about seizing every moment as a learning opportunity.

"Likha's learning is incorporated in our routine," Joy shares. "I teach her 'academic concepts' during our casual conversations or when I instruct her to do something—for example, she learned how to count because we would count together while climbing the stairs. Instead of just saying, 'get the ball' I say, 'please get the small, red ball' to teach size and color. I always keep an eye out for teachable moments, too."

Looking for learn-at-home options and wondering about tuition fee? Head to Smart Parenting Classroom now! 

Trending in Summit Network