Lolo Builds 'Life-Sized' Activity Board To Help Develop His Apos' Senses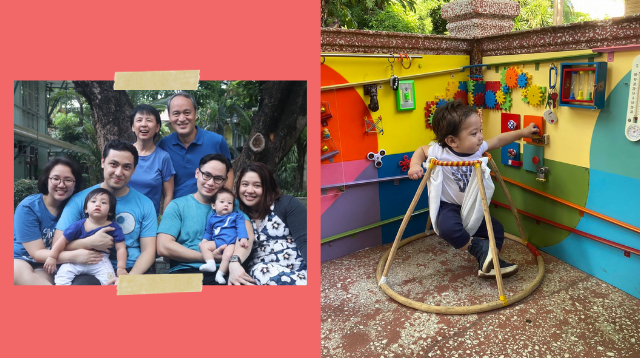 Welcome to Real Parenting, a space where parents can share the joys, pain, and the mess of parenthood. Want to get something off your chest? Share your parenting journey? Email us at smartparenting2013@gmail.com with the subject "Real Parenting." Click here to read more 'Real Parenting' stories.

 They say grandparents are the ultimate spoilers — some even say it's their job and their right. Here at SmartParenting.com.ph, we've witnessed just how far they'll go to make their grandchildren happy, from making a DIY swimming pool to a treehouse for online learning. Now, meet a lolo who constructed a life-sized activity board for his apos!

READ MORE BRAIN-BOOSTING ACTIVITIES FOR TODDLERS

Rafael "Pipo" Bundoc is an orthopedic spine surgeon and a professor in Anatomy at the University of the Philippines. During the community quarantine, he earned the nickname "Lolo Quarantino," since, according to his two sons, he was able to fully embrace and enjoy becoming a grandfather to his two grandchildren, Likha, 18 months, and Ravi, 9 months.

In an email interview with Smart Parenting, Pipo shares that during playtime with his apos, he noticed a specific pattern: The two would spend hours playing with doorknobs and cabinet handles, particularly when there are lock and keys attached. This led him to research simple activity boards — also called busy boards — on YouTube, which incorporated the household fixtures.

ADVERTISEMENT - CONTINUE READING BELOW

"I thought, I can make a better, more colorful one. Something more interactive — one that would fascinate my grandsons' visual, olfactory, auditory, and tactile senses," he says. "Now that I have all the time in the world to make one, why not make the best activity board [my] basic carpentry skills can create?"

 

Top row: Dr. Rafael Bundoc with his wife, Josephine. Bottom row: Dr. Bundoc's son Eli with wife Pam and their baby Likha, and son Mikey with wife Mara and their baby Ravi.

PHOTO BY

Courtesy of Mikey Bundoc

 

Thanks to a house renovation last year, their family had a lot of leftover plywood in different shapes and sizes. He spent "one lazy Sunday afternoon" making a sketch of the activity board and listed the items he would need to purchase in a nearby hardware depot.

"I spent the most time choosing the pastel colored spray paints that can really attract the visual senses. I carefully chose the safest fixtures that I will incorporate for an interactive play and to avoid injuries. Shapes, colors, and textures were important in my decision," he shares.

ADVERTISEMENT - CONTINUE READING BELOW

Recommended Videos

Some of the fixtures that he could not buy from the hardware store he purchased from Lazada and Shopee, while another set of items were 3D-printed.

The importance of sensory play

 

The "life-sized" activity board is the perfect height for the two grandchildren.

PHOTO BY

Courtesy of Mikey Bundoc

 

Sensory play can include any activity that lets the child explore through the stimulation of one or several senses — touch, hearing, smell, sight, and taste. It is one of the reasons that motivated Pipo to construct the giant activity board. He wanted to provide a safe, controlled environment where his grandchildren could stimulate and coordinate their senses into play activities that could develop their gross and fine motor skills.

"Our senses are our primary means of adopting, controlling, and surviving in a complex world. I wanted to stimulate my grandsons' senses and create an interplay of eye and mind to body and hand activities," he shares.

ADVERTISEMENT - CONTINUE READING BELOW

With this in mind, the activity board needed to satisfy three concepts: It had to be colorful, initiate motion through touch, and create motions through actions.

 

Activity boards are perfect for parents who want to entertain their babies without gadgets.

PHOTO BY

Courtesy of Mikey Bundoc

 

Bright, colorful, activity board

"I believe that colors attract tykes to touch things. I wanted the activity board to be bright and colorful and the [colors] has to manifest contrasting and blending hues."

Touching initiates motions

"Thus, the activity board needs items that will open, close, swivel, spin, lock, release, engage, tear, break, roll, glide, slide, and reflect to engage action," Pipo shares.

Actions create motions

"Motions translate into peculiar visuals, feels, sounds, and even smell that encourages progressive play in children. Motions should produce a chain of events that our tykes can learn to initiate, manipulate, and stop," Pipo says.

This, he says, is what makes the life-sized activity board different from those that he found online. "I created 2 boards at right angled planes so that they can realize that the actions that they initiate on one plane can be transmitted into another. By initiating an action in one plane they can see how the motion is directed into another plane."

ADVERTISEMENT - CONTINUE READING BELOW

Watch how the activity board works in the video below:

Galing ni Lolo

 

Of course, adult supervision is still required. Here, Likha and Ravi are joined by their lola Josephine during playtime.

PHOTO BY

Courtesy of Mikey Bundoc

 

Obviously, the activity board was a hit with Pipo's two grandchildren. His eldest son, Mikey Bundoc, 30, who is also an orthopedic surgeon resident, shares that his son Ravi and his nephew Likha are very fond of their newest play area and would have to be removed from the activity board come bedtime.

ADVERTISEMENT - CONTINUE READING BELOW

The activity board also encourages the two children to enjoy playtime with zero gadgets. It also helps them become more imaginative and creative.

Mikey says that the quarantine project didn't come as a surprise since his dad was always a DIY kind of guy — as a surgeon, he is definitely skilled with his hands! "I grew up seeing him doing DIY projects for his anatomy lectures, restoring our ancestral home corner by corner, and creating wooden storage boxes for his gradsons' toys," he says.

Seeing his dad work on the activity board brought him back to the time when Pipo would also make DIY toys for him and his brother. "When I was around 6 years old, my brother and I wanted a toy fighter jet after watching the alien-invasion flick Independence Day. My brother and I begged Daddy for one. On that same day, he foraged our garage storage for some spare wood and carved an F-16 jet fighter out of it," he shares.

He is even happier that his son and nephew also get to enjoy bonding with their Lolo through the activity board. He definitely deserves the title, "Best Grandpa in the world," Mikey says.

READ MORE BRAIN-BOOSTING ACTIVITIES FOR TODDLERS

Mothers are awesome at DIY, too! See one mom's stunning kitchen makeover here.

What other parents are reading

Celebrate your pregnancy milestones!


Enter your details below and receive weekly email guides on your baby's weight and height in cute illustration of Filipino fruits. PLUS get helpful tips from experts, freebies and more!

You're almost there! Check your inbox.


We sent a verification email. Can't find it? Check your spam, junk, and promotions folder.

Trending in Summit Network