Your Baby Needs This Type of Play at Birth to Strengthen Brain and Advance Learning!

It's called sensory play, and it develops important skills in your child.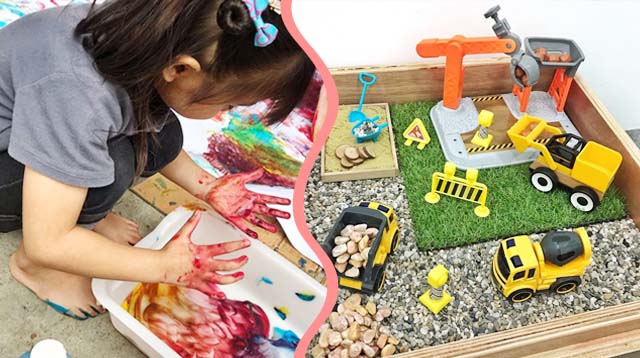 From birth to early childhood, our little ones engage their senses to explore and learn more about the world around them. That's why they'll tinker with anything and everything they get their hands on — and even put it in their mouth for a little taste. This is already a form of sensory play, which experts say is crucial for brain development.

A recent study found that early sensory stimulation gives baby's brain a significant boost. Its lead author, Audrey van der Meer, a neuroscientist and professor at the Norwegian University of Science and Technology, says "even the smallest babies must be challenged and stimulated at their level from birth onward. They need to engage their body and senses by exploring their world and different materials."

This is where sensory play comes in.

What other parents are reading

What is sensory play?

Sensory play can include any activity that lets your child explore through the stimulation of one or several senses — touch, hearing, smell, sight, and taste. It also includes two other senses that we tend to miss: body awareness (also called proprioception) and balance (also called vestibular sense).

According to Lourdes Bernadette Lopez, CSP-PASP, a certified speech and language pathologist and co-owner of Jumpstart Therapy Center in Batangas, babies learn better not with words but through the sensory experiences that we provide their bodies.

"Sensory play builds nerve connections in the child's brain, and when all or most of the senses are involved, these nerve connections are created quickly and it strengthens the brain pathways that were already established," she says.

ADVERTISEMENT - CONTINUE READING BELOW

Sensory play allows children to accomplish more complex learning tasks like gross and fine motor development, cognitive and language development, as well as social and emotional development.

What other parents are reading

The benefits of sensory play

Sensory play is important for all children, whether typically developing or those with special needs. Geraldine Africa, OTRP, an occupational therapist certified in Ayres Sensory Integration and who also teaches at Jumpstart Therapy Center, likens the sensations to food — our body uses it for energy. This "food" turns into sensory information, which is fed to the brain, and the brain perceives, processes, and interprets to direct the body and mind.

Children with special needs often behave and learn differently from typically-aged children, most often as a result of poor sensory processing. They may find it difficult to organize and make sense of all the stimuli that come at them via their senses or their responses to different sensations may be minimal or exaggerated. Providing sensory play on a daily basis will help strengthen the use of their senses so they can improve on their learning and behavior, according to Africa.

What other parents are reading

Africa stresses that children need to be exposed to sensory stimulation as early as birth. "Presenting the child with different tactile, proprioceptive, vestibular, visual, and auditory sensory input can help them develop the senses necessary to achieve the infant developmental milestones and to prevent early motor delays," she says.

You can do this by showing them toys in high-contrast colors that their eyes can follow (visual tracking) during tummy time. Or start showing them colorful pictures while they are laying on their side or flat on their back.

Passive stimulation can help as well like guiding their hands to explore their body, providing slow movements like putting them in a hammock, and singing or presenting sounds from different directions.

CONTINUE READING BELOW

Recommended Videos

What other parents are reading

The different skills sensory play develops

As mentioned above, this type of play builds a better brain, including developing language skills, gross and fine motor skills, cognitive and problem-solving skills, and socio-emotional skills.

Language skills

Handling different types of textures, tastes, and materials help your child identify new ways of talking about her environment. "It's a good opportunity to expand a child's vocabulary," says Lopez.

She adds, "I use this kind of play to teach words of the senses or descriptive vocabulary such as colors, textures (describing an object as rough or smooth, and hard or soft), sizes (big versus small), tastes (describing food as sweet or sour), and other adjectives like wet or dry, hot or cold, sticky, and more."

Gross and fine motor skills

Sensory play that involves large movements (running, walking, climbing) can help support a child's balance, coordination, and strength, according to Lopez. "It also helps develop fine motor skills especially when children try to manipulate materials with their hands or with tools." An example of this is using a tong to pinch objects, pouring water into containers, or molding clay with their hands.

Cognitive and problem-solving skills

Sensory play is very open-ended. Children are forced to think out of the box as they try to explore, create, manipulate, or experiment with different sensory materials, says Lopez. Doing so improves their critical and problem-solving skills.

Socio-emotional skills

 Sensory play allows children to express their emotions. "It keeps children motivated and confident as they are allowed to express themselves freely by doing things however they like and making their own decisions," says Lopez. "Playing alongside other [children] also helps them learn how to share, negotiate, and communicate."

ADVERTISEMENT - CONTINUE READING BELOW

What other parents are reading

5 activities that involve sensory play

Sensory play does not just involve touch. While playing in sandboxes or molding clay is sensory play, remember that you also have to engage the other senses. Here are different activities that you can do with your kids that utilize sensory play, as suggested by Lopez.

Arts and crafts

A different spin on arts and crafts: paint using parts of your body!

PHOTO BY

@thecrafterteacher/Instagram

Instead of the usual table-top craft activities, incorporate movement and allow your kids to use their whole bodies to make art for a better sensory experience. "In the picture above, we asked our students to use their hands and feet for painting, instead of using paint brushes or painting tools," shares Lopez.

Nature play

Ask your kids to go on a nature walk and collect leaves, flowers and sticks!

PHOTO BY

@thecrafterteacher/Instagram

ADVERTISEMENT - CONTINUE READING BELOW

Go outside and take a walk! Nature walks stimulate multiple senses — kids use sight to distinguish different colors and objects, smell the flowers and plants, feel the different textures of flowers, leaves, sticks, and rocks, and listen to various sounds coming from the animals, the wind, the trickling of water, or the leaves rustling beneath their feet. As they walk, run, or climb over stuff, it helps improve their body awareness and balance.

Another type of nature play is gardening. "It provides a good sensory experience through digging, watering plants, or picking flowers," says Lopez.

What other parents are reading

Physical or outdoor play

Hopscotch is a surefire way to get your kids moving.

PHOTO BY

@thecrafterteacher/Instagram

Playing outside has a number of benefits aside from engaging the senses. Lopez suggests doing animal yoga poses to improve balance and coordination, or playing hopscotch to improve gross motor movements. Or, you can always just let them run, jump, or climb outdoors!

ADVERTISEMENT - CONTINUE READING BELOW

Sensory bins

Make a rainbow rice sensory bin using uncooked rice and food coloring.

PHOTO BY

@thecrafterteacher/Instagram

As you've already noticed, sensory play can get messy. But it's all part of the fun, learning, and development of your child. A sensory bin can help corral the mess a little bit, so long as you choose a large enough container.

Make a night sky sensory bin using pebbles, beads, foil, glow-in-the-dark stickers, and fairy lights. It's so pretty!

PHOTO BY

@thecrafterteacher/Instagram

ADVERTISEMENT - CONTINUE READING BELOW

Sensory bins are filled with objects that stimulate the senses. You can make themed bins depending on what you want to teach your child, with materials that are of various textures, smell, taste, and colors so you can stimulate different senses all at once. Lopez suggests using tools like scoops and tweezers to develop fine motor skills and hand-eye coordination.

Feeling summery? Make a beach-themed sensory bin using water beads, kinetic sand, and sea animal figures.

PHOTO BY

@thecrafterteacher/Instagram

Sensory play not only supports cognitive growth but it's a great alternative for gadgets and screen time. It keeps your toddler engaged and occupied for quite a while, so mom can get some free time, too. Everybody's happy! 

 

Does your kid love trucks? Make a construction site sensory bin with pebbles, sand, grass, and construction toys.

PHOTO BY

@thecrafterteacher/Instagram

ADVERTISEMENT - CONTINUE READING BELOW

What other parents are reading

Celebrate your pregnancy milestones!


Enter your details below and receive weekly email guides on your baby's weight and height in cute illustration of Filipino fruits. PLUS get helpful tips from experts, freebies and more!

You're almost there! Check your inbox.


We sent a verification email. Can't find it? Check your spam, junk, and promotions folder.
Trending in Summit Network