'All My Children Are Perfect': Miel Pangilinan Comes Out, Sharon and Kiko Respond With Love

"She will certainly be treated no differently by us," says mom. Plus, do's and don'ts if your child comes out to you.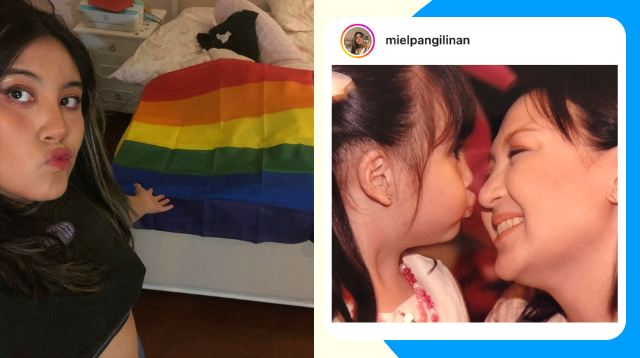 "I am celebrating my first pride month as openly and publicly queer," says Miel Pangilinan, Sharon Cuneta and Sen. Kiko Pangilinan's daughter announces on Instagram.

Miel shares a carousel of photos of herself with the LGBTQ+ flag on June 14, 2021 and wrote a few paragraphs about what it means to her to come out in public.

"I know it sounds silly, but posting this truly feels cathartic. I've spent so many sleepless nights over the span of much of my childhood and teenage life worrying and wondering about a plethora of things surrounding my identity, and it only feels right that I post this at the point i'm in now where I'm comfortable enough in who I am and who I love and how I choose to present.

Miel says it is emotional and freeing, "and I'm endlessly thankful to my close friends and family who have supported me and shown me love as I've grown and explored my own gender and sexual identity."

Mom says 'No big deal'

Sharon reposts some of Miel's photos the next day to show her support. "I know that my Miel's coming out will draw lots of attention. Lots of them will be negative, she says.

The mom of four adds that she is already anticipating the comments. "Lots of people who are quick to judge instead of pausing to think for a moment that my daughter, like so many members of the LGBTQ+ Community, did not choose to be queer. She just is.

ADVERTISEMENT - CONTINUE READING BELOW

RELATED: Awra Briguela's Father On Having Gay Sons: 'Kung Saan Masaya Anak Ko, Doon Ako Masaya'

Before Sharon shares what she has to say as a parent, she is careful to affirm Miel and the LGBTQ+ community then says in her caption, "She will certainly be treated no different by us her family and those who truly love her. I will love her just the same, if not more. Like I said, all my children are PERFECT.

"I may be a Mom with traditional values, but that doesn't mean that my mind is too tiny to accept people for what they are - what more my own child?

Sharon lists what matters most in a person, according to her point of view: goodness, sincerity, purity of heart, faith in God. "In Miel, I have all of those.

"I am proud of my girl and will always be. Sharon ends her post to remind Miel not to mind negative comments and that this part of her identity is "No big deal."

Dad keeps his response short

Sen. Kiko Pangilinan replies directly to Miel's post, which Sharon takes a screenshot of and posts in her own account perhaps to echo that mom and dad support her.

"I love you my Yellie Bellie! Mama and I will always be here for you. Always. For certain. Forever. No matter what. Period. No more comma. The end of the paragraph. Amen"

Sharon uploads a screenshot of Kiko's reply to Miel's coming out post.

PHOTO BY

INSTAGRAM /REALLYSHARONCUNETA

CONTINUE READING BELOW

Recommended Videos

Coming out is an emotional and personal experience for many. A child coming out to a parent is a "monumental moment for most LGBTQ people" says Family Equality, a New York based online resource.

And although there is more support for the LGBTQ+ community these days, it can still be tricky to navigate for Filipino parents. Even for those with the very best intentions.

So here are some do's and don'ts if your child chooses to be vulnerable with you. 

RELATED: Ian Veneracion To Daughter On Being A Lesbian: 'Don't Ever Be Apologetic About It'

A few do's and don'ts if your child comes out to you

1. Do be mindful your reaction and response.

Whether it's something you have been anticipating or something you never expected, try your best to notice your response.

"If your initial verbal and/non-verbal reactions are ones of disgust, disappointment, or fear, it will read that you are rejecting them, says wellness magazine Well + Good.

"'You need to listen, respond, show your love and support and do your best not to over-respond or under-respond,' says Jesse Kahn, LCSW, director and sex therapist at The Gender & Sexuality Therapy Center in New York City, to Well + Good.

Here are phrases the article suggests if you're not sure what to say:

"Thank you for telling me."

"I love you."

"I'm so glad you told me."

"I'm so proud of you."

Keep it short and simple.

2. Don't say "I've always known".

ADVERTISEMENT - CONTINUE READING BELOW

Maybe you have, but this can also diminish the process and struggle your child may have gone through to be ready to come out to you, says Kahn in the same article.

It also limits stereotypes "about what being LGBTQ+ looks like" she says to the magazine.

RELATED: 6-Year-Old's Answer To Homework Assigning Toys Based On Gender: 'Lahat Ay Pwede'

3. Do say thank you and that you believe them.

Thank them for trusting you and tell them that they are loved. 

Grace Manger, Senior Managing Editor of My Kids is Gay, a digital resource, says to Family Equality that "The fear of parental rejection is very real for most kids, so anything you say to show them that you believe what they are telling you, and that it doesn't change your love for them, is truly the best gift you can give them."

4. Don't ignore them or say it's just a phase.

These are possible reactions for parents who don't want to accept what their child has shared. "Telling your kid that they're going through a phase invalidates their feelings and shuts down the potential for further conversation says Manger.

Coming out to a parents is just the first of many conversations between parent and child. These reactions may keep you from having open communication with your child in the future especially on this topic.

RELATED: Expert Says 'Dapat Hindi Tayo Nakikialam' When It Comes To Children's Gender Identities

5. Do ask the support they need.

ADVERTISEMENT - CONTINUE READING BELOW

Respectfully ask your child questions to help you better understand where they are at and what they are ready for. Is this between the two of you? Is the child ready to come out to the rest of the family?

Do not assume you can tell your closest friend right away. It is better to ask your child if they are ready to come out to others.

"If you do nothing else, tell your kid you love them," says Manger. "You cannot say these words enough right now."

Thank you for your example, Kiko and Sharon!

What other parents are reading

Celebrate your pregnancy milestones!


Enter your details below and receive weekly email guides on your baby's weight and height in cute illustration of Filipino fruits. PLUS get helpful tips from experts, freebies and more!

You're almost there! Check your inbox.


We sent a verification email. Can't find it? Check your spam, junk, and promotions folder.
Trending in Summit Network