Mom With Cancer On Helping Kids Cope With Death: 'They Understand More Than You Think'

Their goal was for their kids to be comfortable and think of death as part of a normal life cycle.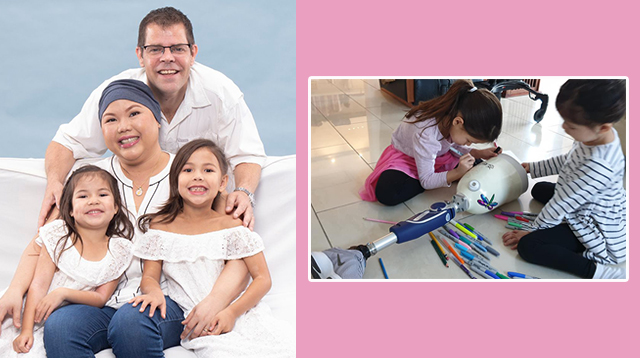 It started with a bruise 13 years ago.

Kathy Chua-Grimme, a mom of two, tripped on a log and a bump developed. It never healed. The doctor said she shouldn't worry and removing the bump would only serve cosmetic purposes.

In 2015, Kathy had the bump examined by a different doctor. It had grown and it would hurt every time she would kneel down to talk to her kids.

The initial diagnosis was Foreign Object Granuloma. Biopsy results, however, revealed that the tumor had grown almost flat against Kathy's shin. She had cancer.

Reality hits hard

 

Kathy with her husband, John, and their two kids.

 PHOTO BY COURTESY OF KATHY CHUA-GRIMME

Her condition was extremely rare. After three months of one inconclusive test result after another, Kathy's biopsy samples were sent to Stanford Hospital in California and she and her family were finally able to get a precise diagnosis: she had Epithelioid Angiosarcoma, a rare, highly aggressive form of cancer that starts in the lining of blood vessels.

ADVERTISEMENT - CONTINUE READING BELOW

Kathy and her family cried for weeks. She was scared — she had so much to lose. She's only 35, has been happily married for four years, with two beautiful daughters.

"When I first heard about the cancer, I was shocked and felt like time and the world around me stopped," Kathy's husband, John, said in an email interview with SmartParenting.com.ph. "I told Kathy that we would fight this and will get to a solution, but in my mind I was afraid, wondering how our lives would change."

"After a while, you get tired of crying," said Kathy.

"There comes a point when you need to decide whether you'll succumb to fear or face it head-on." 

Living with cancer

Kathy saw that John was as scared as much as she was, and realized her attitude toward her condition affected the whole family.

The mom of two made a conscious effort to be positive and open about what she was going through. If she couldn't be honest about her cancer, her family would have a hard time talking about it. And if they couldn't talk about it, they wouldn't get the support they needed from other family members and friends.

"It was hard at first, but once you find one positive thing about a situation, then it becomes easier to find other things to be grateful about."

Telling the kids

Teaching the kids to understand that their mother was sick, and how to cope, was quite a challenge. Their daughters were only 2 and 3 years old when Kathy was diagnosed.

"John has been an absolute rock," Kathy says. After Kathy's diagnosis, he became deeply involved in managing their family's situation. He took over taking the kids to school, fetching them from playdates, cooking dinner, and bringing them to extracurricular activities.

CONTINUE READING BELOW

Recommended Videos

Kathy, on the other hand, let the girls tag along during hospital visits, and asked permission from the nurses to show them around. Kathy positioned these visits as field trips, as a fun way to help the children understand the situation.

When the doctor announced that Kathy would have to undergo chemotherapy, the hard part was explaining to the children that their mom was going bald. Instead of letting the kids witness Kathy's hair falling out, they threw a "hair-shaving party" and invited close friends over.

"Losing my hair was a drastic change and we tried to make it as fun and as light as possible," Kathy explained. 

In May 2016, Kathy had her tumor removed. Her post-surgery wound and chemotherapy literally confined Kathy to a couch for months. But it was important for Kathy to let the kids still engage in activities they enjoyed, to continue exploring the world even if she couldn't be part of it, yet.

John and the girls' yaya took over the household chores. Kathy's parents lived nearby and took their grandkids on trips to a zoo and an amusement park. Friends with children visited them at home, or the girls visited friends in their own homes.

As Kathy recovered, she and her husband decided to move to the Netherlands, where John was originally based. He went ahead to look for a job and get settled. A year after, Kathy prepared for the big move with her daughters.

What other parents are reading

Talking to kids about death

ADVERTISEMENT - CONTINUE READING BELOW

Just as they were about to leave, Kathy discovered that her father had colon cancer. His condition was irreversible.

It was then that John and Kathy realized they had to talk to their daughters about death — a topic they avoided when Kathy learned she was sick. They knew that talking about death would be difficult for their children, but hiding the truth would be worse.

They introduced the idea of going back to heaven, and used the story of the caterpillar in Eric Carle's book, Hungry Young Caterpillar, as an example.

They told the children, "Like the caterpillar, Lolo had done everything he needed to do and would soon build an invisible cocoon around himself and become an angel."

The couple also tried to be as creative as possible. "Love is like the wind — you can't see it but you can feel it," they told the girls. "Same with Lolo, even if we can't see him anymore, he will always be with us."

They sought help from a child psychologist. Through play therapy, they soon learned that between Kathy's fight with cancer and her dad's, their eldest daughter had developed a fear of her mother dying and exhibited motherly behavior.

In 2018, months after her father was laid to rest, Kathy and her family moved to the Netherlands, thinking that they were leaving cancer — and painful reminders of it — in the Philippines.

The Big C returns 

But in October 2018, Kathy noticed a tiny bump on the seam of her scar. Within weeks, one tiny lesion had multiplied to eight: five on her lower leg, and three on her thigh.

ADVERTISEMENT - CONTINUE READING BELOW

Kathy was fighting cancer again. She had herself checked by an oncologist, who at the time wasn't sure if an operation would be possible or if chemo would work. The doctor also broached the subject of palliative care.

"It sent us on a spiral, preparing for the absolute worst-case scenario — death," said Kathy.

Kathy and John once again turned to books for comfort, so their children, who were 5 and 6 years old at the time, could comprehend loss in a language their young minds would understand. Among the books they read to their children were Wherever You Are, My Love Will Find You, Lifetimes, No Matter What, and The Invisible String. 

 "I didn't want the kids to be angry with God just in case things turned south, so we taught them to pray for grace and courage to follow His will whatever it might be. We talked to them about how everyone has a life cycle, and that cancer was part of my life cycle," said Kathy.

Dealing with cancer while caring for the kids

John and Kathy tried to be as open about her condition with their children as possible.

PHOTO BY

courtesy of Kathy Chua-Grimme

ADVERTISEMENT - CONTINUE READING BELOW

"It's hard to explain without sounding weird, but the goal was to make them as comfortable with the thought that death was part of a normal life cycle," Kathy shares. "No one was being punished, it wasn't because of anything we did or didn't do. We didn't want them to be scared."

"Praying helped a lot. The thought that I would be in heaven, looking after them helped, too. We talked about God having a plan for each of us, and how everything happens for a reason," she adds.

Kathy recorded legacy videos on the side, to capture as many memories as she could. Videos of private moments with the kids and moments spent with friends and family. She and her family threw parties: a grand ball and another shaving party because they wanted to prepare the children for Kathy going bald again.

The kids learned to ask when Kathy's chemotherapy sessions would start, and if they were over. They also knew they couldn't co-sleep with their mom when she was having chemo, or use the toilet she was using.

The Grimmes informed key people from the children's school of Kathy's condition, and the teachers offered to keep the kids occupied with extra lessons just in case the couple was late picking them up after doctors' appointments. A child psychologist visited the kids at home once a week. She helped them identify their emotions, the same way that the movie Inside Out identified them.

ADVERTISEMENT - CONTINUE READING BELOW

What other parents are reading

They soon found out that the children's primary concern was that they might no longer remember their mother. The psychologist then initiated a project for the kids, which they called a "Life Book." They printed small pictures from moments in the children's lives and they drew on the book. Alternately, the psychologists transcribed their memories.

This project complemented something Kathy frequently told her daughters: "Just because my chapter might end, it doesn't mean your book will, too."

In the Netherlands, the girls also had access to a government-led program for kids in vulnerable situations. Through weekly specialized sessions, they were taught how to deal with stressful situations. Parents met every four sessions to be oriented on how to help their kids.

"The children grew up in the shadow of cancer, which has affected them in many ways. Our job is to help them at least retain some semblance of a normal childhood, and help them cope," said Kathy.

"We also decided that the kids' activities should go on as they usually do. We kept on with their extracurricular activities. On days that I didn't have enough energy, I would ask John to either take the kids swimming or to visit the zoo or their favorite museums. There was no point in having all of us stuck at home because I couldn't go out," she added.

Life over limb 

After six rounds of chemo, good news came: chemotherapy had managed to control the cancer, and operation was possible. The operation, however, involved amputating Kathy's leg. For the Grimmes, it was better than the prospect of dying.

ADVERTISEMENT - CONTINUE READING BELOW

"We saw it as the miracle we were praying for — the miracle of being able to live," said Kathy.

The couple ordered a Barbie with prosthetic limbs, and Booboo's New Leg, a book about amputation. Told from the point of view of a child, the story seemed to reflect Kathy's situation: Booboo had cancer as Kathy did. Together with the kids, the couple looked at pictures of people who have had amputations, most of which were of people smiling.

"Talking to the kids helps a lot," explains Kathy. "Our goal was for them to be able to talk comfortably even about difficult subjects. We always tried to look on the brighter side, and try as much as we could to inject humor in whatever situation we faced."

She adds, "I think we prepared them better for the amputation than we did for me being bald. They had absolutely no issues seeing me the day after the operation."

A new lease on life

A few days after Kathy came home from the hospital, John asked what an amputee's favorite toy was. The answer: LEGo. The kids laughed so hard.

PHOTO BY

courtesy of Kathy Chua-Grimme

ADVERTISEMENT - CONTINUE READING BELOW

It's been a little over a month since Kathy's leg was amputated, but life goes on for her and her family. She moves around with a trippelstoel, a barstool that has brakes, rolls, and can be adjusted to different heights at the push of a button. She is slowly taking over the chores she had when she was still completely mobile, like cooking and doing the laundry. She has begun swimming like a mermaid, as she promised her kids. She is nothing but optimistic.

Throughout her ordeal, she has gained enough wisdom to share advice for parents who have life-threatening illnesses.

"Talk to your kids. Children are incredibly resilient and understand a lot more than they let on. We tried to use a language that they would understand, and encouraged them to ask questions," she shares.

When you ask her daughters what their Mama gets in exchange for her leg, here's what they'll say:

"She gets to live a little longer."

Life goes on for Kathy and her family.

PHOTO BY

courtesy of Kathy Chua-Grimmes

ADVERTISEMENT - CONTINUE READING BELOW

What other parents are reading

Celebrate your pregnancy milestones!


Enter your details below and receive weekly email guides on your baby's weight and height in cute illustration of Filipino fruits. PLUS get helpful tips from experts, freebies and more!

You're almost there! Check your inbox.


We sent a verification email. Can't find it? Check your spam, junk, and promotions folder.
Trending in Summit Network