A Rash Can Mean Many Things Including This Rare Autoimmune Disease

This autoimmune disease is accompanied by swelling of the ankles and vomiting.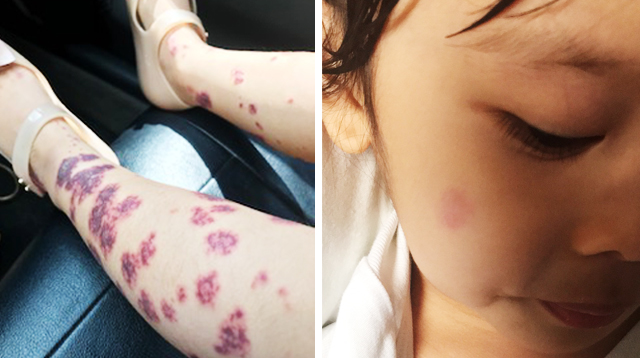 The appearance of a skin rash can mean a lot of things — from bungang araw, tigdas hangin, and measles to more complex diseases like eczema, cellulitis, and hand, foot, and mouth disease. And it's because it is a common symptom that you need to consult your doctor, especially when the rash is accompanied by pain and vomiting.

On February 2018, mom Trina San Pascual rushed her 9-year-old daughter, Yva, to the hospital because of vomiting and pain in her abdomen. The doctor initially diagnosed her daughter with a urinary tract infection because the results of her urinalysis showed a high pus cells count, which could mean a bacterial infection. Trina was advised to have her daughter admitted to the hospital.

Soon after, rashes appeared on Yva's legs, which the doctor dismissed as allergies.

 

PHOTO BY

courtesy of Trina San Pascual

Trina, however, found it strange. "I thought if it was allergy then how come it only appeared on her legs?" Trina tells SmartParenting.com.ph in an email interview.

What other parents are reading

But after her hospital stay, Yva recovered, and Trina thought that was the end of it. But, three months later, Yva's rashes reappeared. Once more, she experienced abdominal pain and vomiting. Three days later, her feet became so swollen that she couldn't walk from the pain.

After a consultation with the pediatrician, tests revealed Yva had Henoch-Schonlein Purpura (HSP).

One of the first signs of Henoch-Schonlein Purpura is a rash.

PHOTO BY

courtesy of Trina San Pascual

HSP is a rare autoimmune disorder that causes inflammation and bleeding in the small blood vessels of the skin, joints, intestines, and kidneys, according to MayoClinic. The main symptom is a rash, with numerous small bruises that have a raised appearance on the legs or buttocks.

It was these small bruises that led another mom, Pam Mejia Abella, to discover that her 4-year-old daughter, Alaia, was suffering from the same condition in January 2018.

What other parents are reading

"She had a swollen ankle and red marks that looked like insect bites all over her legs."

PHOTO BY

courtesy of Pam Mejia Abella

At first, Pam wondered if they were insect bites. "I didn't know how she got it because she was wearing leggings the whole day," Pam shares in an email interview with Smart Parenting.

 

Alaia's rash was accompanied by swollen ankles and feet.

PHOTO BY

Pam Mejia Abella

 

Pam's husband, a medical doctor, thought that it might be cellulitis  after she showed him photos of their daughter's legs. "But he was away at the time and couldn't make a proper diagnosis."

Alaia's symptoms worsened overnight — she had a hard time walking and moving her hands. The rash also spread to her thighs. Pam's husband urged her to see a hematologist. She consulted their friend, Dr. Meanne Espaldon, a pediatrician/hematologist, who diagnosed Alaia with HSP and ordered a blood test to confirm it. The test result came out positive.

What other parents are reading

Alaia's rash grew and spread to her thighs. It even affected her face and ears.

PHOTO BY

courtesy of Pam Mejia Abella

The exact cause of HSP is unknown. An abnormal immune response to an infection may be a factor in many cases, according to WebMD. The rare disease can affect people at any age, but most cases occur in children between the ages of 2 and 11. Apart from the rash, other symptoms include joint inflammation, particularly in the knees and ankles; abdominal pain that may lead to vomiting and diarrhea; and it can also cause mild kidney impairment.

Both Trina and Pam were devastated when they found out that there was no known cure or a specific treatment for HSP.

Pam shares, "I do my best to ensure that my two kids are happy and healthy. I don't allow them to eat processed food and I try and make them eat vegetables every day. As much as possible, I buy organic and their merienda or snacks are fruits. I don't know what went wrong."

What other parents are reading

For Trina, it was important to show a brave face in front of her daughter who was old enough to understand what was going on.

"I tried to be positive even though I wanted to cry. I told her the facts and we did research on the disease together," she says.

HSP can pose serious complications on a person's kidney if left unchecked, but the rash and joint pain usually go away after four to six weeks without causing any permanent damage, according to WebMD. Bed rest, plenty of fluids, and over-the-counter medicines may be taken to manage the pain, according to MayoClinic.

 

What other parents are reading
Yva and Alaia were both given steroids to manage inflammation and abdominal pain.
The dosage was tapered after a few weeks and both girls have recovered well. Their rashes have also subsided and all that's left are scars and brownish marks.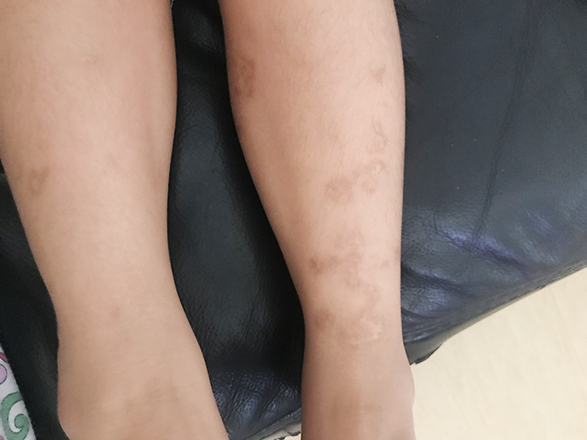 Now, Trina and Pam need to be vigilant when it comes to the onset of symptoms. Yva has monthly urinalysis as well as tests to measure her creatinine and C3 proteins every six months to check on her kidneys. She also needs to have periodical check-ups with her pediatrician, pedia-hema, and immunologist. Yva is also allergy-prone to dairy so "that means no cheese and butter for her," Trina says.

For Alaia, continuing her healthy eating habits was crucial. "I added healthy fruit juices every day to my daughter and my son's diet," Pam shares. "I also include malunggay powder whenever I prepare food for them."

Since HSP is medically considered a rare disease, both moms are glad that their daughters were able to overcome the condition without it having any lasting effects. The key is to keep their immune system healthy, so the condition does not recur.
What other parents are reading

Trending in Summit Network