A Mom's Battle and Victory Against Her Baby's Eczema

"It was so hard to understand why this was happening to him."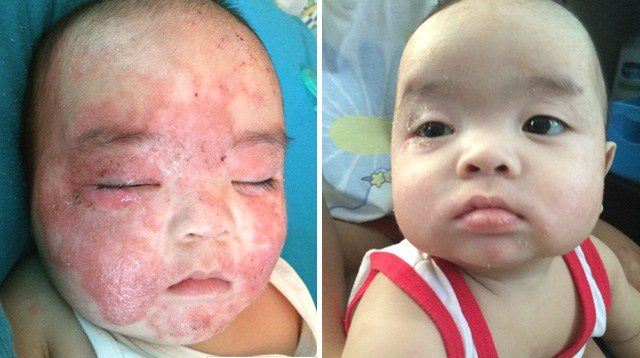 Atopic dermatitis or eczema is a complex disease. In fact, doctors and researchers continue to study what causes it exactly. This skin condition is chronic, meaning it recurs and it doesn't go away. It can cause intensely itchy, red, and swollen skin. And perhaps the worst of it is it usually appears during a child's first year of life. 

Such was the case for mom Roxi Santiago's son, Joaquin. "I've been through those hard times that you feel like there's nothing that can help your child," she shared with SmartParenting.com.ph.

Joaquin's skin problems began when he was just 3 months old. When his eczema first flared up, Joaquin's rashes were red and crusted already that his allergologist, who diagnosed him with the condition, saw the need to prescribe oral steroids.

What other parents are reading

"As much as it broke [my and my husband's] hearts to give our 3-month-old baby oral steroids, we were left with no choice at the time because nothing we did for his skin physically was working," the mom wrote on her blog RoxiSantiago.com. 

Roxi also tried a bevy of skin products and often switched bath soaps and laundry detergents. And because she exclusively breastfed her son, she even tried eliminating possible allergens in her diet including dairy, eggs, wheat, seafood, and chicken. 



The steroids completely cleared her son's skin after a week, but it returned with a vengeance. The rashes that clustered around his face and head now spread throughout his body. 




Joaquin's eczema was at its worse when he was 6 months old. "We would wake up in the middle of the night, [and we would hear him] scratching his back and legs. In the morning, we'd find blood stains on the sheets that have bled through his pajamas because of the constant scratching," said Roxi. "He was on two rounds of oral steroids already and a few steroidal creams that he was prescribed to use."

ADVERTISEMENT - CONTINUE READING BELOW



"It was so hard to understand why this was happening to him." The whole family felt hopeless, sad, and helpless, she said. "I couldn't kiss my baby or caress his cheeks. Everyone was so careful not to touch him. His skin looked so raw and sensitive.

"It was a very difficult season in our lives. He wasn't the typical happy baby. That's heartbreaking for a parent -- not to see your baby laugh and giggle as much as the others. We were also afraid that he would be developmentally behind as he was always being carried, and he wasn't even crawling," she told Smart Parenting. 

Roxie consulted a pediatrician, an allergologist, and a homeopathic doctor. Joaquin also went through three to four dermatologists. "They all prescribed direct application of steroids or oral steroids, which only helped temporarily. Then his eczema would come back, [and it would be] worse. That was just not working for us anymore."

CONTINUE READING BELOW

Recommended Videos

What other parents are reading

"He wasn't the typical happy baby. It's heartbreaking for a parent -- not to see your baby laugh and giggle as much as the others."

Joaquin continued to suffer, so Roxi began Googling for doctors. Her online search led her to Dr. Richard Aron, a dermatologist who was based in Cape Town, South Africa. Roxi didn't want to consult a doctor she could not meet personally, but her research on the doctor must have made an impact on her husband -- he persuaded her to try him. "It was also a lot of money. His consultation does not come cheap. But, oh, it was worth it! I'd pay the amount thrice if we could turn back time, be under Dr. Aron's care right from the beginning and skip what Wacky (her son's nickname) went through."

Joaquin was 7 months old when Roxi began her e-mail correspondence with Dr. Aron. "Since he has patients all over the world, booking a consultation with him was done online, and all prescription and progress reports (a.k.a. follow-ups) were done online as well," said Roxi. 

She detailed her son's condition and e-mailed photos of Joaquin's skin and rashes. Afterward, she received a prescription for Joaquin's medication and instructions for treatment. Roxi was able to buy everything prescribed over the counter in drug stores. Dr. Aron also diagnosed Joaquin with a staph infection. 

What other parents are reading

The treatment prescribed to Roxi's son was a compound cream of topical steroids, antibiotics, and moisturizer to be applied on the skin. Roxi reported a drastic noticeable difference to Joaquin's skin after using the cream -- his skin was clearing up. 

"I think [Dr. Aron's] approach to using steroids made a huge difference. There is what you call TSW or topical steroid withdrawal, which people get after using topical steroids or oral steroids. You get better so quickly, but there is a chance that you will have a rebound effect.

"[With Dr. Aron] he dilutes everything he prescribes in a base. All his prescriptions differ from patient to patient so there really is no one-cure-compound. After so many rounds of oral and topical steroids, it was only Dr. Aron's approach that did it right for him."





What other parents are reading
ADVERTISEMENT - CONTINUE READING BELOW
Joaquin is now 3 years old and is doing a lot better, said Roxi. The little boy has food allergies, and his eczema does still flare up from time to time. But Roxi has a better grasp of what will trigger her tot's rashes and how to keep them at bay. She bathes him only every few days, applies moisturizer religiously, sticks to mild soap and detergent, and treats broken skin when Joaquin scratches. "We've gotten familiar with what triggers his eczema and allergies so we are much more careful now," she said.

Roxi wished she had consulted with Dr. Aron earlier. "I know consultation is quite expensive, but it's so worth it. I want to send prayers of comfort and assurance to other parents. It will get better. Don't give up on finding the right medicine and approach for your child."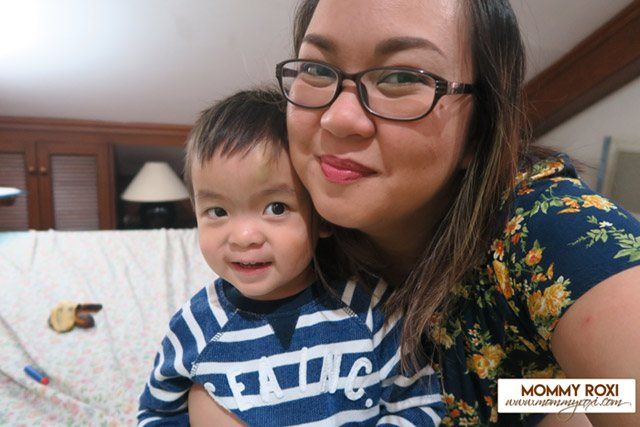 Here's a recent photo of the pair! Read Roxi's full account of Joaquin's eczema on her blog RoxiSantiago.com.
ADVERTISEMENT - CONTINUE READING BELOW
Roxi's story gave us plenty to think about. We approached Dr. Joanne B. Gonzalez, a fellow of the Philippine Dermatological Society and the American Academy of Dermatology who holds clinic at Derma 360° in Makati to answer the following questions.
Is there a cure for atopic dermatitis? 
No, says Dr. Gonzalez. "The problem with atopic dermatitis is that it's something inherent. It's not something that you can cure. It's not something that if you give very good medicine it will not return."

What should we keep in mind when it comes to steroids for conditions like atopic dermatitis? 
Dr. Gonzalez says steroids will work fast and well. In some cases, however, it isn't effective because it had been poorly applied or there was an incomplete course of treatment.

"One of the things that I noticed with some of my patients (Roxi's son Joaquin was never a patient) they're scared or hesitant to apply steroids, in effect applying very little or they stop right away. In doing so you're not able to treat it completely. If you don't treat the rash completely -- say, you stopped too early -- in one or two days it comes back because it's still there."

Dr. Gonzalez explained, however, that medication like steroids and antibiotics are to be used only during "episodes" or when the rashes flare up. "You can't use these as maintenance or you'll risk possible complications. When you don't have the rash, you manage the condition with moisturizers." 

How does staph infection happen when you have eczema?  
It's a common occurrence in kids with eczema, said Dr. Gonzalez. "You get very dry and itchy skin when you have atopic dermatitis. Babies and kids will scratch at their skin, which will create open wounds. Once you have open wounds, you can get an infection and the most common bacteria that can infect you is staphylococcus." 

When it comes to skin conditions like atopic dermatitis, Dr. Gonzalez could not stress enough the importance of a consultation with a dermatologist. "You need an expert, specifically a dermatologist, to do a history and to investigate. The dermatologist will be able to find a possible cause, and then with that tell you how to manage, prevent, and do maintenance for your child's eczema." 
ADVERTISEMENT - CONTINUE READING BELOW
What other parents are reading

Trending in Summit Network