Should We Let Our Kids Play Roblox? Dad Shares His Thoughts

Will my son be left behind if I refuse to give him a taste of Roblox and life in the metaverse?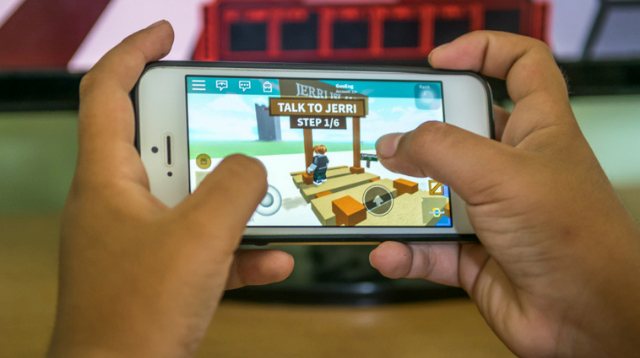 Welcome to Real Parenting, a space where parents can share the joys, pain, and the mess of parenthood. Want to get something off your chest? Share your parenting journey? Email us at smartparenting@summitmedia.com.ph with the subject "Real Parenting." Click here to read more 'Real Parenting' stories.

Should I let my son play with Roblox?

My son is almost two and he is definitely more aware and talagang naghahanap na ng gagawin to keep himself entertained. This is the stage that I was warned about by everyone, the terrible twos.

Mayabang ako and parati ko sinasabi na hindi ko muna bibigyan ng screen time yung anak ko pero lately I've been wondering if this is a good idea given that the world is practically interfacing on a 3x6 screen already. 

Before my son was born, I was able to talk to a friend who is a Dad of a tween and he told me something that stuck to my head until today: he said that he allows his kid to have as much screen time as possible. 'Ito na 'yung mundo ngayon kaya bakit ko sya pipigilan?' was his explanation.

ADVERTISEMENT - CONTINUE READING BELOW

Tama nga naman sya, and sa totoo lang, bakit ba natin ipipilit sa mga anak natin yung kinalakihan natin when that was 3 to 4 decades ago?

I grew up in the 90's, and at 43 years old today, I had my fair share of video game addictions.

Up up, down down, left, right. Ihip ihip sa cartridge para gumana sa family computer.

Street Fighter 2 was the best among the series.

Glicos ang tambayan namin nung bata ako and dun talagang ubos ang baon natin diba? When I got older, this addiction slowly faded away until nauso ang Counter Strike then after that naluluong din ako sa Plants vs. Zombies. Sa opisina, napansin ko na yung mga tao ko na mas bata, buong araw nakababad sa COD.

Is it really inevitable and am I holding back the development of my son?

Then I heard about this thing called ROBLOX. If you are a parent today, you would probably know about this and for sure may kwento ka din na pwede ma share. 

This is a big decision for a new parent like myself because I fully understand how deep this rabbit hole can get.

I have seen stories of Dads complaining how much they have spent on the game given that this is a marketplace as well and talagang may kakambal na gastos. This is a door that once we enter, there is no turning back. I don't want to make my son try it only to make him stop. So lately I've been researching about Roblox and here are a few things that I have discovered.

CONTINUE READING BELOW

Recommended Videos

A few years ago, I would see kids playing Minecraft and honestly I was so impressed with the whole concept of kids being encouraged to use their imagination to build and create.

Unlike the games we grew up with that was mostly about competition between player A and B, this game allowed kids to imagine and even learn how to code. Pretty cool right? But I would also see kids so hooked on this that they turn into zombies just staring at their tablets all day. Definitely I am not for this.

Ito yung sinasabi nila na Yaya 2.0, para daw hindi na magulo yung bata, bigyan nalang ng tablet. This I guess is another story to discuss.

This form of game is what they call a sandbox game where there is no defined game unlike Super Mario where it's pretty linear. A sandbox game is much like a platform where kids can play as they build. By adding the social aspect to it, kids can even interact with other kids. Quite amazing and definitely a learning tool of today.

Roblox on the other hand is like a newer version of Minecraft where it is a collection of games within a platform.

Meaning, you are no longer stuck to just one game but this sandbox feature gives you choices, lots and lots of choices. This game is also free but everything else that follows will cost you. Now that is the biggest trap there, and this is where my issue begins. 

ADVERTISEMENT - CONTINUE READING BELOW

I am 100% sure that my son will like this because this is designed to be liked and enjoyed. It's like a party drug which starts off as something perceived to be harmless then eventually the addiction will start.

When you allow yourself to enter into a world like this, be ready to get sucked in and honestly, this is what I am hesitant about. I heard parents complaining about how addicted their kids are to Roblox. I have encountered kids asking for the wifi password even before saying hello.

Have you seen a kid in a restaurant glued to a tablet while moving blocks on the screen and living inside a bubble? This is a sight that I fear the most.

There are so many horror stories about kids meeting stalkers and all sorts of creeps online in these platforms which means regulating this is going to be an added responsibility for us parents.

What is meant to be something educational and enjoyable can turn into a nightmare, now this is top of my list why I am not 100% sold on having my son  immersed in this world. 

My son is only two and some might say it's too early and why am I worried about this now? He is developing super fast and most parents would relate to this. His world keeps growing and his brain is sucking in so much information like a sponge.

We grew up with those jurassic encyclopedias that cost our parents so much money and that was our main source of information back then. Nowadays, there is so much to learn and so much to discover, is it fair to deprive our kids of this opportunity?

ADVERTISEMENT - CONTINUE READING BELOW

Will he be left behind when all his friends are advancing in the world of Roblox and life in the metaverse?

As a new parent, I want the best for my son to be able to compete in the world today. To give him that edge and in my head I keep asking, should I give him a taste of this drug that I am sure he will get addicted to?

I got my son a bike recently and the moment he opens his eyes, his first word for the day is "bike". He started throwing tantrums because all he wants to do now is bike outside. This is his first addiction ever and I am enjoying it for now.

He loves his books and the stories his mom reads to him. So far we are good and we are enjoying this stage but days go by so fast and we are bracing ourselves for that day when his main concern is knowing the wifi password and dreading those places we enjoy that has no signal.

ADVERTISEMENT - CONTINUE READING BELOW

We are no experts and we are learning as we go, much like building our own game in our own little sandbox.

But one thing is for certain, too much of anything is never a good thing for both kids and adults.

We are guilty ourselves of becoming too addicted to the screen and moderation should start from us and like what I've been noticing lately with my son, he pretty much follows our example.

Roblox may be the gateway for their generation but so was Friendster during our time or MIRC, in the end we might just really need to be in the sandbox with him so we can understand better this new world he is growing in.

This story came straight from the man behind the DadbudPH Facebook community, with over 36,000 member dads as of writing. Joey Ong, 43 years old, is husband to Ciara, and father to a cute toddler named Joselito.

Smart Parenting's objective, now more than ever, is to include dads in parenting conversations. We want to provide a judgment-free space where they can voice out their unique points of view, whether majority agrees or not. Smart Parenting remains to be a platform that's  pro-parents, and that includes dads.

Celebrate your pregnancy milestones!


Enter your details below and receive weekly email guides on your baby's weight and height in cute illustration of Filipino fruits. PLUS get helpful tips from experts, freebies and more!

You're almost there! Check your inbox.


We sent a verification email. Can't find it? Check your spam, junk, and promotions folder.

Trending in Summit Network