This Dad Explains How Being A Great Father Starts By Being A Better Husband

He's the man behind the DadbudPH Facebook community with over 36k members.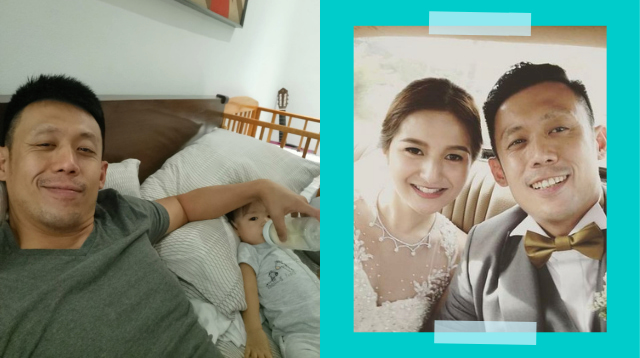 Smart Parenting invited the man behind the DadbudPH Facebook community, with over 36,000 members as of writing, to speak to Smart Parenting dads about the causality between being a father and being a husband or how one impacts the other.

Our objective, now more than ever, is to include dads in parenting conversations and hear their unique points of view, whether majority agrees or not. Smart Parenting remains to be a platform that empowers parents, and these include dads.

Hear from content creator Joey Ong, 43 years old, husband to Ciara, and father to a cute toddler named Joselito.

PHOTO 

COURTESY OF JOEY ONG

5 reasons why being a great father starts by becoming a better husband.

Ok, before you guys say "Sana All", or disagree violently, please let me, a father for two years and husband for five, state my case.

Sadly, no one is #blessed with the perfect marriage (although some of us do try). But if you guys aren't clear on how being a good husband is key to being a great dad, then read on.

ADVERTISEMENT - CONTINUE READING BELOW

1. The patience you need in fatherhood is honed in marriage.

In my experience, marriage is a test of patience. Let's face it: you two are stuck with each other for better or worse. And sometimes, the 'worse' part can really stretch your patience. 

I love my wife–that's why I married her. But it's not true that either of us are easy to love every single day.

PHOTO 

COURTESY OF JOEY ONG

Think of it this way: motherhood changes your beloved, pretty much like how an IOS upgrade transforms your phone. It may have some strange feature that takes getting used to, but these 'strange features' are responses to her changing body and responsibilities.

She endured nine months of physiological and emotional upheavals for our baby. So each time I wanted to snap at her for a last-minute add-to-cart or for endlessly primping just before our few precious nights out, I had to learn a new mantra–guys, ommm it with me–"Nine months... baby… cute… I'm happy."

CONTINUE READING BELOW

Recommended Videos

PHOTO 

COURTESY OF JOEY ONG

Practicing patience with each other will help parents hone the composure and endurance needed when our little ones throw uncontrollable tantrums, or keep us awake for nights on end, or keep the house in perfect disarray. 

2. A good father and husband is simply a good person.

Be a good person, especially during arguments.

It's interesting how easily we forget this in the shifting comfort zones of marriage. A difference in opinion quickly escalates into an argument. Do these usually ignite a fight: going out with the bros when your wife is upset, or getting her to calm a screaming child while you finish a game? Good luck with that, buddy!

"Toddlers are still egocentric and self-centered, and they think everything that happens around them is in reference to them," says child psychiatrist Anna Josefina Vazquez-Genuino, MD, a founding fellow of the Philippine Society for Child and Adolescent Psychiatry, in another Smart Parenting article. "So if a child witnesses a fight, he would think, 'Maybe they are fighting or hurting each other because of something I did."

ADVERTISEMENT - CONTINUE READING BELOW

Needless to say, a toxic marriage destroys a child.

How to be a good person even during conflict? In an interview with PopSugar, Andrew Roffman, CSW, director of the Family Studies Program at the Child Study Center at NYU Langone suggests to "assert your position without criticizing the other person. No belittling that person or their ideas. Avoid using sarcasm."

More importantly, Roffman says the goal is to understand the perspective of your partner and not to refute him. When you do, provide validation for what you hear. For example, Roffman suggests saying things like, "I understand why you feel that way, I understand how that could make you angry, or I understand why that's important to you."

3. A good person goes beyond being a good provider.

A good person is also a partner who contributes more than just a monthly salary.

For me, the mindset of "I pay the bills therefore I can have my beer"– or worse, "I pay the bills therefore I call the shots"– is the most obsolete ideology in the world of parenting.

Sorry, but in this beautiful world that we create for our children now, a husband must open himself to sharing equally in the household work.

Set an alarm, if you must, to remind yourself to bring out the trash, before she tells you.

Take charge of the washing machine, before the laundry piles up.

PHOTO 

COURTESY OF JOEY ONG

ADVERTISEMENT - CONTINUE READING BELOW

PHOTO 

COURTESY OF JOEY ONG

This works like magic for me, because it shows my wife that I "see" her as someone other than the designated cook, maid, or milk bar. Also, when she is recognized for her skill and talent, she shines. So don't fail to appreciate her.

PHOTO BY

COURTESY OF JOEY ONG

ADVERTISEMENT - CONTINUE READING BELOW

4. A great father teaches kindness by example.

Be kind, gentlemen. Show it in little ways, but do it regularly.

Let her sleep that extra hour in the morning.

Once or twice a week, take your child on a Daddy and Baby's Day Out, so Mommy can enjoy much needed "me time".

Let her choose what Netflix show you're binge-watching this weekend.

Consistent kindness is hard, but hey, it's the cheapest gift you can give your wife every day.

When children see how we treat our partners with kindness, they will grow up to be kinder humans themselves. 

5. A good father teaches teamwork by example.

Be as involved in parenting as she is.

While my wife can't delegate breastfeeding to me, our parenting is a team sport. This is the true test of for better AND for worse, but it's also surprisingly fun. Changing diapers and picking up after our little one is a small price to pay for a beautiful family life. Why ruin it by making a fuss?

PHOTO 

COURTESY OF JOEY ONG

ADVERTISEMENT - CONTINUE READING BELOW

PHOTO 

COURTESY OF JOEY ONG

Young children are more empathic than parents realize.  I often see our son subtly tune in to our emotions. If we're tense, so is he. If we are in a playful mood with each other, he's more malambing.

Many fathers will agree; a husband who is respectful, considerate, and shares in the responsibility sets the tone for the marriage, and in turn, for his child's wellbeing.

Treating your wife with respect is something she deserves; this is the most valuable lesson you can give your child on being a good person. 

He may only be 2 years old, but I am already teaching my son to love her mom above all, including myself. So if you ask me why I think we all need to be better husbands? I will end by saying that my relationship with my wife is the best lesson I can pass down and share with our son.

ADVERTISEMENT - CONTINUE READING BELOW

PHOTO 

COURTESY OF JOEY ONG

Celebrate your pregnancy milestones!


Enter your details below and receive weekly email guides on your baby's weight and height in cute illustration of Filipino fruits. PLUS get helpful tips from experts, freebies and more!

You're almost there! Check your inbox.


We sent a verification email. Can't find it? Check your spam, junk, and promotions folder.

Trending in Summit Network