A Single Mom's Father's Day Message to Her Son's 'Prodigal Father'

A mom pens a Father's Day message for her son's dad whom she shared a long and tumultuous history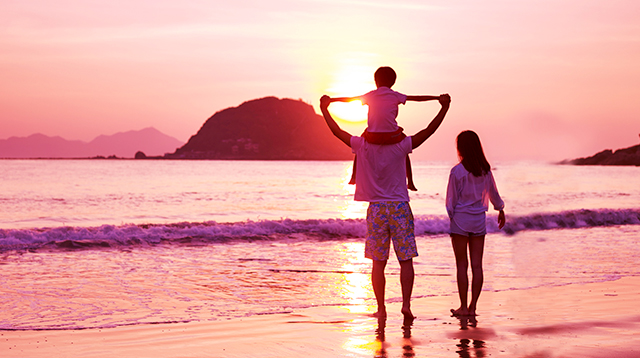 I once had a 30-day blog entitled "The Prodigal Father" where I wrote about the dad of my eldest son Mio and his short fatherhood stint. (Later on, all that blogging energy was directed to MioFightsCancer.com where I wrote about Mio when he was diagnosed with acute lymphocytic leukemia.)

I was a single mom for most of Mio's childhood, but a fiercely protective support system of family and friends surrounded us. They always had snide remarks about Mio's dad because there wasn't a lot of good things to say, as often is the case of many single parents when it comes to the other half of their offspring's genes.

Mio's Dad and I were childhood sweethearts and only had gotten together briefly when I was about to graduate from college. Mio arrived as a surprise present, one that no one expected. But it was clear to me that Roman, Mio's Dad, did not want to have anything to do with him. He was out of the picture.

What other parents are reading

By the time Mio was 4 years old, I was in my early 20s, finding my foothold as a head of a family unit of two. After getting my heart broken yet again, I insisted to my doting parents that it was time for me to learn how to become a parent myself. I pushed for independence, and I moved into a one-bedroom condominium for rent that cost a little way above my salary. But it was right beside my then publishing office, and the school where I planned to send Mio to the nursery was just across our residential building.

ADVERTISEMENT - CONTINUE READING BELOW

I was on a date one night and somewhere in the flickering lights of the dark was Roman, Mio's dad, waving hi at me. I said hi back and acted all cool and put together. And then he was back in my life again. 

Here's the short version of this chapter in our story: Roman introduced himself to Mio, a shy and impressionable sweet boy. For a month, Roman played Dad, much to the apprehension of many of our loved ones. And then, later on, Roman decided that apparently, he couldn't go on with it because his mom didn't approve.

What other parents are reading

I thought, "Fool me once, shame on you. Fool me twice, shame on me." So I dragged him to court and took back everything I said about not needing a penny from him. I wanted vengeance, and I wanted to cause him every possible hassle. I wanted to make sure that when my son had a mind of his own and had a better grasp of the situation of our life, he would never doubt that I did everything in my power and exhausted every ounce of human kindness, forgiveness or reason that was humanly possible in those circumstances.

Our financial support case had a pre-trial hearing to determine how much support Mio required, and we were simultaneously faced with rebuttals of denial and thrown proof of incapacity to pay. So we had to go through a DNA test and several more dramatic hearings of why Roman should only pay this or why my son had to be sent to Ateneo, considering he had cancer, give or take another three years.

By the time Mio finished his first year in Ateneo grade school, I woke up one day, realizing that I already got what I wanted. It was time that Mio got what he needed and rightfully deserved. So I asked for a settlement agreement to be drafted where for the entirety of Mio's schooling years, Roman will have to take care of it. We were to review the deal based on his capacity to pay and the educational requirements of Mio.

ADVERTISEMENT - CONTINUE READING BELOW

Recommended Videos

What other parents are reading

Of course, there were bumps along the road. In the first year of this arrangement, the monthly allowance didn't feel enough because it didn't meet the schedule of tuition payments. We had to agree to disagree on the second year what "educational needs" meant. The third year saw an increase in tuition fees which, of course, was beyond my control. By the time we came to the fourth year, we had agreed he would pay the tuition fee in full, one time big time annually, regardless of the cost.

Once, I asked Mio if he wanted to see his Dad. There was an upcoming holiday, and Roman surprisingly requested to see him. It was a point in Roman's life where he started settling down with a kind and very understanding young woman, who is now the mother of Mio's half-brother, Dylan.

But Mio refused. After much prodding, Mio said he didn't want to see his Dad because he was bad. I immediately corrected this and said, "I never told you that he was a bad person. Why would you say something like that?" Mio replied, "Because you're angry at him."

What other parents are reading

I have never spoken ill of Roman in front of Mio (unless he read my blog!). So I ended that conversation with tongues of fire coming out of my mouth. "Just because I'm angry with your Dad doesn't mean he's bad. We don't agree on many things, but that doesn't mean he's a bad person. He doesn't know how to be a good dad." It became a recurring theme every time the topic of his father was brought up. 

ADVERTISEMENT - CONTINUE READING BELOW

I'm glad to report now that Mio has grown to have engaged in activities that remind me of his father. And the task of telling him about his Dad has turned into something more endearing.

Roman has hardly contested any tuition payment to date nor has he behaved untowardly to me since our written agreement. And seeing how he has become a doting father to his younger son makes this seem like a happy ending. I have become more understanding of Roman after seeing my partner Paolo's struggles with the distance and his inability to spend as much time as he hoped he could with his kids from another relationship.

I'm not sure if Roman will appreciate another article about him (it's not like he has the patience to read through this). But if he or his partner did, I want them to know that, in the same way that the families of Paolo's children have opened their doors to us so we can spend time with his kids, Roman and his family are welcome in our home to spend time with Mio anytime that they would like. The idea is something that brings peace to my heart and will open up Mio's, too.

What other parents are reading

Fathers are hardly perfect. But what they do or fail to do has an immense impact on a child. If Paolo isn't how he is now, he might not have had the chance to stand by my son and show him how a hardworking, honorable man can own up to his mistakes and who can love his Mom for who she is, in spite and because of her self. 

ADVERTISEMENT - CONTINUE READING BELOW

I feel that in spite of how stupid it seemed at that time, Roman's humility in admitting he could not fulfill his obligations to Mio has its wisdom. Perhaps if he tried so hard then, he would have failed so bad, that there would be no going back from there. Or if he forced himself to do so, I would not have gained the confidence or the support of an army made up of friends and strangers to fight through a life that was going to be harder than I had imagined.

Roman may essentially be Mio's scholarship sponsor (with no minimum grade requirement, which is why I highly encourage Mio to take extended courses in either law, medicine or study abroad!). He is also still Mio's dad. So Happy Father's Day to you, Roman. Thank you for giving me Mio.

Jasmine Mendiola's son Mio is now 14 years old and cancer-free after being diagnosed with acute lymphocytic leukemia at 5 years old. She has two children with her partner Paolo Bernaldo, Amelia Roux and Pablo Pascal. She is a work-at-home mom and a makeup artist who blogs at JasmineMendiola where this piece originally appeared. Edits have been made by SmartParenting.com.ph editors

What other parents are reading

Celebrate your pregnancy milestones!


Enter your details below and receive weekly email guides on your baby's weight and height in cute illustration of Filipino fruits. PLUS get helpful tips from experts, freebies and more!

You're almost there! Check your inbox.


We sent a verification email. Can't find it? Check your spam, junk, and promotions folder.

Trending in Summit Network