Dads in Tech Industry Enforce Stricter Rules on Kids' Gadget Use

Microsoft's co-founder, Bill Gates, forbade smartphone use until age 14.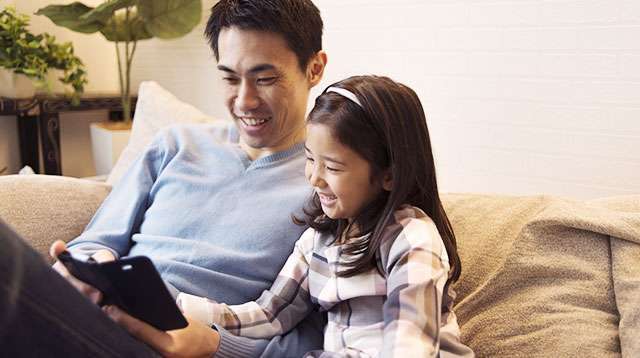 In this digital age, smartphones and tablets are a way of life for almost all families. SmartParenting.com.ph has always stressed the recommended screen times for toddlers and big kids. There's growing evidence that prolonged gadget use can lead to screen-related "addictive" behavior. Now, more than ever, parents are urged to find balance when it comes to managing their child's use of technology.

While controlling screen use is daunting, parents only have to look at how tech experts are doing it to be assured that managing their kids' gadget use is possible. Yes, "techy guys" like Bill Gates, co-founder of Microsoft, and the late Steve Jobs, Apple's former CEO, had strict rules on their children's gadget use.

In a previous interview with the Mirror, Bill Gates said that his three kids, Phoebe, 15, Rory, 18, and Jennifer, 21, were only given mobile phones when they reached 14 years of age. He also forbade them from using it at the dinner table and set a limit on how long they could use it before bed. "We often set a time after which there is no screen time and in their case, that helps them get to sleep at a reasonable hour," he tells the Mirror.

What other parents are reading

They complained, of course, but Gates was strict when it came to enforcing it. And though he didn't go as far as accessing his children's Facebook accounts, the tech mogul did acknowledge that online safety is "a very tricky issue for parents now," reports Business Insider.

It wasn't just Bill Gates who limited gadget use for his kids. Steve Jobs also prohibited his kids from using the very first iPad when it was launched. "We limit how much technology our kids use at home," he told journalist Nick Bilton, who reported it in the The New York Times (NYT).

Other tech giants, like Wired.com's former editor, Chris Anderson, would put time limits and parental controls on devices used at home. "My kids accuse my wife and me of being fascists and overly concerned about tech, and they say that none of their friends have the same rules, but that's because we have seen the dangers of technology firsthand," Anderson, who now owns 3D Robotics, a drone making company, tells NYT. "I've seen it in myself. I don't want to see that happen to my kids."

While their methods may serve as an inspiration on how we should address our own kids' access to gadgets, it also goes to show that even those who pioneer the technology acknowledge that its effects should be a cause for concern.

There are a growing number of studies that prove that technology is addictive. This includes social media sites like Facebook and Twitter, which has an "all-consuming" power over its users. 

ADVERTISEMENT - CONTINUE READING BELOW

What other parents are reading

"It literally changes your relationship with society, with each other," Napster founder and former Facebook president Sean Parker told Axios. "It probably interferes with productivity in weird ways. God only knows what it's doing to our children's brains."

The concern has led two Silicon Valley companies, Jana Partners LLC and the California State Teachers' Retirement System, both of which are Apple's largest shareholders, to write an open letter to the tech company. The letter urged Apple to "offer parents more choices and tools to help them ensure that young consumers are using your products in an optimal manner."

In the letter, the two shareholders enumerate several studies that show unintentional but negative consequences connected to frequent gadget use, including:

1. Inability to focus on educational tasks and being negatively distracted by digital tech. A survey of 2,300 teachers conducted by the Center on Media and Child Health and the University of Alberta in the U.S. found that the number of students who are negatively distracted by digital tech is growing, while the ability to focus on emotional tasks has decreased. Teachers have also said that the number of children with emotional and social challenges has also increased. Instead of engaging in physical activities and socializing with each other during lunch hour, students are instead hooked on their personal devices, says one teacher.

2. Excessive screen time may be a risk factor for suicide in teens. According to a study published in the journal Clinical Psychological Science, there is "a concerning relationship between excessive screen time and risk for death by suicide, depression, suicidal ideation, and suicidal attempts," according to Professor Thomas Joiner, who co-authored the study. Researchers found that teenagers residing in the U.S. who spend three hours a day or more on electronic devices are 35% more likely to have a risk factor for suicide, while those who spend five hours or more are 71% more likely.

CONTINUE READING BELOW

Recommended Videos

What other parents are reading

3. Heavy social media usage may mean a higher risk for depression. In the 2017 Children's Mental Health Report by the Child Mind Institute in the U.S., findings showed that eighth-graders who spend 10 or more hours a week on social media are 56% more likely to report being unhappy than those who spend less time. Teens report Snapchat, Facebook, Twitter and Instagram increase feelings of anxiety. Heavy users of social media increase their risk of depression by 27%.

4. Sleep deprivation. There have been studies that show that tech use during bedtime or in the bedroom may result in inadequate sleep quantity, poor sleep quality, and excessive daytime sleepiness. Joiner's study showed that teens who use gadgets five or more hours a day were more likely to get less than seven hours of sleep.

5. Regulating screen time is a constant battle. According to an American Psychological Association (APA) survey of over 3,500 U.S. parents, 58% worry about the influence of social media on their child's physical and mental health. Around 48% say that regulating their child's screen time is a constant battle, while 58% say that their child has already become "attached" to their gadget.

The shareholders ended the letter with a call to action for Apple to re-evaluate its products and implement changes to its software to allow parents to monitor their children better. In the same manner, parents should also be responsible for reining in their kids' gadget use. If tech moguls like Gates, Jobs, and Anderson could follow through with their rules, then surely you can, too.

ADVERTISEMENT - CONTINUE READING BELOW

What other parents are reading

Celebrate your pregnancy milestones!


Enter your details below and receive weekly email guides on your baby's weight and height in cute illustration of Filipino fruits. PLUS get helpful tips from experts, freebies and more!

You're almost there! Check your inbox.


We sent a verification email. Can't find it? Check your spam, junk, and promotions folder.
Trending in Summit Network