Did Our Children Learn Something This Year? Yes, Thanks To The Pandemic

We may call this the "lost school year." But lessons for our kids abound.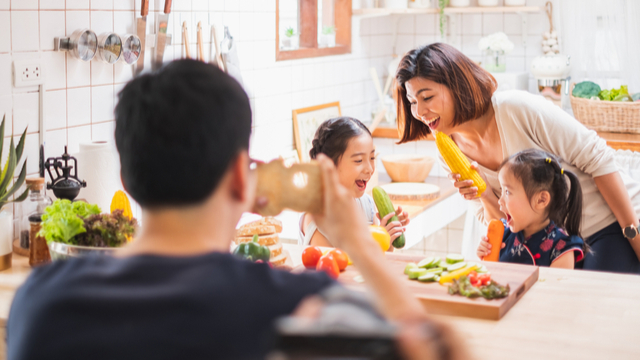 Welcome to Real Parenting, a space where parents can share the joys, pain, and the mess of parenthood. Want to get something off your chest? Share your #parentinginapandemic journey? Email us at smartparentingsubmissions@gmail with the subject "Real Parenting." Click here to read more 'Real Parenting' stories.

Now that the year 2020 is nearing its end, many of us look back at the year that was and how the pandemic's early months made us face so many "what ifs."

So many "what ifs" we faced had to do with our child's education. The months of April to August were crucial for most when just every school, including the country's very own Department of Education, was grappling with the question to push through with schooling or not.

We wondered: What if my child can't cope with online learning? What if he starts to miss his classmates? Can he just skip an entire school year? What if my child learns nothing?!

The lost school year

Crisis schooling had parents around the world wringing their hands, wondering about making decisions that really had no precedent.

In her article in understood.org, "What if This is a Lost Schoolyear (Without Losing the Learning)," Amanda Morin wrote she and her husband worried that their fifth grader's learning experience would not translate well to a virtual environment.

She goes on to write that even if they, later on, discovered that their son adjusted well, still, "his remote learning days weren't as robust as his in-person days."

ADVERTISEMENT - CONTINUE READING BELOW

Like most parents, Morin endlessly worried until she stumbled upon a question that "quieted" her brain: "What if we just look at this as a lost school year?"

"In letting go of 'what if,' it made it easier to focus on 'what is.'" Amanda Morin writes.

Learning in a school is different, she points out. "Learning is about gaining new skills and knowledge. Schooling is about that, too. But it's also about getting used to the 'norms' of being in a school system. Schooling happens in schools. Learning doesn't have to."

In days that used to be filled with extra schooling, Morin writes, it is now filled with additional learning for her son.

"He now knows how to do his own laundry. He's eagerly learning how to do small household repairs. He's reading cookbooks, comparing recipes to the ingredients we have on hand, and making meal recommendations.

"He's listening to me talk through schedules with my husband and learning how we prioritize tasks to manage time and get everything done," she writes of her fifth grader.

Learning at home

As our families try to adjust to doing and accomplishing everything online — work, school, meeting, working out — it can't be denied that offline, we are "connecting" as a family more than at any other time. In the process, we kept on finding meaningful ways to fill up our children's time.

One just has to scroll their social media accounts to see parents proudly posting what their child has learned during the lockdown:

Helping mom bake ube pandesal
Completing a pop-up art under Kuya Robert's (Alejandro) live art classes
Learning how to plant and watching it grow, too
Helping Ate set the table
Seeing little brother letting go of trainer wheels on the bike
Rediscovering nature with the family because, finally, there's time to do so

ADVERTISEMENT - CONTINUE READING BELOW

Recommended Videos

In losing an in-person school year, our children have gained a solid bond with the family; after all, quality time mostly happened during the weekends pre-pandemic because everybody was so "busy" the rest of the week. This phenomenon in itself is a rich source of learning for a child.

Pandemic as a teacher

Another upside of the pandemic is it became a teacher to our kids that we never expected.

In her article, "3 Lessons the Pandemic is Teaching My Kid That I Can't" for forge.medium.com, Michelle Brown wrote she noticed extraordinary development in her 8-year-old daughter's growth that may not have happened otherwise without the pandemic.

"There are certain things that cannot be taught — only lived." Michelle Brown notes.

Brown writes that the new normal taught her daughter how to ultimately be responsible with her own entertainment, allowing her mind to flourish in the constraints brought about by the lockdown (i.e., not being able to play in school).

She also writes that the pandemic taught her daughter that "death is real."

"She's now keenly aware of death, whether I like it or not…And she knows that while the threat is real, most people who have Covid-19 will get better and that there are things we can do to help keep ourselves and others safe, like staying home and washing our hands."

Lastly, Brown writes, her daughter has learned that adults don't know everything. "… Just as our children are realizing their parents don't exactly know what to do or when this [pandemic] will end, they themselves are stepping up in surprising ways. They are adapting, helping, and, above all, loving us unconditionally even when we're crying in the kitchen."

ADVERTISEMENT - CONTINUE READING BELOW

Have you observed the same things in your children after 10 months of lockdown?

The year 2020 has been terrible, but it has also been a year of robust learning — the kind you don't get in school. Living through a pandemic (that is not yet over) taught our children lessons they will need and can use for the rest of their lives.

By turning those "what ifs' to "what is," it's easier to keep things positive and hopeful for both our children and us.

Celebrate your pregnancy milestones!


Enter your details below and receive weekly email guides on your baby's weight and height in cute illustration of Filipino fruits. PLUS get helpful tips from experts, freebies and more!

You're almost there! Check your inbox.


We sent a verification email. Can't find it? Check your spam, junk, and promotions folder.

Trending in Summit Network