Expert Shares 10 Simple Activities To Get Your Toddler Talking

Help your child achieve their language and communication milestones with these activities.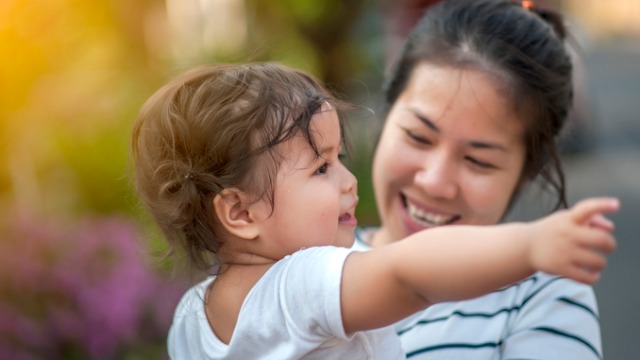 As your child grows, he or she will be accomplishing various developmental milestones, including that of language and communication. While it's exciting to hear your little one say his first few words, don't fret if he's a little behind compared to others —  some slight delays are normal.

If you do suspect a delay, it is is always best to consult a professional. (Click here for red flags to look out for) The Philippine Association of Speech Pathologists has a directory where you can seek for help from speech therapists — highly trained professionals who can evaluate or assess, diagnose, and create treatment plans for your child.

The role of parents in language and communication

Communication is an active process of exchanging information and ideas. It involves both understanding and expression. These expressions are either done through movements, gestures, object, vocalizations, signs, pictures, symbols or printed words.

In a free webinar held by the ADHD Society of the Philippines called "Speech and Language Strategies for Parents," Jeremiah James Pinca, registered occupational therapist and program director of Wordabilities therapy clinic, explained that when individuals communicate effectively, they are able to express their needs, feelings, and preferences in a way that others can understand.

Your child can (and will) achieve communication milestones more readily and be able to spontaneously adapt to these newly learned behaviors when taught in the context of familiar experiences and activities.

Activities that help with speech skills

Here are some strategies and activities from Jeremiah that you can do with your kids to help them achieve their language and communication milestones. 

ADVERTISEMENT - CONTINUE READING BELOW

1. Eye contact

Establish meaningful eye contact when your child makes sounds and respond to them as if you're having a proper conversation with them, even if they're just blabbering. When they laugh, you laugh with them. Make faces with them in front of a mirror. It helps them see vividly how they look like when they do the actions!

2.

Baby talk

This means making easy to imitate sounds like "Mama," "Baba," or "Dada" for babies. At this point, it is important that you get their attention.

Elongate your vowels and use a sing-song voice. Try to make your words short and slow, and repeat it as often as you can. Emphasize words that you want them to learn.

3. Narration

Narrate what you are doing, what you have done, or will be doing with your baby using your "baby talk" voice. You can also give voice to your baby and interpret his actions for him — for example, if he is reaching for a toy, say, "Baby wants the rattle? Baby wants the rattle! Rattle for the baby, yes give baby the rattle."

4. Read picture books

Choose big, colorful, and sturdy picture books, one that catches their attention. While gadgets are convenient tools to educate and keep your little ones entertained, with picture books, you can filter what they learn.

Start with describing the illustration as shown in the open page. You don't have to read the narrations under the pictures yet. As they grow, you can ask them if they know what is shown on the book, or have them look for something in the page.

ADVERTISEMENT - CONTINUE READING BELOW

Recommended Videos

5. Play the "Yes" or "No" game

Do this by asking them simple questions with obvious yes or no answers. For example, "Is your name Alex?"

You can also ask them other questions and provide them with choices for answers. This can be done using visual aids to help them understand which is which between the choices. For example, show them a picture of Frozen's Elsa and then another of Anna and ask them, "Which one is Anna?"

6. Create obstacles

Obstacles are situations that motivate children to communicate. It can be done by withholding objects that your child wants until they say a certain thing properly.

Make sure to give them ample time to respond, as there are children who know what they want to say but need time to remember the words from their memory to use on a specific situation. It is also important for you to respond positively to their attempts.

7.

Mix and match

When your children reaches a certain age and they can now combine phrases to make sentences, you would want them to understand the concept of 'categorization'. You can cut out and print pictures that your child can categorize into groups.

This can also work by letting them organize their toys by category. You can also print and cut out silly pictures with mismatched top and bottom parts such as a fish with human legs and then let them correct the images. Talk about what's wrong with the picture and ask them how it can be fixed.

ADVERTISEMENT - CONTINUE READING BELOW

8.

Guessing game

Play a simplified version of the all-time favorite "Pinoy Henyo." Let the children guess what word you are describing or do it the other way around and let the children describe the words they want you to guess.

9. Movie time

Take a break and switch on your devices and watch a movie as a family. Turn it into a game and pause at certain moments and then make them guess what will happen in the next scene/s.

10. Phase out baby talk

When your child baby talks, repeat her words but construct the sentence correctly. For example, if your child says, "Banana, yellow", respond with "Yes, the banana is yellow."

You can also add little things to the sentence which will help them widen their vocabulary. Add adjectives like, "Yes, the banana is yellow, because it is ripe."

According to Jeremiah, when doing these things, what's most important is that you pay attention while your child is talking to you. Pause after speaking to give your child a chance to respond and think of an answer.

Read how a mom coped with her son's language delay here.

What other parents are reading

Celebrate your pregnancy milestones!


Enter your details below and receive weekly email guides on your baby's weight and height in cute illustration of Filipino fruits. PLUS get helpful tips from experts, freebies and more!

You're almost there! Check your inbox.


We sent a verification email. Can't find it? Check your spam, junk, and promotions folder.

Trending in Summit Network