Learn About The Developmental Milestones You Can Expect In Your 4-Year-Old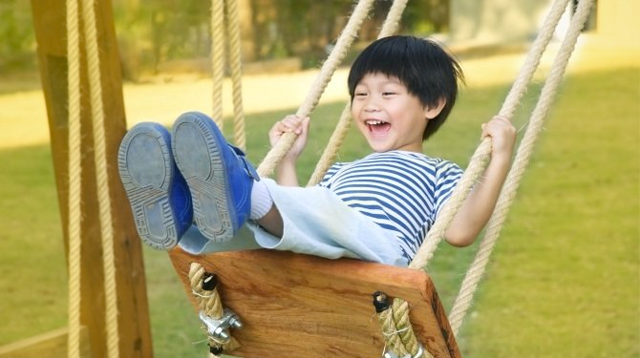 With each year of your child's life, he becomes more capable of acquiring different skills. Now that your little one is in the preschooler stage, don't forget to keep track of the 4-year-old developmental milestones that will tell you he's developing on time.

4-year-old developmental milestones

BabyCenter says the fourth year of a child's life is "full of building on old skills while picking up brand-new ones at breakneck speed." You'll find your child is becoming more energetic and sociable and has more curiosity about the world around him. Below, learn more about the 4-year-old developmental milestones you can expect your child to display.

Movement and physical milestones

According to Raising Children Network, at age four, kids usually enjoy moving around and being active. 4-year-old developmental milestones in movement you can expect include walking down the stairs with alternating feet, throwing, catching and kicking a ball, jumping, climbing, running, and balancing on one foot.

The American Academy of Pediatrics (AAP) says you can also look forward to improvements in your child's hand and finger skills. These 4-year-old developmental milestones include copying triangles and other geometric patterns; drawing a person with a body; using a fork, a spoon, and sometimes a table knife; dressing and undressing on his own, and; caring for his own toilet needs.

Language and communication milestones

Lauren Krause, Chief of Speech-Language Pathology at the La Rabida Children's Hospital in Chicago, U.S.A., tells Parents that in terms of language-related 4-year-old developmental milestones, a child should be able to speak clearly with everyone understanding the majority of what he's saying.

ADVERTISEMENT - CONTINUE READING BELOW

"There are some sounds that might be difficult for him, particularly 'R,' 'S,' and 'Th.' But by age four, 90 percent of kids can pronounce all of their words clearly," Krause explains. She adds that parents shouldn't be too concerned if their child has a slight lisp at this age as this is common in kids until the age of six. Instead, she advises moms and dads to encourage their children to learn new words and improve pronunciation through pretend play.

The Centers for Disease Control and Prevention (CDC) lists other 4-year-old developmental milestones to expect in your child's language and communication skills, such as knowing the basic rules of grammar (e.g., using "he" and "she" correctly), singing songs or reciting poems from memory, telling stories, and saying his first and last name.

Social and emotional milestones

At age four, kids usually enjoy exploring and learning their emotions, says Raising Children Network. Your child might do this in different ways, such as by talking, using gestures, making noises, and through play.

Other important 4-year-old developmental milestones have to do with your child's social skills. You can expect your child to begin making friends as he interacts with his peers, like neighbors and other children at his preschool. The CDC adds that other milestones you can look forward to include enjoying new things, playing "Mom" and "Dad" and being more creative during pretend play, cooperating with other kids, and talking about his interests.

Cognitive milestones

During your child's fourth year of life, he begins to acquire skills in thinking, learning, and problem-solving. According to the CDC, these 4-year-old developmental milestones include the abilities to name colors and numbers, understand the concept of counting and time, distinguish between "same" and "different," play board or card games, and tell what he thinks is going to happen next when you read him a book.

ADVERTISEMENT - CONTINUE READING BELOW

Recommended Videos

The Child Mind Institute adds that cognitive milestones you can expect in your four-year-old are the ability to approach problems from a single point of view, follow three-part commands, and engage in fantasy or pretend play.

Milestones in life skills

Among the 4-year-old developmental milestones you can look forward to in your child is the ability to do simple daily tasks like eat on his own using a spoon and fork as well as pour drinks from a pitcher, says Parents. Another skill your child needs to learn at this stage is proper bathroom hygiene, such as wiping from front to back (for girls) and washing one's hands properly (for boys and girls).

Susan Cooper, M.Ed., an early child development expert, tells Parents, "The child who does not wash his or her hands after going to the bathroom is subject to more health risks than the child who didn't truly understand colors the first time through."

When to be concerned about your 4-year-old's development

Just as there are 4-year-old developmental milestones that parents are called to watch out for to keep track of their child's development, there are also signs that might mean your child is developmentally delayed. According to the CDC, these signs include:

Is unable to jump in place
Has difficulty scribbling
Shows no interest in interactive games or make-believe
Refuses to acknowledge other children or people outside his family
Resists sleeping, dressing, and using the toilet
Is unable to retell a story
Doesn't follow three-part commands
Cannot distinguish between "same" and "different"
Doesn't use "me" and "you" correctly
Speaks unclearly
Loses skills he had previously acquired

ADVERTISEMENT - CONTINUE READING BELOW

If you observe that your child doesn't exhibit the 4-year-old developmental milestones discussed in this article or displays the signs listed above, it's best to talk to your doctor about this. They'll be able to tell you if your child needs a developmental screening.

The AAP says that all well-child visits should include questions about a child's behavior and development. Developmental screenings should be done during doctor's visits at the following ages: nine months, 18 months (1.5 years), 30 months (2.5 years), and 48 months (4 years).

The AAP adds that formal developmental screenings should be done whenever there is a concern over a child's development and that these screenings look at all areas of development (language/communication, problem-solving, social-emotional, and fine and gross motor skills). Autism screenings are to be done on all children at 18 and 24 months old.

In the fourth year of your child's life, be sure to look out for these 4-year-old developmental milestones, not just to ensure he is developing normally, but also to soak up these precious moments before they pass too quickly!

What other parents are reading

Celebrate your pregnancy milestones!


Enter your details below and receive weekly email guides on your baby's weight and height in cute illustration of Filipino fruits. PLUS get helpful tips from experts, freebies and more!

You're almost there! Check your inbox.


We sent a verification email. Can't find it? Check your spam, junk, and promotions folder.

Trending in Summit Network