Aside From Knowing Numbers or Letters, Your Child Will Need These Skills for Kindergarten

Studies have shown that social competence as a child is linked to well-being as an adult.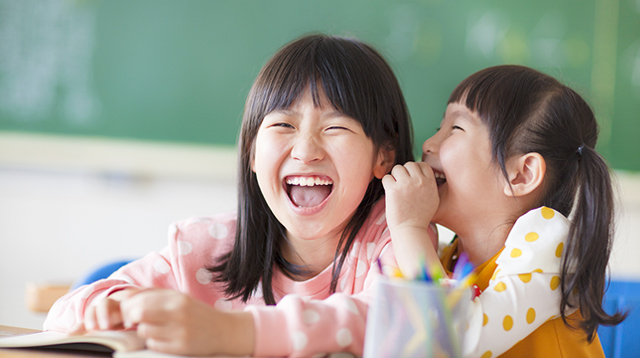 SmartParenting.com.ph had previously written that a school-ready child recognizes letters, number, and colors. He can also eat, get dressed, and go to the bathroom on his own with a little supervision from mom and dad. But parents need to know social skills in a child are crucial as well and may have an even more significant correlation with success as an adult.

A 2015 study found that "kindergartners who demonstrated social competence were more likely to graduate from high school, go to college, get a job, and stay out of jail than those who showed a lower level of social competence."

Important social skills kids need to learn before kindergarten

While knowing how to count and distinguish shapes can help your child get ahead, her ability to get along well with her peers is just as important. Here are 7 skills that you may want to start instilling in your child before she starts going to school.

Playing with others

Play does more than just keep children entertained; it is also a fun way to develop fine motor skills to social skills. Motherly writes, "Play is a powerful catalyst for development in the early years. By playing with others, children learn to negotiate, problem-solve, take turns, share, and experiment."

Some parents might assume that the best way to develop their little ones' social skills during playtime is by arranging play dates or being there to play with them, but experts say that allowing children to engage in a play where they are supervised but not instructed can be just as vital in honing their social skills.

ADVERTISEMENT - CONTINUE READING BELOW

In an article for The Washington Post, Angela Hanscom, a pediatric occupational therapist, writes, "If children are not given enough natural movement and play experiences, they start their academic careers with a disadvantage. They are more likely to be clumsy, have difficulty paying attention, trouble controlling their emotions, utilize poor problem-solving methods, and demonstrate difficulties with social interactions."

Solving problems and conflicts

While the urge to solve your child's problems yourself can be tempting, especially when you see her struggling, doing so may rid her of the practice, she needs to learn how to handle issues she encounters and to cope with difficult situations in general.

Instead of taking the lead in finding a solution for your child's problems, Motherly encourages parents to let their kids get involved in finding a way to resolve the issue. "Ask your child to describe what's going on, brainstorm solutions, and try one out. You're still an active player, supporting your child through the process, but rather than doing all the solving yourself, let your child own the problem by asking, 'What do you think you could do about that?'"

Being sensitive to others' feelings

When a child can recognize the feelings of the people around her, she can get along with them better. This ability to understand other people's emotions, also known as empathy, allows a child to build stronger relationships with her peers, encourages acceptance and tolerance, and contributes harmony in the group.

How do you develop this skill? Start by calling your child's attention to emotional cues and naming them. For example, say things like, "I see that you're frowning and I think you may be feeling upset" or "Your sibling looks so happy that she won the game!" Motherly also recommends talking about emotions when you read storybooks to your child, asking her questions such as, "How do you think she felt when that happened to her?"

ADVERTISEMENT - CONTINUE READING BELOW

Recommended Videos

Helping others

A helpful child can recognize the needs of the people around her and is motivated to do what she can to meet those needs in whatever way she can. At home, start building this skill in your child by giving her small opportunities to help out, such as by assisting a younger sibling in getting dressed or doing simple chores. Saying 'Thank you' to your helpers at home or to workers you encounter at the grocery or the store are also simple actions you can do to encourage your child's heart to help.

Listening to others

Communication is one of the most important parts of socializing with others. To practice healthy communication, being able to listen is necessary because it allows you to absorb what you are hearing instead of simply letting it out your other ear. Verywell Family also points out that listening is a skill children will benefit from as they go to school: A student who listens can absorb the lesson being taught, take notes diligently, and process the knowledge she is being taught.

Making proper eye contact

This may seem unimportant, but being able to make eye contact when conversing with someone is an essential part of communication, as it can signal that the child is seriously involved in her conversation with someone else. It can be helpful to gently remind her to look into the eyes of whoever is talking to her. If you find that your child struggles with eye contact consistently, talk to your pediatrician about it because it could be a sign of a learning or developmental delay.

ADVERTISEMENT - CONTINUE READING BELOW

Respecting others' personal space

Here's another skill that some might consider unimportant but is essential when it comes to socializing. Just as many adults don't appreciate people who get a little too close for comfort, some kids might also feel uncomfortable when their personal space is violated, enough for them to potentially start an argument or throw a tantrum.

To instill a respect for personal space in your child, Verywell Family recommends creating certain rules at home, such as "Knock on closed doors" and "Keep your hands to yourself." Establish consequences for when she suddenly grabs objects out of others' hands or hurts them physically when she is feeling upset. Finally, take the time to practice acceptable ways of interacting with others and zone in on how respecting personal space helps people feel more comfortable.

What other parents are reading
Celebrate your pregnancy milestones!

Enter your details below and receive weekly email guides on your baby's weight and height in cute illustration of Filipino fruits. PLUS get helpful tips from experts, freebies and more!
You're almost there! Check your inbox.

We sent a verification email. Can't find it? Check your spam, junk, and promotions folder.

Trending in Summit Network