How The Power Of Play In Your Child's First 3 Years Sets Him Up For Success

There are many inexpensive activities you can do at home to provide learning opportunities through play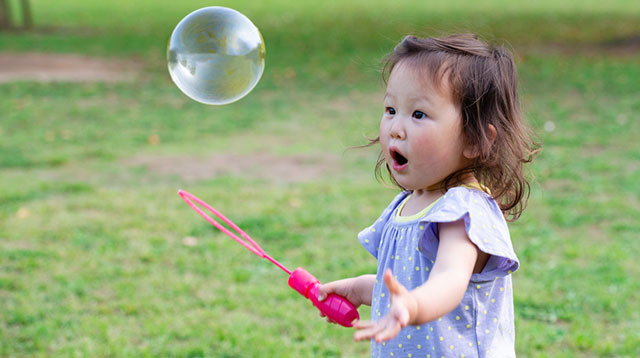 "Time spent playing with children is never wasted."  

This was the core message of Bloss Villafuerte, owner and director of Smallville Montessori Circulo Verde. Nido invited her for the Smart Parenting Masterclass leg on "The Power of Play In Your Child's First Three Years."

Benefits of play

At the workshop, Villafurte told attendees that play greatly benefits the child through the following:

boosting his confidence
fulfillment, achievement, and success (evident when a young child completes a puzzle) 
developing motor skills (fine motor skills like dexterity are essential for learning how to write, while gross motor skills are important in climbing, balancing, running, jumping) 
social development (observed in sharing and camaraderie) 
preventing misbehavior 

Expert tips how to use the power of play 

There are many ways a parent can provide an environment that is conducive to play so a child learns. But Villafuerte has a reminder: "If a child is playing with a puzzle, and an adult is constantly giving the child the piece that fits in the puzzle, the little one then is unable to undergo the process of problem-solving. Yes, the child may find joy in seeing the finished puzzle, but we have to look back and ask ourselves – what skills did the child gain from the process? When children play, they are mastering a specific skill. We need to let them do things on their own."

Villafuerte provides the tips below how to harness the power of play in your home.

1. Provide experience for hands-on learning.

ADVERTISEMENT - CONTINUE READING BELOW

Play "I Spy" games in the car, or ask the child to identify what he sees in his surroundings, and even words on billboards and signs. Hands-on learning happens anytime, anywhere.  

2. Use your child's interests.

If he likes trains, ask him to count trains, identify its colors, even place numbers or letters on the trains to integrate concepts while sparking his joy.

What other parents are reading

3. Give your child a choice.

"Children are more engaged when they are empowered to make their own choices. When a child chooses a toy or activity to participate in, they are more likely to be engaged and own the learning process."  

4. Allow the child to make mistakes.

Parents can guide and support while not making things too convenient for their child. Give space for them to learn by themselves.  

5. Ask open-ended questions. 

"Sometimes, when children are asked direct questions such as 'What shape is this?' or 'What letter is this?' they tend to clam up and feel like they are being tested.   

"One alternative would be asking questions that have no right or wrong answers 'What do you think happened to the cat in the story?' 'Why do you think it's dark outside?' This helps develop the child's thinking process and make sense of the world around them."

What other parents are reading

There are many useful materials for play that parents can use, and most of them can be found at home:  

Scratch paper: tearing/crumpling 
Old magazine: cutting out images/letters/numbers   
Clothespins: clipping them on clotheslines 
Masking tape: can be used for measurements, comparing long/short objects, matching activities with written language/math concepts on tape 
Cotton balls: for sensory activity or arts 
Laundry baskets: shoot objects inside the basket or use it as a pretend boat/car 
Boxes: can be used for building  
Measuring cups: to expose them to measurement and numbers  
Toilet paper rolls: can be used as binoculars or for arts and crafts   
Blankets / sheets: can be turned into a tent, picnic set, parachute   

CONTINUE READING BELOW

Recommended Videos

Villafuerte also discussed how Maria Montessori, the founder of Montessori education, viewed learning: "Children interact with their environment through their senses." Villafuerte emphasized this with concrete steps parents can do at home to apply the Montessori approach:  

Invite the child to play with a toy/material.
Take the child to the shelf/area, and introduce the objects by naming each.
From the set of toys presented to the child, invite him/her to choose what he/she would like to play with.
Briefly demonstrate to the child the exercise / how to make use of the toy.
Invite the child to do the activity independently.
When the child is finished playing with the activity, invite the child to place the toy/material back to its designated area

  

With the Montessori approach, the educators do not shy away from allowing young children to use breakable items or regular kitchenware found around the house. Villafuerte opines, "Most of the time, adults worry that their kids might break things or get hurt, which is why most opt for kids to be given plastic toys to play with instead. However, once a child discovers the durability of these objects, they can develop rough, disorderly, and undisciplined movements such as slamming, hitting, or throwing objects – making use of toys or materials inappropriately.   

"On the other hand, allowing children to use 'real' things such as kitchen tools and breakable objects can be empowering for a child. This can make the child feel that we trust their capability of being careful. It's completely natural for parents to protect their kids and keep them away from harm; but exposing the child to natural consequences such as breaking objects can be a learning opportunity for the child to progress his ability to be careful.

ADVERTISEMENT - CONTINUE READING BELOW

"Eventually, they learn how to adjust their movements in order to be mindful of the fragility of their surroundings. They begin to soften their movements and use objects with more order and discipline."

ILLUSTRATOR

Stephanie Ocampo

ILLUSTRATOR

Stephanie Ocampo

ILLUSTRATOR

Stephanie Ocampo

ADVERTISEMENT - CONTINUE READING BELOW

ILLUSTRATOR

Stephanie Ocampo

ILLUSTRATOR

Stephanie Ocampo

ILLUSTRATOR

Stephanie Ocampo

ADVERTISEMENT - CONTINUE READING BELOW

What other parents are reading

Celebrate your pregnancy milestones!


Enter your details below and receive weekly email guides on your baby's weight and height in cute illustration of Filipino fruits. PLUS get helpful tips from experts, freebies and more!

You're almost there! Check your inbox.


We sent a verification email. Can't find it? Check your spam, junk, and promotions folder.
Trending in Summit Network