Occupational Therapists Answer: My 3-Year-Old Still Can't Write Her Name! Is That Normal?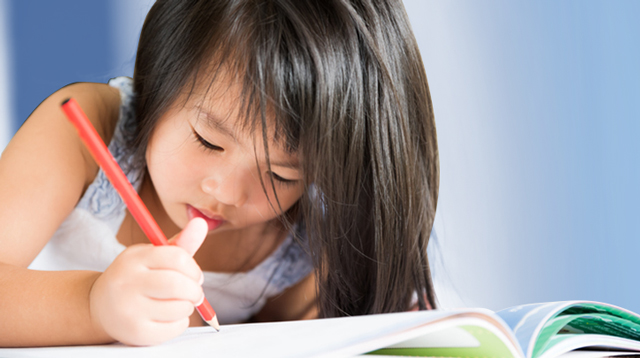 Apart from language and speech delay, some parents also worry when their toddlers seem to struggle with writing. While writing letters seem simple, it involves a lot of skills, including fine motor skills, hand-eye coordination, and hand and grasp development. It can also be that they have not developed their pre-writing skills and are not ready to write just yet.

"Writing, or apprehension to do so, is connected to a child's 'writing readiness'," says Karen Ruth Lorenzana-Reyes, a child development specialist from Stone Hedge Learners, Inc., in a previous SmartParenting.com.ph article.

Most parents expect their kids to be able to write their name at 3 or 4 years old, but occupational therapists say they are "only expected to accomplish a number of pre-writing patterns, which are fundamental to their ability to write or copy letters, numbers, or figures in the future," according to Rosselini Dee Morales, OTRP, CLASI-CASI of Jumpstart Therapy Center. "These pre-writing patterns are developed and mastered in sequential order and to an age-specific level."

Sarina Shirazee, a licensed occupational therapist from Perth Children's Occupational Therapy, shares these pre-writing patterns in one of their page's Facebook posts. "These are prewriting patterns with the average (not prescribed) age at which children are developmentally ready to achieve these patterns listed below them in years and months," she writes.

"Note that an X is not typically achieved until 4 years 11 months, and a triangle at 5 years 3 months. If a child can't form these basic shapes… then they probably won't be able to form letters," Shirazee adds.

ADVERTISEMENT - CONTINUE READING BELOW

What writing skills can I expect from my 3-year-old?

Don't be disappointed if your toddler is still unable to write his full name. "At age 3, I usually tell parents to expect their child to copy vertical and horizontal lines and circles," Lissa Domondon-Obias, MSOT, OTR/L, OTRP, tells Smart Parenting. "By 4 years, typically children will be able to copy intersecting lines, simple shapes, some letters and numbers."

"They may also be seen to imitate a cross, left oblique line, a square, and the right oblique line," adds Morales. These skills are all prerequisites to handwriting.

Pre-writing skills, according to Domondon-Obias, include small muscle development, hand-eye coordination, the ability to hold utensils, forming basic strokes such as circles and lines, letter perception, and orientation to printed language (visual recognition of words and letters), which are all needed to write different symbols and lines. (Read up on ways to improve pre-writing skills here.)

ADVERTISEMENT - CONTINUE READING BELOW

Recommended Videos

Is it all right to let my child attempt to write her full name?

Both Domondon-Obias and Morales don't see anything wrong with practicing name writing, but Domondon-Obias does caution parents and educators to manage their expectations. "Handwriting is multi-dimensional in a way that it involves not only fine motor skills but also cognitive skills, integration of visual-motor and emotional regulation skills," Domondon-Obias says. "Differing rates of maturity, environmental experiences, and interest levels all are factors that can influence children's early attempts and successes in copying letters. Some children may be ready for writing at age 4, and others may not be ready until age 6."

Morales adds, "Some parents do have a perspective of 'the earlier the better as we give our children the opportunity we never had,' but we must also realize that not everything is good for them at such an early age. Our children should develop their gross motor, fine motor, and visual-motor skills in a developmentally-appropriate way, all of which contribute to their performance and legibility in handwriting."

How can I help hone my child's writing skills?

Practicing your child's writing skills is not limited to holding a pen and paper. Domondon-Obias and Morales recommend play as the best way to nurture your child's writing readiness.

"Letting the child engage in various physical play improves posture, coordination of both sides of the body and eye-hand coordination. These contribute to the child's ability to maintain an upright seated posture, the stability of body and tools, and use of arms and wrist fluidly in replicating figures," says Morales.

ADVERTISEMENT - CONTINUE READING BELOW

"Suspend reality in a fun activity of theraputty (a stretchy, silicone-based material for hand therapy) or clay to improve hand strength and dexterity," Domondon-Obias suggests. "Learn shapes, symbols, letters, and numbers through form boards or by tracing their names or making strokes on the sand, which is a great summer activity."

Water play, manipulative toys, finger painting, building blocks, constructive toys, and dolls, are also nice activities to do with your child, shares Morales. "Letting them master drawing the pre-writing patterns before moving on to letters and numbers would be good, too, since most letters and numbers comprise those strokes," she says. "Lastly, let their pencil grip develop naturally as their gross and fine motor skills should because moving through the different stages of pencil grasp is also an important part of childhood development."

If you suspect that your child experiences delay or is lagging behind their peers when it comes to writing, have them screened, says Domondon-Obias. Occupational therapists may be able to evaluate and suggest subsequent treatment as need to enhance your child's handwriting.

If your child is showing interest in writing their own name, there's no harm in encouraging them, but it's also important that they are not pressured to do so. Morales says, "Let them experiment and take their time to master these skills. It's important not to push your child to do things which their brain is not yet ready to do." 




What other parents are reading




Celebrate your pregnancy milestones!


Enter your details below and receive weekly email guides on your baby's weight and height in cute illustration of Filipino fruits. PLUS get helpful tips from experts, freebies and more!

You're almost there! Check your inbox.


We sent a verification email. Can't find it? Check your spam, junk, and promotions folder.

Trending in Summit Network