Why Read-Aloud Sessions Are a Must for Your Child's Daily Routine

Plus, how you can make it an entertaining experience for your little one, whatever book you read!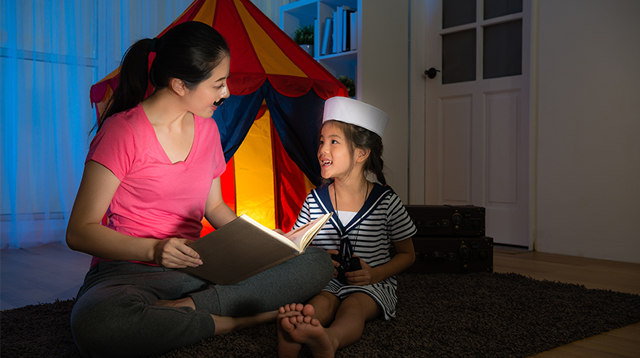 Of all the things you can do with your baby, reading aloud to him is perhaps one of the most beneficial things you can do for his overall development. It's not just a way to raise him as someone who loves books, but it also shapes her brain and behavior in significant ways. It's not just us saying that — science proves it!

How reading aloud benefits children's development

We've stressed before how reading aloud can impact children's cognitive development, specifically by shaping their skills in language and literacy. But a 2018 study also found that activities such as reading and playing can actually cause a significant impact on a child's social and emotional development as well help reduce her risk of developing negative behaviors.

The researchers looked into 675 families with children ages 0 to 5 years. Two hundred twenty-five of these families received an intervention called the "Video Interaction Project" or V.I.P., a parent education program led by Dr. Alan Mendelsohn, an associate professor of pediatrics at New York University, who also served as principal investigator of the study. Every time the participating families visited the pediatric clinic, they were given books and toys and then met with a parenting coach with the V.I.P. to talk about their children's development.

The families were also recorded on video while playing and reading with their kids for a minimum of five minutes, and later, they would watch the recording with the study interventionist, who helped point out the responses exhibited by their children.

ADVERTISEMENT - CONTINUE READING BELOW

The researchers found that an intervention like the V.I.P., which is aimed towards encouraging parents to spend time reading to and playing with their children, has a substantial effect on a child's behavior.

These effects were proven to still be present in the kids even after more than a year, according to the researchers' findings. These children were less likely to exhibit negative behaviors such as aggression, hyperactivity, and difficulty with attention.

"Maybe engaging in more reading and play both directly reduces kids' behavior problems because they're happier and also makes parents enjoy their child more and view that relationship more positively," Dr. Mendelsohn says.

One more way to describe why kids manifest these findings may be the fact that reading aloud and playing games allows priceless bonding opportunities for parents and their kids, says Dr. Mendelsohn.

"We think when parents read with their children more, when they play with their children more, the children have an opportunity to think about characters, to think about the feelings of those characters.

"They learn to use words to describe feelings that are otherwise difficult and this enables them to better control their behavior when they have challenging feelings like anger or sadness."

How to make read-aloud sessions entertaining

Let your little one experience those incredibe benefits by making read-aloud sessions a part of your daily routine at home! To make it a truly pleasurable experience not only for your child but also for you, here are some tips to keep in mind, including how to select books, build distinct personalities for each character, and turn the session into an interactive time.

CONTINUE READING BELOW

Recommended Videos

Choose books carefully

Aside from making sure that the book you read to your child is age-appropriate and something that she will definitely enjoy, it is also important to make sure that it will be just as fun for you to read aloud to her. In an article for Offspring, audiobook narrator Robinette Kowal cites different characteristics that she says parents should prioritize for: A small cast of characters (so you can distinguish them easily), self-contained scenes (instead of those with scenes that move back and forth through different periods of time), and simple language, such as those which make use of onomatopoeia, like animal sounds.

Read the book by yourself

A little bit of studying and practice can take you a long way! Before your read-aloud session with your little one, go over the story by yourself and practice reading the text. You can try practicing the different voices you plan on using for each character. Aside from helping get you into the groove of the story in advance, this will also help you be a little more prepared for the (many) questions your child will ask you about the story later on.

Explore different characters

Using a variety of voices while reading the story to your child is one way to guarantee that she enjoys the experience — it can allow her to have a clearer image of what that character is really like, so her imagination and curiosity is shaped. Plus, how often will she hear Mom or Dad use silly voices like that?

ADVERTISEMENT - CONTINUE READING BELOW

If you're not into the idea of using different voices, varying your speed of routine is another thing you can try out. According to Lyssa Browne, an audiobook narrator, doing this can create an effect similar to the one which using voices has. "Some characters can have a really fast voice and then if you give it a slower pace, it seems like somebody else entirely, even though you don't change your voice," Browne says.

Make read-aloud time interactive

Kids' attention spans are not as long as adults', so expect that your read-aloud session will be interrupted from time to time by your child's questions and observations. However, it is important to see this as another opportunity to bond with her and to let her learn. You can ask questions yourself — for instance, you can point at one of the characters and ask your child, "How do you think she feels?"

Establish a reading habit

The benefits of reading aloud to your child are numerous, but the way to let those benefits manifest in your child is by making read-aloud sessions something you do together daily, or as often as possible. Eventually, you might find that she herself is taking the lead in making the session happen!

Need more tips for your read-aloud sesssions? Click here to watch our series of "kwentong pambata" on YouTube! Here's a preview.

What other parents are reading

Celebrate your pregnancy milestones!


Enter your details below and receive weekly email guides on your baby's weight and height in cute illustration of Filipino fruits. PLUS get helpful tips from experts, freebies and more!

You're almost there! Check your inbox.


We sent a verification email. Can't find it? Check your spam, junk, and promotions folder.
Trending in Summit Network