This Discipline Technique May Just Work Whenever You Feel Like Yelling at Your Child

Teaching self-regulation in kids can be hard, but this tool can be indispensable for you.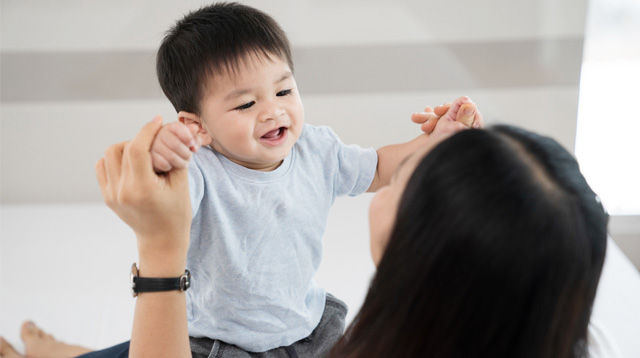 When it comes to a child throwing a tantrum, you already know that yelling, threatening, and dismissing your child's feelings only serves to intensify the meltdown. While we've explored a number of techniques to handle their tantrums, here's another parenting strategy that's hard but effective: try not to scold or speak to your children in an angry voice.

It's a technique used by the Inuits, a group of indigenous people living in the arctic regions of Greenland, Canada, and Alaska. According to an article published by NPR, "traditional Inuit parenting is incredibly nurturing and tender." Their culture views shouting and yelling at small children as inappropriate and demeaning, even when kids are being defiant and resort to hitting or biting. Shouting mirrors the child's tantrum, and the adult is basically stooping to the child's level.

"With little kids, you often think they're pushing your buttons, but that's not what's going on. They're upset about something, and you have to figure out what it is," explains Lisa Ipeelie, an Inuit mom and radio producer, in an interview with NPR.

Experts agree that yelling at a child or threatening them slightly is equal to training the child to yell. "We're training them to yell when they get upset and that yelling solves problems," says Laura Markham, a psychologist and parenting expert. But when we control our anger, we are helping our children learn to self-regulate. "Kids learn emotional regulation from us," Markham adds.

What other parents are reading

Storytelling as an effective discipline strategy

ADVERTISEMENT - CONTINUE READING BELOW

If shouting is inappropriate, how do Inuit parents discipline their children? "We use storytelling to discipline," said Goota Jaw to NPR. She is a parenting expert who teaches at the Arctic College in Canada.

These stories are passed down from one generation of Inuit to the next and are meant to "sculpt kids' behaviors in the moment." Stories like a sea monster putting a child who walks too close to the water in its pouch and dragging the child down to the ocean is told to teach kids to stay away from the ocean, where they could easily drown.

The Inuit also have stories that will teach kids to be more respectful. "For example, to get kids to listen to their parents, there is a story about ear wax," shares Myna Ishulutak, a fillm producer, to NPR. "My parents would check inside our ears and if there was too much wax in there, it meant we were not listening."

What other parents are reading

Parents also tell their kids, according to Ishulutak, "If you don't ask before taking food, long fingers could reach out and grab you."

The stories may sound too scary for a child, but this Inuit parenting strategy is something Filipino parents may find useful. According to a study, modern hunter-gatherer groups use stories to teach sharing, respect for both genders, and conflict avoidance. In the Philippines, the Agta, an indigenous group living in Luzon, consider good storytelling skills as a greater asset more than hunting skills or medicinal knowledge, said the study.

"Storytelling is the art form which awakens a child's imagination. This is where his ability to dream and to visualize all come from," writes Gretchen Agdamag-Calderon in an article for SmartParenting.com.ph. "They are made to experience different emotions, put themselves in those situations, and are made to do what is next — in their minds. Most importantly, all stories stay faithful to their truth and values regardless of time and culture."

CONTINUE READING BELOW

Recommended Videos

What other parents are reading

No punishments, just drama

Jean Briggs, an anthropologist, linguist, professor, and author of Never in Anger lived with the Inuits for 17 months in the 1960s to study the culture, language, and practices of the community. In her book, Briggs shared how Inuits dealt with children who acted out in anger. There was no punishment and instead, parents would wait for the child to come down. Then, they would put on a "drama."

"The idea is to give the child experiences that will lead the child to develop rational thinking," said Briggs in a 2011 interview.

Parents would act out their child's misbehavior and then show the consequences of that behavior. It would always have a playful tone, and the performance starts with a question that tempts the child to misbehave.

What other parents are reading

For example, if the child's misbehavior is hitting other kids, the drama will start by urging the kid to hit his mom. If the child continues with the misbehavior, the mom will act out the consequences — saying, "Ow, that hurts!" instead of scolding or shouting.

The mom emphasizes the consequences of the child's actions by asking follow-up questions like "Don't you like me?" This gives the child the idea that hitting hurts physically and emotionally. Inuit parents will repeat the drama from time to time until the misbehavior ends (in this case, the child hitting the mom).

Ishulutak says these dramas teach children not to be provoked. "They teach you to be strong emotionally," she tells NPR. "[And] to not take everything so seriously or to be scared of teasing."

ADVERTISEMENT - CONTINUE READING BELOW

What other parents are reading

The dramas are a way for kids to self-regulate and practice controlling their anger, even in moments when they're not actually feeling the emotion. "When you try to control or change your emotions in the moment, that's a really hard thing to do," according to psychologist Lisa Feldman Barrett in an interview with NPR. "But if you practice having a different response or a different emotion at time when you're not angry, you'll have a better chance of managing your anger in those hot-button moments."

"That practice is essentially helping to rewire your brain to be able to make a different emotion [besides anger] much more easily," Barrett adds.

Kids are still learning self-control, so this emotional practice may be an important tool for them. Markham suggests following a similar approach to what the Inuits do whenever your child misbehaves: wait until everyone is calm. Then, discuss your child's misbehavior. You can simply tell the story about what happened or use props to act it out. This strategy develops self-control, according to Markham.

Make sure to keep the child involved by asking questions as you re-tell the story of her misbehavior. And remember to keep it fun, reminds the parenting expert.

"Many parents overlook play as a tool for discipline. But fantasy play offers oodles of opportunities to each children proper behavior," Markham shares. "Play is [children's] work. That's how they learn about the world and their experiences."

What other parents are reading

Celebrate your pregnancy milestones!


Enter your details below and receive weekly email guides on your baby's weight and height in cute illustration of Filipino fruits. PLUS get helpful tips from experts, freebies and more!

You're almost there! Check your inbox.


We sent a verification email. Can't find it? Check your spam, junk, and promotions folder.

Trending in Summit Network