Early Literacy Expert: What Pinoy Parents Get Wrong About Reading

Plus our expert recommends books that are ideal for Pinoy kids (ages 0 to 4)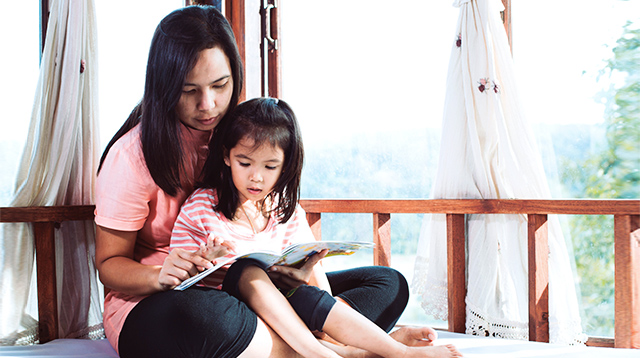 Every mom and dad want to raise a reader, right? Now, to promote a lifelong love of reading and learning, experts here and abroad highly recommend reading to your little one as soon as you bring him home from the hospital onwards. But is there a "right way" to read to your child? What are the ideal books to encourage reading at home? Can a parent create own early literacy program for her baby? 

For answers, SmartParenting.com.ph spoke with Ruth Martin-De Guzman, executive director of Adarna Group Foundation (AGFI) and a mom to a 10-month-old girl. AGFI is the social responsibility arm of publishing house Adarna House with the mission to promote early literacy among Filipino children all over the country. 

What other parents are reading

Why is early literacy important?

For one, the most critical period in the brain's growth and development occurs from the moment of conception until the child's second birthday — the first 1,000 days of life. Early interactions between parents and children bring about healthy brain development, which is the foundation for school success, lifelong learning, behavior, and health. 

Reading aloud also fosters strong emotional bonds between parent and child. Also, children who attain early literacy are prepared to succeed in school and later in life.

What other parents are reading

If there was one thing (or a few things) Pinoy parents get wrong about reading to their child, what would it be?

I think some parents still believe that imported books are better than local ones. Don't get me wrong. There are so many excellent books published overseas (my daughter has a lot of them at home). But books that reflect a child's culture or books that are culturally appropriate are critical especially when you are teaching a child get more acquainted with books. 

When a child can relate to what he sees on the book — when the pictures are people with black hair, eating familiar food, riding the tricycle, and not about blonde children playing in the snow (or princesses in fancy castles) — the experience is more real. It is the reason why books with baby faces are such a hit with babies — the features are familiar to them.

ADVERTISEMENT - CONTINUE READING BELOW

What other parents are reading

Apart from story time, are there other activities that promote early literacy?

When we go to communities, parents would sometimes tell us they don't read to their children because there are no available books or they do not have access to libraries. But early literacy is not all about books although it is the most potent way. What else can a parent do? 

1. Keep talking! 
We tell them that there is power in spoken language — the way they talk to their kids. The more that they talk to their children, the more a child is exposed to language and the world around him. We encourage them to have their children by their side when they do chores or go to different places and name all the objects that they see. Talking to their kids about those tasks builds their child's vocabulary.

2. Identify sounds
Ask your child tell you the sounds their pets make or machines at home emit. When a child becomes aware that objects have sounds, it will be easier for him to identify letter sounds when they are introduced — this fosters phonological awareness, an essential prerequisite skill for reading.  

3. Get baby moving
Parents should be mindful of engaging their children in purposive movement — movements that strengthen the arms and legs or gross motor activities. Some studies suggest that children who had more time crawling on the floor when they were babies, compared to those who were constantly confined in cribs or carriers, learned proper pencil grip earlier because they had more time to exercise their muscles. 

4. Exercise those little fingers
Buttoning and unbuttoning daddy's polo, zipping and unzipping bags, playing with clothespins while mommy's doing the laundry or opening bottles and putting back bottle caps are some fine motor activities that children can do at home.

CONTINUE READING BELOW

Recommended Videos

What other parents are reading

How can a parent start to get the child interested in books if he's toddler or preschool age already?

1. Do not force the child to read
It will only make him think that reading is a chore more than a pleasurable activity. 

2. Establish a reading routine 
Set a regular time in the day when you will read together. At first, get books that are short and make the reading activity brief. It will also help if you will get books with themes that interest him (books about trucks, books about food). When the routine has been established, get books that are lengthier to prolong the reading time. 

3. Bring books when you go out instead of gadgets 
Gadgets are more for the parents' convenience rather than the child's development. Children can live without gadgets just as we lived without them when we were growing up. We turned out just fine, didn't we?

What other parents are reading

What are your recommended children's titles for kids ages 0 to 4?


1. Masaya Ako!
Illustrations by Yasmin Doctor; Adarna House

It's a little board book with pictures of babies about different feelings. Images are labeled in both English and Filipino so that parents can introduce feelings in both languages. When the baby is small, parents can read it to their child to introduce different emotions. When the child can speak, parents can use the book to discuss when a child experiences the different feelings (like, "when did you feel sad?" or "what do you do when you are scared?").
Available for Php99 in leading bookstores or online at Adarna.com.ph and Pumplepie.com.

ADVERTISEMENT - CONTINUE READING BELOW


2. Masayang Magtanim!
Story and illustrations by Gelai Manabat, Adarna House

It's a medium-sized wordless board book about a little girl and her munggo plant. I like that it's very Filipino and the illustrations are funny. It also grows with the child — parents can use it to introduce words about plants and then, later on, use the book to teach a plant's life cycle.
Available for Php199 in leading bookstores or online at Adarna.com.ph and Pumplepie.com.


3. Mr. Brown Can Moo, Can You?
Story and Illustrations by Dr. Suess, Random House

This is a classic Dr. Seuss that features different environmental sounds. It's ideal to use to introduce sound awareness or just to have a good time reading. It's best to get it as a board book.
Available for Php230 at Fully Booked branches


4. Goodnight Moon
Story by Margaret Wise Brown; Illustrations by Clement Hurd; Harper

This is a classic bedtime book. Its simple words and repetitive illustrations can calm children to sleep. It also is a good book to use to build a reading routine at night.
Available for Php255 at National Book Store branches.  


5. Ang Mabait na Kalabaw
Story by Virgilio Almario; Illustrations by Liza Flores; Adarna House (P99)

Best children who are ready for school, Mabait na Kalabaw teaches, well, how to be a good carabao. For me, however, this one-liner, bilingual book, which features beautiful illustrations that are very Filipino, inspires its reader how to be good himself.
Available for P99 in leading bookstores or online at Adarna.com.ph and Pumplepie.com.

ADVERTISEMENT - CONTINUE READING BELOW



Ruth Martin-De Guzman is one of the speakers at AGFI's Eager Reader: A Conference on Early Literacy, happening on April 7 at the College of Education in UP Diliman. Register by calling 352-6765 local 210 or by sending an email to info@agfi.com.ph. Slots are limited. Learn more by visiting Adarna Group Foundation's website, Facebook page, and Instagram. 

What other parents are reading

Celebrate your pregnancy milestones!


Enter your details below and receive weekly email guides on your baby's weight and height in cute illustration of Filipino fruits. PLUS get helpful tips from experts, freebies and more!

You're almost there! Check your inbox.


We sent a verification email. Can't find it? Check your spam, junk, and promotions folder.

Trending in Summit Network