Your Toddler Throwing Food Is Actually A Milestone, Says Experts

Before you get angry, know that this behavior is crucial for your child's development!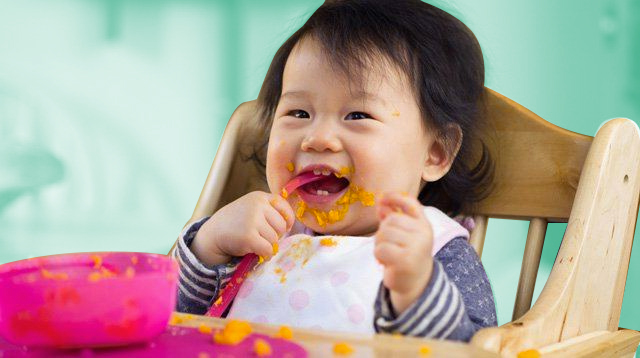 It's an exciting time when your babies are finally ready to eat solid food and feed themselves, but the mess that follows can be maddening. Especially when your toddler realizes that she can throw the food on her high chair, the ground, the wall — and that it's fun doing it!

Don't let your toddler throwing food discourage you — it's actually an important milestone and crucial for their development. At this age, food is just one of the many things your toddler likes to chuck around.

Why do toddlers throw food?

According to What to Expect, toddlers, especially early in their second year, have a harder time controlling their impulses. So they will naturally touch, poke, grab, and throw objects that they get their hands on. They are also figuring out how gravity works and the idea of object permanence (what happens to objects once they disappear), according to pediatricians Dr. Jennifer Shu and Dr. Laura A. Jana in the book Food Fights.

The action also fuels their curiosity. "They're learning the wonderful cause and effect of using their arm in a big motion, letting go at just the right time, and watching what happens to the object they've thrown," says child development specialist and parent educator Ann McKitrick to Romper.

 She adds, "From a high chair, there are lots of opportunities for interesting cause and effect. One of the most compelling is the response from the grownups in the room. They learn, based on the adult response, that this is OK or not OK. If they're being ignored, throwing food is a sure fire way to get attention. And toddlers love attention."

ADVERTISEMENT - CONTINUE READING BELOW

Throwing food is also a way for toddlers to test and exercise their newfound independence. "Kids this age are realizing that they can assert themselves, and arguing with you is one way they gain confidence," shares Dr. John Sargent, a child psychiatrist and professor of psychiatry and behavioral sciences at Baylor College of Medicine, in an article by Parents.

Saying "no," is the easiest way to test mom and dad's limits and it also helps them learn cause and effect. When they throw food, they are using their whole body to show their personal preferences. "This is the beginning of the toddler's emerging ability to develop a personal point of view — a crucial step in development," shares child psychiatrist Elizabeth Berger to Romper.

How to stop toddlers from throwing their food

Okay, you're no longer angry about your child tossing food from her chair, but how do you get them to stop? While the activity is fun for them, you also have to teach your kids not to waste food and that they have to eat the food in front of them to become healthier.

Don't let your frustration show.

"Babies and toddlers are natural attention seekers who thrive off a reaction. To avoid encouraging the behavior, do your best to stay calm and neutral," said Sarah Remmer, a dietician and an expert in child and family nutrition, in an article for Today's Parent.

Pick up the food and stick with a phrase you say every time this happens like, "Food stays on the tray" — which explains what you want to happen as opposed to saying "no" or "don't," advised Remmer.

CONTINUE READING BELOW

Recommended Videos

End the meal.

If your toddler continues to throw food even after you've explained (cheerfully and calmly!) things, perinatal and pediatric nutritionist Aubrey Phelps suggests to end the meal, "reminding them that food is for eating, not throwing. And don't offer again until the next scheduled meal or snack."

And don't worry, you are not starving them. "It's unlikely that your child will go hungry," McKitrick says. "If they just sat down to eat and begin throwing, take everything off the tray but one item. Give them one thing at a time. If they continue throwing, they must not be very hungry."

Pay attention.

Food throwing usually happens when your tot has already lost interest in his food, according to Janet Lansbury, parenting advisor, and host of the podcast Respectful Parenting. Pay attention to what your little one is trying to tell you. He might be saying he's done eating and you can prevent him from throwing food before things get really messy.

Seeing your toddler make a mess with his food can be frustrating and you might even feel insulted when picking up after your child, but it's important to acknowledge this behavior as a natural and important phase in your child's growth and development. Focus instead on making it a teaching moment, so your little one can understand the consequences of her actions.

What other parents are reading

Celebrate your pregnancy milestones!


Enter your details below and receive weekly email guides on your baby's weight and height in cute illustration of Filipino fruits. PLUS get helpful tips from experts, freebies and more!

You're almost there! Check your inbox.


We sent a verification email. Can't find it? Check your spam, junk, and promotions folder.
Trending in Summit Network