A Mom Who Works Should Stop Feeling Guilty, Says Harvard Study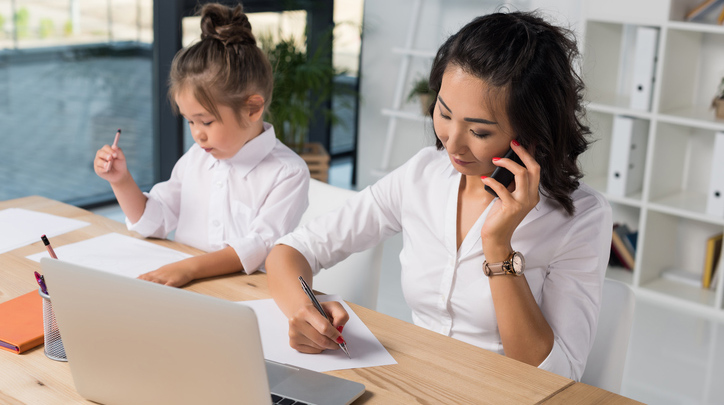 No matter how much you tell working mothers they are doing a great job, most will tell you they carry a lot of guilt over the missed milestones or lack of quality time with the kids.

Celebrity host Bianca Gonzalez said in a previous SmartParenting.com.ph interview that she tells moms to stop with the guilt trip, yet she isn't spared from feeling it herself. Spending time away from her daughter has made her think she is a bad mom. "Feeling ko parang, I'm bad if I leave her just to have fun or because I want to go out to buy things for myself," she says.

What other parents are reading

So here's something we hope will lessen your anxiety. If you're worried about how your career will affect your child, in the long run, research has shown that having a mom who works can have long-lasting positive effects on their kids until they reach adulthood.

Researchers from Harvard Business School (HBS) in the United States studied data from a survey titled "Family and Changing Gender Roles," which was conducted in 2002 and 2012 by the International Social Survey Programme. The survey was done in 24 countries around the world, the Philippines included. Their primary focus was the question: "Did your mother ever work for pay after you were born and before you were 14?"

"It didn't matter to us if she worked for a few months one year, or worked 60 hours per week during your whole childhood," says Kathleen L. McGinn, a professor of Business Administration at HBS and lead researcher of the study, which was published in 2015. "We weren't interested in whether your mom was an intense professional but rather where you had a role model who showed you that women work both inside and outside the home. We wanted to see how that played out."

With those requirements in mind, McGinn's group wanted to know whether growing up with a working mom could influence factors such as a person's employment, supervisory responsibility, earnings, allocation of household work, and care for family members.

ADVERTISEMENT - CONTINUE READING BELOW

What other parents are reading

The results were very positive toward daughters who grew up with working mothers. These women, whose moms worked when they were young, were more likely to have jobs themselves when they reach adulthood. And not just any job — chances were higher for them to have supervisory responsibility and earn higher wages than other girls whose mothers stayed at home.

The research found that men were just as likely to hold supervisory jobs whether or not their moms worked outside the home, but those who were raised by working mothers were more likely to contribute to household chores and spend more time caring for family members. This means that kids are influenced by their working moms to share equal responsibilities as their siblings and parents.

"Growing up, what was being modeled for sons was the idea that you share the work at home," shares McGinn.

If you're worried about losing precious time with your children should you choose to work, the research also found that women who were raised by a working mom grow to spend more time with their kids when they become working moms themselves.

What other parents are reading

This is not the first study to show that being a working mom has positive effects on children. Another study, which was published in the journal Child Development in 2017, found that having a mother who worked outside the home does not affect a child's development, especially when it comes to their reasoning abilities or vocabulary.

More importantly, working moms aren't any less of a parent as a stay-at-home mom.

"By bringing in money and raising the family income, working mothers may be able to provide a more stimulating and safer environment. This isn't just a matter of more expensive toys or learning materials but also better living conditions, better nutrition, and reduced family stress," says the study's authors as reported by Motherly.

ADVERTISEMENT - CONTINUE READING BELOW

Recommended Videos

If you still need convincing, another study from the American Psychological Association says that children who were raised by career-driven moms had no significant behavior, social, or learning problems. Instead, many of them experienced academic success.

What other parents are reading

And let's not forget that having a career has a positive effect on a mom's overall well-being. In a previous article, we wrote about a study that found those who work outside the home (and who were not forced to do so) had higher satisfaction levels and were the most psychologically healthy than other moms who were forced into their parenting situations.

Ultimately, what all these research points to is that parents who choose to work should not feel burdened by their choice. "What this research says to us is that not only are you helping your family economically — and helping yourself professionally and emotionally if you have a job you love — but you're also helping your kids. It's good for your kids," stresses McGinn.

As a working mama, it's hard not to be wracked by mom guilt, but have a little confidence in yourself! You will never really stop caring for your child so don't let that (or other people saying otherwise) stop you from pursuing something that you love — you'll find the balance. Moms always do.

[h/t: Motherly]

What other parents are reading

Celebrate your pregnancy milestones!


Enter your details below and receive weekly email guides on your baby's weight and height in cute illustration of Filipino fruits. PLUS get helpful tips from experts, freebies and more!

You're almost there! Check your inbox.


We sent a verification email. Can't find it? Check your spam, junk, and promotions folder.

Trending in Summit Network