These Two Give Us Reasons Not to Feel Guilty About Being a Working Mom

Two words for working moms: self-care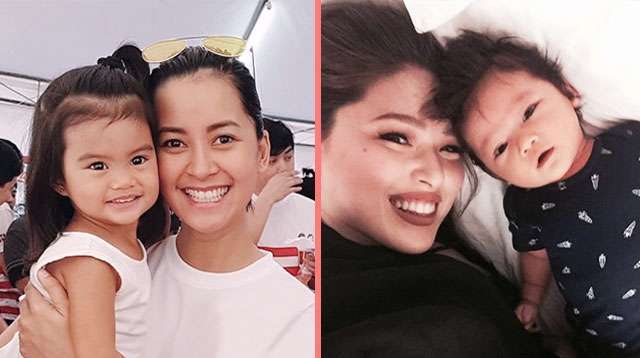 In an interview with Smart Parenting.com.ph last year, Bianca Gonzalez did millennial moms a great service when she voiced her feelings how moms today are under "insane pressure."

"The good side of being a millennial mom is that we're so informed. There's so much information; we're so hands on. But the bad side is we're so hard on ourselves."

Bianca, a working mother, says she continually experiences "mommy guilt" where she feels that spending time away from her daughter makes her a bad mom. "Feeling ko parang, I'm bad if I leave her just to have fun or because I want to go out to buy things for myself."

What other parents are reading

Bianca tells moms not to be hard on themselves, but getting rid of "mom guilt" herself is way easier said than done. But a study published in December of last year shows how vital it is for working moms to free themselves from this negative emotion, especially those who go back to work after the maternity leave. 

In the research that "investigated what affects a working mother's sense of well-being," findings showed that the happiness of working moms' heavily relies on the fulfillment of her psychological needs. Her well-being hinges on how competent she feels at her job as a mom, and she "experiences a sense of freedom and choice in her actions."

The research is in sync with another study that came out last November and published in the Journal of Family and Economic Issues. The results there showed that those who worked outside the home of their volition scored higher satisfaction levels and were the most psychologically healthy. The moms who stayed at home but who preferred to work particularly had the lowest satisfaction and personal fulfillment levels and highest levels of loneliness and emptiness. These mothers even reported to having more difficulty adjusting to having kids and having feelings of rejection towards their kids.

ADVERTISEMENT - CONTINUE READING BELOW

What other parents are reading

"Our findings essentially showed that for women who wished to work but couldn't because of child care issues, there seemed to be great costs to the women's mental health. And as we know well, when mom isn't happy, nor are those whom they tend," wrote Suniya Luthar, Ph.D., of the Arizona State University and a co-author of the study, "What Women Want: Employment Preference and Adjustment Among Mothers," on Psychology Today. 

The research on maternal well-being published in Springer's Journal of Happiness Studies analyzed five days of diary entries made by 126 mothers after their maternity leave ended, and they had to leave their babies at a day-care facility for the first time. Researchers noted the separation anxiety the moms felt and the pressure to come up with a formula to balance work and family lives. And the moms whose "personalities tend to veer towards the depressive and the self-critical" had a difficulty adjusting to parenthood. 

According to Katrijn Brenning of the University of Ghent in Belgium who led the research, "a mother's sense of well-being drops when she feels inadequate, under pressure, and is alienated from her social circle by her efforts to get to work and be a good parent all at once."

What other parents are reading

We've said it before, and the Brenning and her team make a note of it as well: The first step to rid yourself of working mom's guilt is giving yourself a break when it comes to "grading" your parenting skills. And go ahead and be honest with yourself and the people around you during moments when you don't feel like you're a superwoman. 

ADVERTISEMENT - CONTINUE READING BELOW

Recommended Videos

When Kylie Padilla's household help left without leaving notice, Kylie took to Instagram expressed how overwhelmed she felt at being on her own. "I thought taking care of an infant was hard enough," the first-time mom wrote. "But to add cleaning, doing laundry and finding time for your partner is driving me insane."

Kylie's concerns might sound petty, but as a new mom, she is at her most vulnerable. Writing her sentiments isn't just a stress-reliever; it helps her to process her emotions.

What other parents are reading

Renowned pediatrician and child development expert, Dr. Harvey Karp, acknowledges that new parents today may have a tougher journey than previous generations. 

"People more and more, over the last decade, have less baby experience. A lot of people have babies [but] have never really held a baby in their lives [before they became parents]," he shared on a recent episode of the podcast, Healthy Births, Happy Babies. 

Moreover, parents of today have to learn everything on their own. Dr. Karp added new moms and dads in the past had grandparents, aunts, siblings, cousins and even neighbors who are ready to help out. 

Dr. Karp explains many parents now are doing work they are not prepared to do, which leads to exhaustion and a lot of frustration. "Parents are so tough on themselves. In fact, parents think they're not even supposed to have help. Everyone thinks they're supposed to do it on their own."

What other parents are reading

In truth, Dr. Karp stresses, you are supposed to have a village. But we say fill your support system with family and friends who don't think "nag-iinarte ka lang." 

ADVERTISEMENT - CONTINUE READING BELOW

We also applaud Kylie for not shying away when she shared the following: "But the thing is. I miss working and creating, and it's something I cannot leave behind. I don't think I could leave it forever. I will then, in fact go nuts."

What can help moms aside from giving herself a pep talk? A source of positivity is a happy baby. According to Brenning's study, a mother's "having a more extrovert child does help some women to feel more positive about motherhood, and to be less hard on themselves." 

So, working moms, who always feel guilty about leaving their kids to caregivers, say this with us: I am doing my best, I am not a bad mother, and if I believe all of that, my family feels it, too.

What other parents are reading

 

Celebrate your pregnancy milestones!


Enter your details below and receive weekly email guides on your baby's weight and height in cute illustration of Filipino fruits. PLUS get helpful tips from experts, freebies and more!

You're almost there! Check your inbox.


We sent a verification email. Can't find it? Check your spam, junk, and promotions folder.

Trending in Summit Network