Homeschooled From Grade 7 To 10, Teen Gets 3 US Merit Scholarships!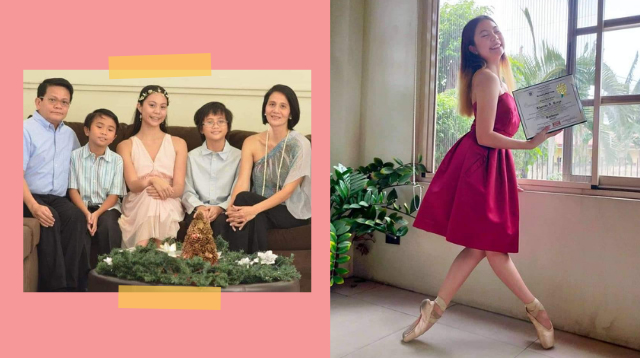 Stories of high school graduates getting grants and scholarships from schools abroad is always a source of joy for their families and a collective pride for Pinoys. While we may not hear it too often, homeschooled graduates add to these number high school graduates who have been receiving hard-earned international scholarships, too.

One such student is 17-year-old Therese "Reese" Riego who received not one but three partial merit scholarships from schools in the United States. Reese took Senior High School in St. Paul's Pasig and was homeschooled from Grades 7-10. 

These schools are the University of San Francisco (USF) where she got a Provost Scholarship (given to undergraduate applicants to acknowledge excellent academic performance) worth $60,000; Texas Christian University with a scholarship value of $72,000; and Massachusetts College of Pharmacy and Health Sciences, which gave her a Special Recognition Scholarship worth $40,000.

Reese taking her grad pic.

PHOTO BY

Courtesy of Ilene Riego

ADVERTISEMENT - CONTINUE READING BELOW

Reese, who has been taking ballet since she was five years old, also got accepted into The Dallas Conservatory, a private performing arts school in Dallas, Texas.

"There was a mix of excitement, relief, and disbelief," Reese recalls upon learning she got accepted into these schools. "I thought I had pretty slim chances of getting into any US university and definitely not with scholarships, so I was quite shocked when I found out."

How homeschooling prepared her

Reese's brothers, Noah and Tax, are currently homeschooled.

PHOTO BY

Courtesy of Ilene Riego

While Reese took Senior High School in St. Paul's Pasig, she was homeschooled from Grades 7-10. She credits the flexibility of homeschooling in preparing her for schools abroad. 

"Homeschooling allowed me to do a lot more advanced work early on especially because I was under the US curriculum," she says. In Grade 9, she was able to do a full year's worth of Physics, Chemistry, Algebra 2 and Geometry, while in Grade 10, she was able to do Advanced Biology and Pre-Calculus.

Homeschooling also allowed her to do away with redundant subjects like MAPEH (Music, Arts, Physical Education, and Health) because she was already taking up ballet and learning from some of the country's best such as Victor Ursabia, Regine Magbitang, Deborah Afuang, and Cyril Fallar.

Breaking homeschooling misconception

 Reese's journey to homeschooling began in Grade 7. "When she was in Gr. 6, it was a struggle to bring her from her school in Pasig to her classes at the Ballet Philippines in CCP so I decided to homeschool her," says mom Ilene Riego.

"She loved it and learned so much in our first year," she adds. Apart from Reese, Ilene's younger sons, Noah, 15 and Tax, 12, have been homeschooled in the last five years as well.

Having experienced the benefits of homeschooling for her children firsthand, Ilene has tried to break several misconceptions, one of which is that 'homeschooled children are not properly socialized and that homeschool 'is not like real life.'

Ilene says her children are volunteers either in the community or in the organizations they belong to. Reese, for one, taught ballet to young girls at Right Start, an organization that helps underprivileged children, apart from being an apprentice at the Philippine Ballet Theater.

"They are balancing both studies and work and are at ease with talking to people from all walks of life. That's about as real as it gets," Ilene says.

Another misconception is that 'children will not learn enough compared to kids from traditional schools.' Contrary to this, she argues, they learn better because teaching can be adjusted to the child's learning styles. "Reese and Tax are both visual learners while Noah is kinetic so we used books and teaching methods that fit their learning styles."

ADVERTISEMENT - CONTINUE READING BELOW

If there was any challenge for her as a homeschooling mom, it was finding the right curriculum that supported each child's learning styles. "The question was always 'how can I encourage them to take ownership of their education and learn independently?'" shares Ilene.

Homeschooling as leap of faith

Reese with her mom Ilene, dad Jules, and brothers Noah and Tax.

PHOTO BY

Courtesy of Ilene Riego

 

Apart from getting scholarships abroad, Reese has also been accepted to UST and Ateneo de Manila University and is currently waiting for her UP test results. For now, US will have to take a backseat as meeting the COVID-vaccine requirement alone is a challenge.

"As much as I'd love to, I can't go to any of the US universities because they require me to go in person and I haven't even been vaccinated yet," the teen says.

For now, she says she is inclined to enroll in Ateneo where she will be taking up BS Life Sciences. But if she makes it in UP, which is her first choice, then she will be taking up BS Pharmaceutical Sciences as her pre-med course.

For mom Ilene, she is only too happy that her daughter has been presented with so many opportunities and credits her daughter's homeschooling for these blessings. "We're used to letting teachers take charge of our kids' education and, in homeschool, we (the parents) are the teachers. So that can be intimidating for some," she says.

For parents who wish to homeschool their children, mom Ilene gives these tips to so they can slowly build the confidence to go for it:

Do a lot of research.
Join homeschool conventions and groups.
Look at the available books for teaching so parents will have a better idea of how homeschool works.
Pray. Pray and ask God if this is the journey He wants for you and your family.

"The whole family has to agree to the idea of homeschool, even the kids. Then take that leap of faith," she encourages parents.

A farmer's son was able to secure a scholarship from a top U.S. university! Click here for his inspiring story.

Trending in Summit Network