Choosing to go on a breastfeeding journey is not always easy, even for moms who are committed to doing it. That's why having a support system is vital, whether it's from their partner, family, or even online support groups. Having a "village" that will nurture their physical and emotional needs has a huge impact on breastfeeding success.

Sisters Faith Buenaventura-Alcazaren, Dyan Buenaventura-De Guzman, Iris Buenaventura-Muñoz, and Clara Buenaventura-Sereno didn't have to look far for their support group, a fact they consider a good fortune. The sisters, who have seven kids between them (two each for Faith, Dyan, and Iris, and three for Clara) and breastfeeding advocates, share tips and advice and motivate each other to become successful at nursing. 
The struggles of breastfeeding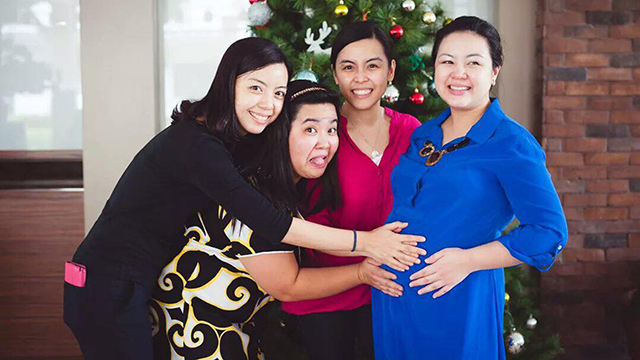 ADVERTISEMENT - CONTINUE READING BELOW
The sisters' breastfeeding journey wasn't always smooth sailing. Dyan, a physician who now works in Canada, was the first to have a child in 2008. Clara, who is a lawyer, shares during the shoot with SmartParenting.com.ph, that while Dyan tried her best to breastfeed as long as she could, she wasn't able to sustain it.

"The information that time wasn't as accessible as it is now. She was also doing her residency in Philippine General Hospital (PGH) at the time, and she had to travel from Pacita, Laguna (where she was residing) to PGH every day," Clara explains. "The maternity leave wasn't that long, and there were times when she had to work overnight shifts in the hospital."

Iris, who is a pediatrician, says that Dyan's experience was an eye-opener for all of them.
"Even if you're a doctor, you wouldn't really know all about breastfeeding until you become a mom," Iris says.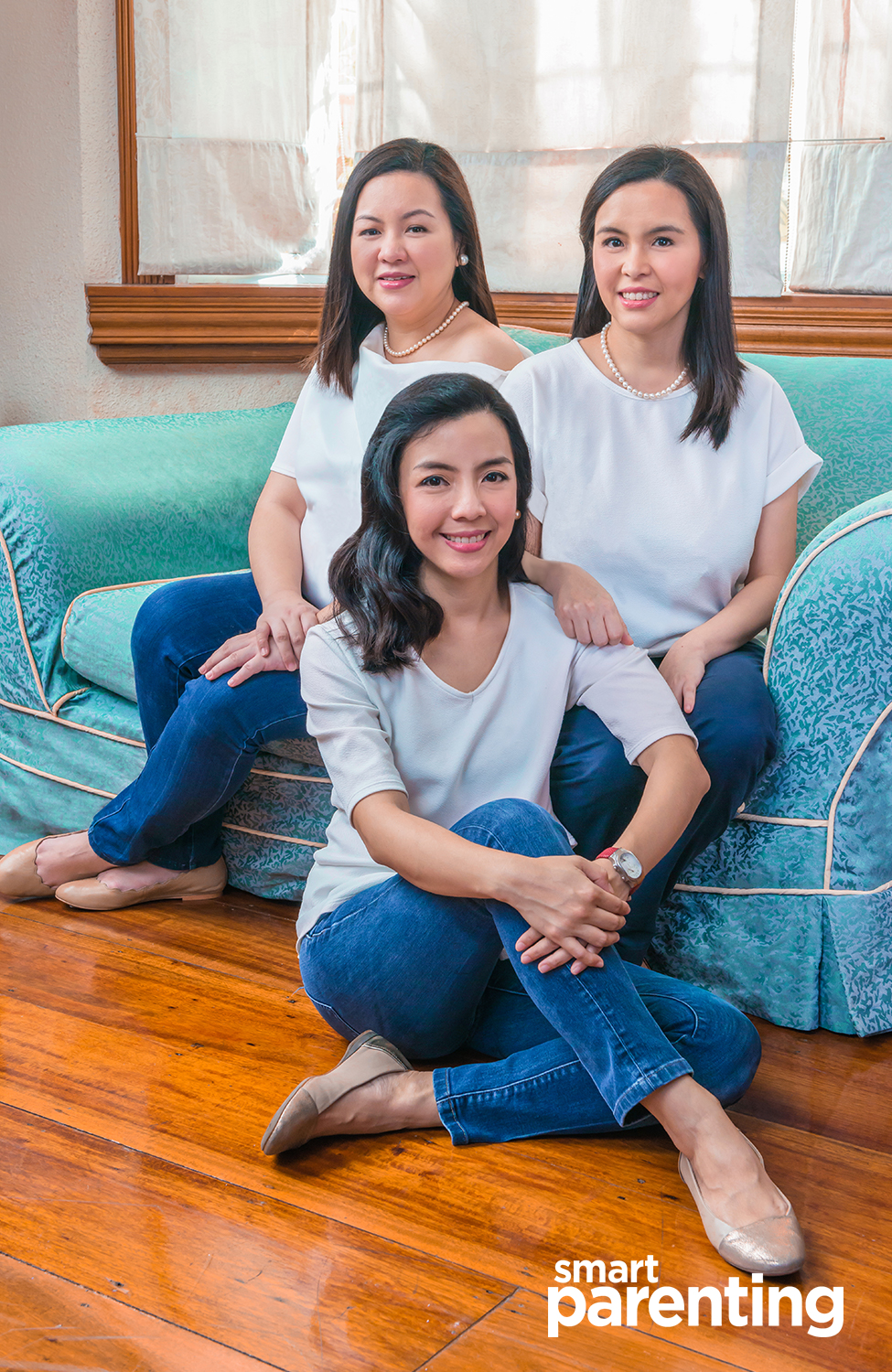 CONTINUE READING BELOW
Recommended Videos
Clara adds, "Wala pa kaming alam noon. We didn't have the know-how of things like pumping [breast milk] and wala kaming access to other providers of information. Hindi pa uso ang lactation counselors — the network of mothers wasn't as big as it is now."

The second one to attempt breastfeeding was Faith, who is also a pediatrician. At the time, she was in her third year of residency. While she was pregnant, she had already begun to read up on breastfeeding, determined to provide "liquid gold" for her baby.

But Faith encountered complications during childbirth. "My daughter, Yanna, was an emergency CS [cesarean section] baby. Then two weeks after my delivery, I contracted a severe infection. It was an infection that warranted intake of antibiotics that was really, really strong and the side effects were leukemic symptoms in the baby," she shares.
"Even the neonatologists we asked, who are also advocates of breastfeeding, opted and advised me to pump and dump to keep my supply during ongoing yung medication," she adds.

Clara, the youngest of the four, attests to her ate's struggles. "Nakikita ko siyang nag-pa-pump kahit wala nang makuhang milk," she shares.

Because of her older sisters' experiences, Clara's view on breastfeeding got clouded. "At the time, akala ko talaga mahirap ang breastfeeding. Kasi I already have two sisters na nakitaan ko ng intentions [to breastfeed] pero hindi naging successful."
MORE FROM Smartparenting.com.ph
Jumpstarting their nursing journeys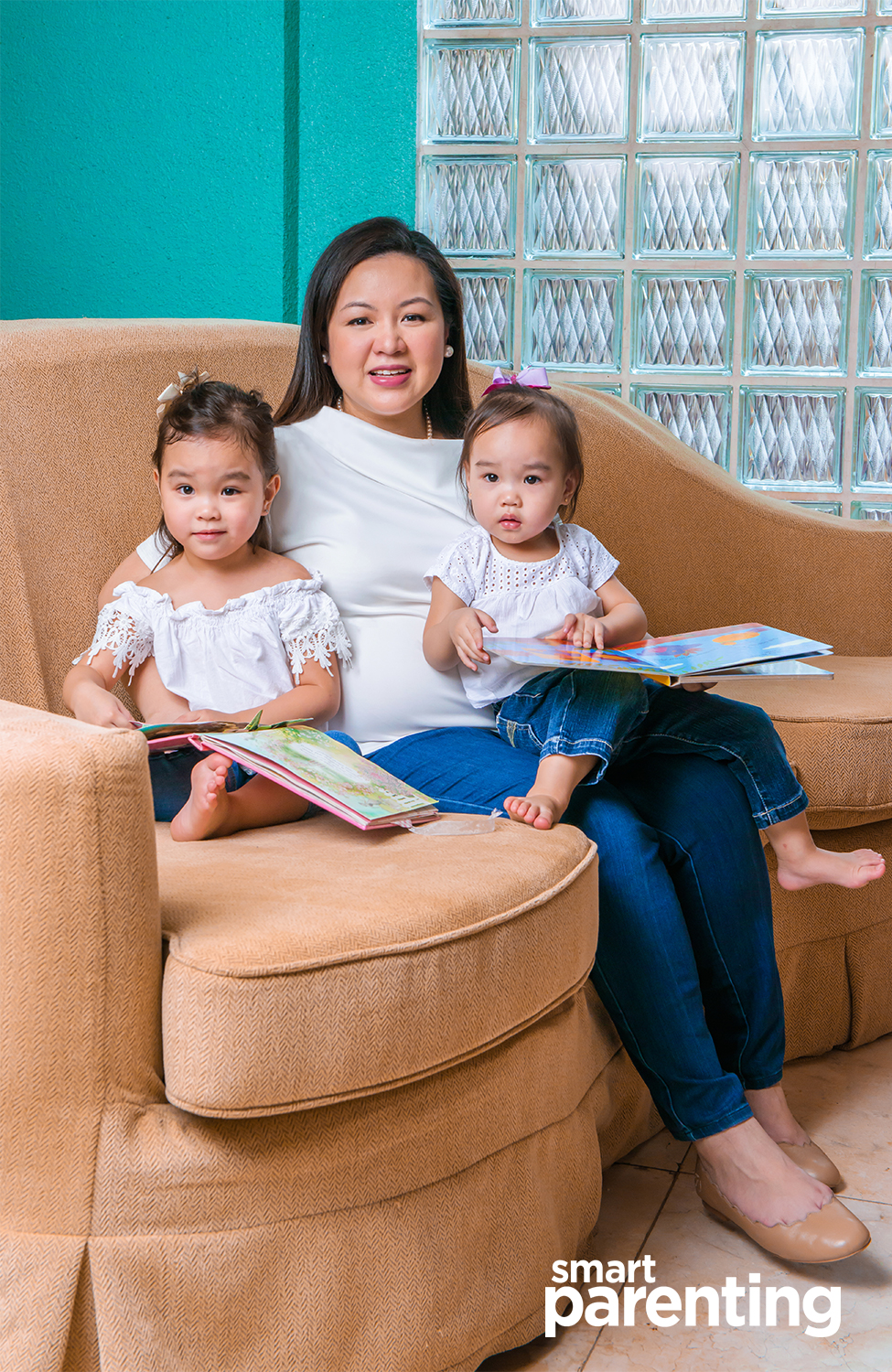 ADVERTISEMENT - CONTINUE READING BELOW
When it was Clara's turn to give birth, Faith had already attended several seminars about breastfeeding and gave her pregnant sister a book by Jack Newman, M.D., known for his breastfeeding advocacy. But Clara faced difficulties.

"For the first two weeks after I gave birth, my breasts were engorged. I had mastitis and even contemplated surgery," Clara shares.

Despite these setbacks, Clara was determined to continue breastfeeding. She says that her experience was infinitely better than her sisters because she now had access to information, and she had more support — both from her family and in online groups.
"Millennial mom ako, so nahanap ko 'yung Breastfeeding Pinays. Through there, nahanap ko si Tin Cervantes, who changed our lives," Clara shares. "Iba kasi 'yung practical [application] and iba 'yung sa books. Iba 'yung napapanood sa taong nakakita na ng one hundred or more people having the same problem. She had a very practical approach, and she was able to teach us a lot that I wasn't able to read in books."

After Clara gave birth, Faith became pregnant again, and she had a VBAC (vaginal birth after cesarean) that came with complications. Her son, Marco, had difficulty breathing at birth and had to be intubated.

"When he became more stable, I immediately went to the NICU (neonatal intensive care unit). I wanted to feed him agad kasi I wanted the second to be successful," Faith shares. "[Breastfeeding] my firstborn wasn't successful, not because I didn't have enough [milk] supply but because there wasn't enough opportunity to raise my supply as I was in training."
ADVERTISEMENT - CONTINUE READING BELOW
The sisters' desire to support each other in breastfeeding was so strong that Clara nursed Faith's son so he could have all the nutrients he needed while recovering. "It just felt natural," Clara shares. "I felt great that my breast was useful to my sister."

The sisters playfully call their experience shared parenting — at one point, all of them were breastfeeding (Iris was the last sister to have kids), and they would help each other out whenever one of the girls needed a break.

Iris shares, "Kunyari, si Ate Faith and her husband need a date night, they would leave Marco with me. Or Clara's second daughter, Catalina, would also feed on me if Clara is away for work."
MORE FROM Smartparenting.com.ph
Shared parenting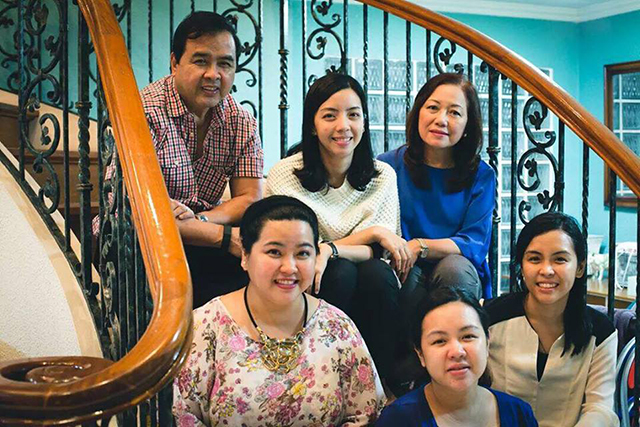 ADVERTISEMENT - CONTINUE READING BELOW
It was inevitable the sisters' parenting styles would intersect. Clara said that since their Ate Faith loves researching, "kami, ginagaya na lang namin siya. Siya ang main source of information."

"As a pediatrician, the most effective raw na parenting style would be the authoritative parenting. That leads to greater academic achievement," Faith shares. "Authoritative is warm but firm — they respect you, but they don't fear you. They know that you follow through and you have limits."

For these women, parenting is part of their bonding time. "Suki rin kami ng mga parenting classes," Clara quips.

All three sisters, who are based in Manila and their husbands, attended a 10-day parenting course. "It doesn't work kung ikaw lang [without the husband]. It's a partnership."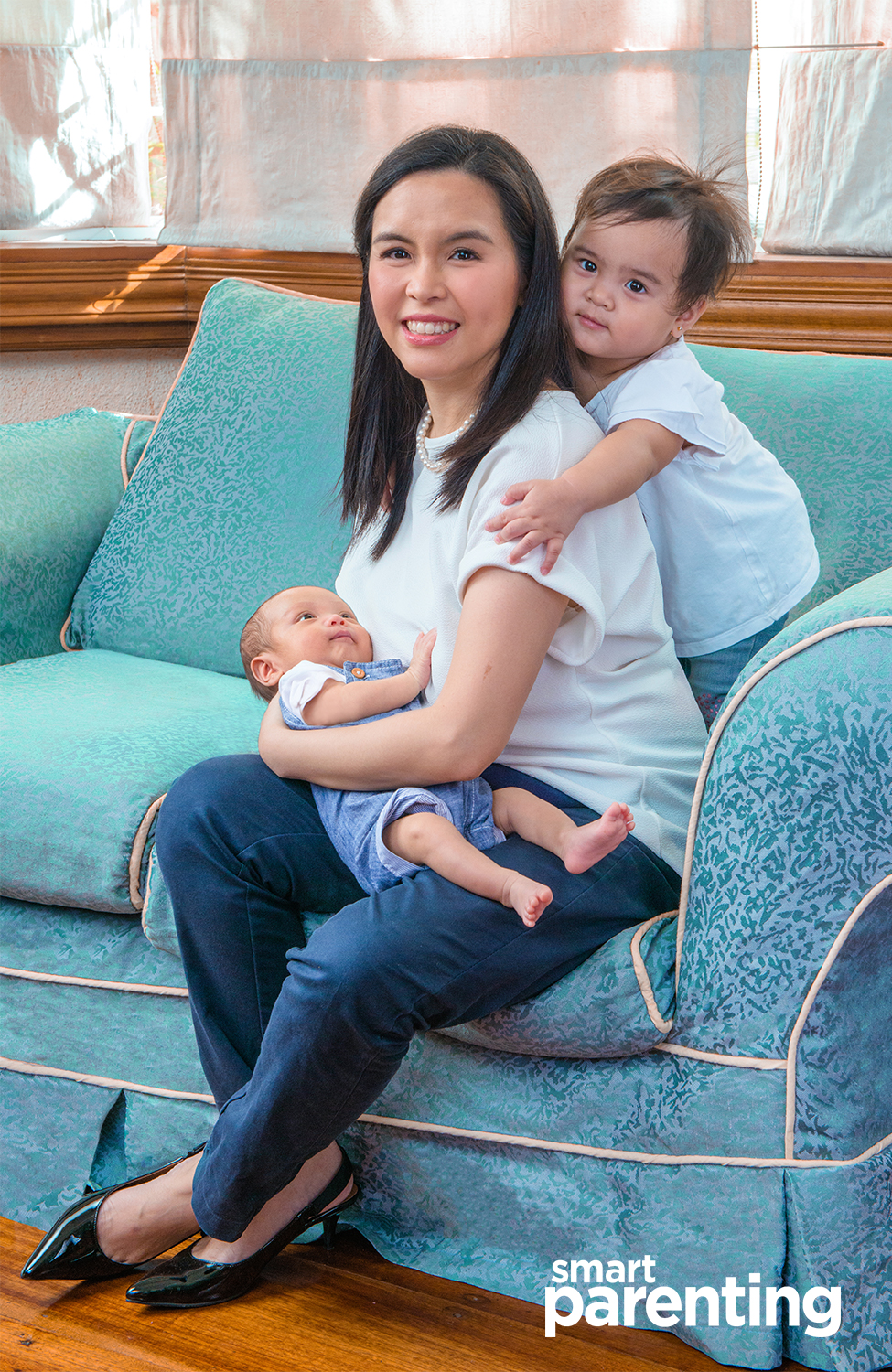 But it doesn't mean they impose their parenting style on their nieces and nephews. Whenever they gather as a family during Sundays at their parents' house, they would take the time to ask questions, share advice, and opinions with each other.

"We also have a Facebook Messenger thread. We do video conference. Even if we are not always together, we convene there to consult each other and discuss things," Faith adds. This is especially helpful since one of the sisters reside in another country.

Their closeness also paved the way for Clara to find out that her daughter, Siloe, was experiencing developmental delays earlier than usual.

"Yung condition kasi na 'yun, 4 or 5 years old na-de-detect or nag-ra-raise ng concern sa parents. In Clara's case, wala pang 1-year-old," Iris explains. With three pediatricians in the family, early intervention for Clara's daughter happened.
ADVERTISEMENT - CONTINUE READING BELOW
"It was really hard to talk about it. But I think we have made this culture in the house that we say anything we want to say," Clara shares.
Despite the number of medical professionals in the family, the sisters concede that when it comes to pediatric advice, they still go to their number one source — their 68-year-old mom, Sonia, who is also a pediatrician!

"'Yung experience niya, malayo sa experience namin. You recognize that fact," Faith says. Clara adds, "Even if there's new knowledge, we still consult with mom."
MORE FROM Smartparenting.com.ph
Sharing their breastfeeding advocacy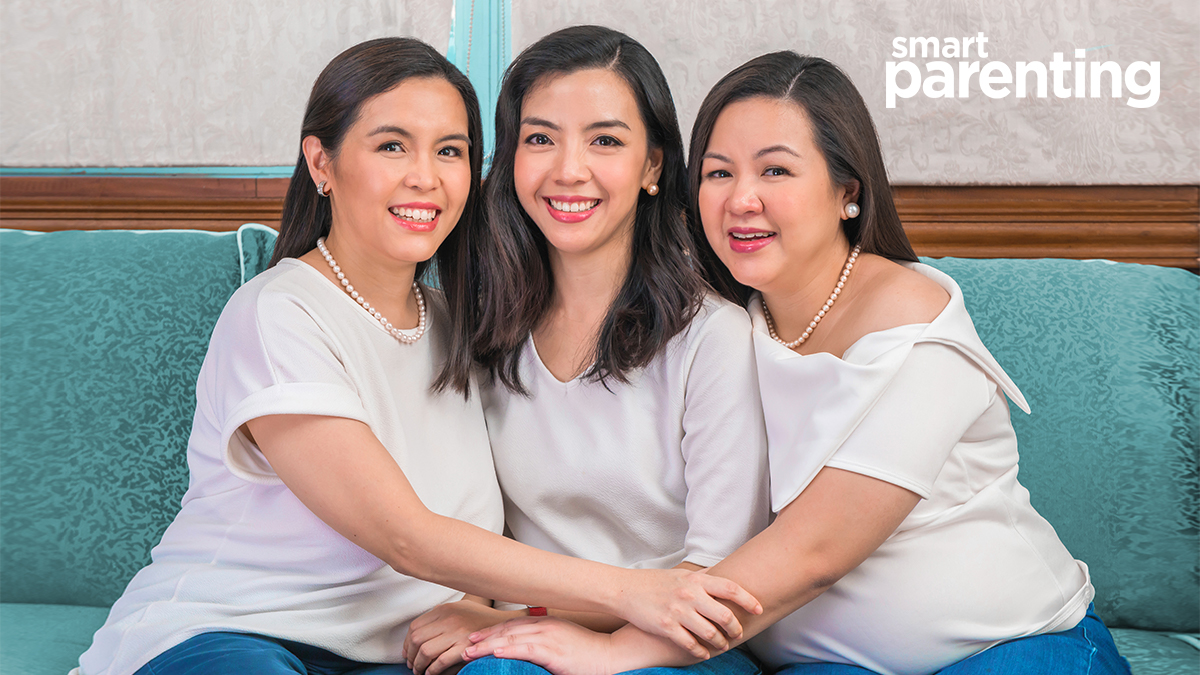 (from left) Iris, Faith, and Clara have the best breastfeeding support group — each other.
PHOTO: Paul del Rosario
Since Iris and Faith are both pediatricians, they also share their breastfeeding advocacy with their patients and family. Their most prominent convert so far: their mom.

"For most pediatricians back then, giving formula milk was the standard. It was institutionalized. When the paradigm was shifting [to breastfeeding], it was frowned upon by the old ones, the old NICU staff. It's hard to change old habits," Faith shares.

"When we started breastfeeding, [mom] changed her management, she became more open to breastfeeding," she adds.

The sisters agree that more experts now recommend breastfeeding because there is also a demand for it. "The moms who are giving birth already know [about essential newborn care]," Faith says. "That's because of the communities we have formed online and offline. And it has done a lot of things — it's informed a lot of women, it made ripples to communities."

"I think even older pediatricians will change their ways," Iris says. "I have patients from Bulacan or Batangas, dadayuhin ka nila kasi same kayo ng principles. Eventually, yung older pediatricians, they will see na 'yun na ang need ng mothers because pabata ng pabata ang patients nila. They have to update their knowledge also."
ADVERTISEMENT - CONTINUE READING BELOW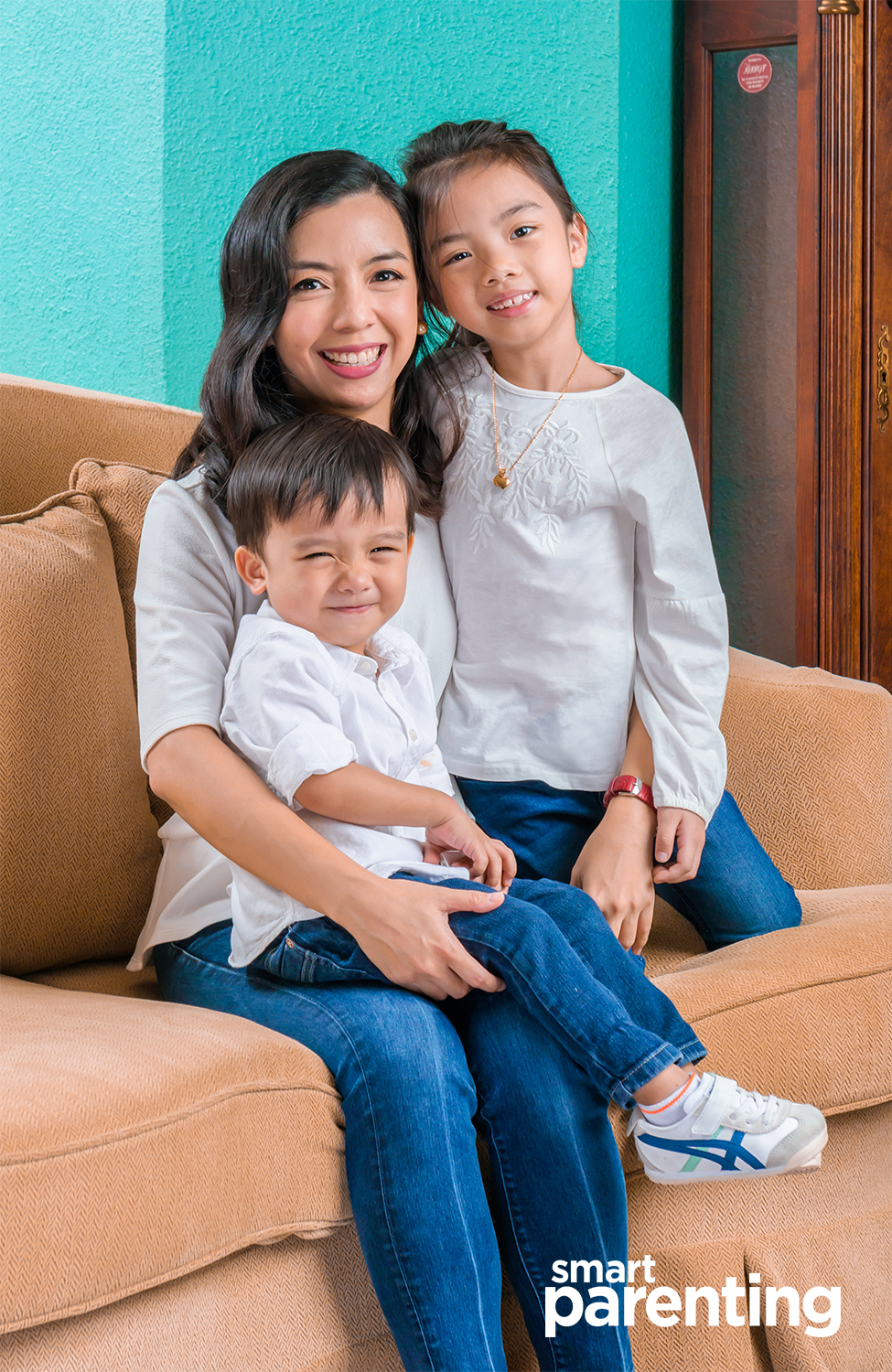 As much as they can, the sisters would also like to share their knowledge with their patients. "Nag-co-confide rin kasi yung mga mothers, parang counseling na rin," Faith says.
"What I tell them is, don't feel bad. People will be giving you a lot of advice, but in the end, the way you empower yourself is to read. Read and improve your knowledge. The more you know, the more confident you will be."
"We are big advocates of evidence of today's medicine — recommendations of Philippine Pediatric Society, American Academy of Pediatrics. They publish studies, it's readily available online," Faith shares. "But a lot of parents, they consult different resources like blogs or influencers na not necessarily reliable. But for us, it's important that we go straight to the source."

However, Iris and Faith stress that they would never try to impose anything on their patients, mainly because Filipinos have traditional beliefs that many families still abide by.

But they draw the line when they know it would have a clinical impact on the child. "In pediatrics, as long as it doesn't affect the baby's health, I'm okay with doing traditional beliefs. Because we're there to protect the baby and to educate," Faith shares.
ADVERTISEMENT - CONTINUE READING BELOW
Makeup by Jinx Aggabao. Hair by Nikko Bruel. 
MORE FROM Smartparenting.com.ph