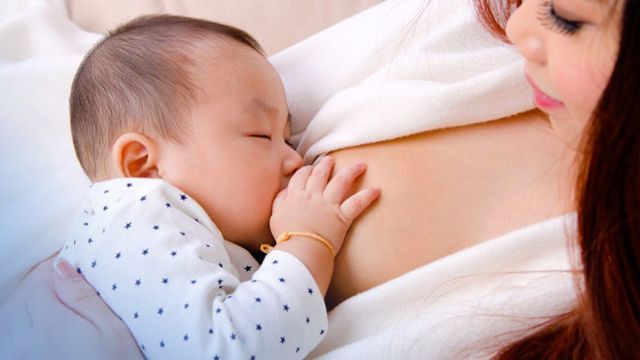 Moms know weaning from breastfeeding will happen. Some will want it sooner than later, but they might not be able to say their desires out loud when faced with an oversupply of breast milk. Baby-led weaning, where the child stops nursing by himself is ideal, but there's also nothing wrong with moms initiating the weaning process.
The World Health Organization (WHO) recommends breastfeeding babies up to 6 months and to continue breastfeeding combined with solid food up to 2 years old. The American Academy of Pediatrics also notes that nursing can continue "as long as mutually desired by mother and baby."
If you'd like to wean from breastfeeding, the most important thing is to be honest with yourself: why do you want to do it? Moms will have several reasons — maybe they have to go back to work, their kids are old enough that latching has become painful, or their kids have started to rely only on breast milk when they also need solid food. Whatever the reason, weaning is a personal decision and they should never feel guilty or think they are selfish for wanting to stop breastfeeding their children.
Once you've completely decided weaning from breastfeeding, remember to take it slow. "Weaning should be gradual and slow, not only for baby but for mama, too," explains Candice James, a breastfeeding counselor, in an interview with Romper. "Physically, the slower mama weans, the easier it will be on her breasts. There will be a reduced risk of clogged milk ducts and infection, and little to no pain with engorgement."
She adds, "If you begin weaning abruptly, the instant change in hormones can cause extreme fluctuations in your mood while weaning, so support is key."
If you're dealing with an oversupply of breast milk, James says it might come with a higher risk of developing a clogged duct or mastitis because there is so much milk being produced. So, if you've decided on weaning, try and be patient.
"Realizing this process takes time. Some parents still express milk months after weaning," she explains. "Know that this process can be beautiful and does not need to be stressful. Start early because the weaning process with an oversupply can take months if done gently."
In our Facebook group, Smart Parenting Village, moms offer a few suggestions on how to successfully wean baby off your breast. If your baby is already eating solid food, one mom suggests delaying giving breast milk and offering food instead. She adds, "Or delay ng onti and offer fresh milk. Bawasan [paunti-unti] 'yung hours spent breastfeeding hanggang masanay siya na wala."
Another mom suggests decreasing the number of times your child breastfeeds in a day. "From breastfeeding whenever she wants we decreased it to three times a day after mealtime. [I also] increased her meal (solid food) amount. Since she's eating more, I noticed that she drinks milk from me less."
If you've started weaning and your oversupply is causing you physical pain, you can find relief in warm and cold compresses while you work on removing just enough milk from the breast without emptying.
The most important thing: don't stress yourself out about weaning successfully. It may take longer because you have more milk, but if you are patient, plan ahead, and stay mindful of your needs, you will eventually be able to do it.
As one mom in our Village says, when it comes to weaning from breastfeeding, "You have to be 100% first sa sarili mo para mabigay mo rin sa kanila 'yung 100% mo."