What Is the 'Milk Code' and What It Means for Your Baby

The Milk Code hopes to empower Filipino moms to know they are exactly what their child needs.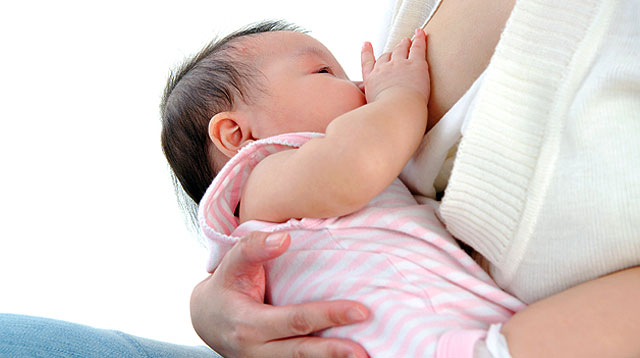 Our country boasts of having one of the best 'milk code' laws; in fact, we were the first to have one in place in Asia. Private and public hospitals — and the advertising industry (more on that later) — are required by law to actively enforce the Milk Code, which has the best intentions to protect and advance the well-being of new mothers and newborns.

The Milk Code's goal is to set up an environment where moms are encouraged to nurse and has everything she needs to breastfeed her baby successfully. The execution, of course, leaves much to be desired; not all hospitals, for example, may have a lactation expert on board to teach mom the proper latch positions. Without the appropriate information at the hospital, not many new Pinay moms even realize they may need it.

Many have also pointed at the Milk Code as the source of eternal debate that seems to go on between moms who breastfeed and moms who choose to supplement with formula even before the child turns 6 months old. But the Milk Code does not say moms cannot feed their babies formula milk. At the end of the day, it is a mother's choice, and what the Milk Code hopes for is she makes an informed one.

That's the Milk Code's job: to promote breastfeeding and the benefits of breast milk for both mother and child. No one refutes that breastfeeding is one of the best first gifts a mother can give her child. Breast milk isn't dubbed liquid gold for nothing. Research has proven that it's the best and complete nutrition for infants ages 0 to 6 months. Spreading this message isn't as easy as it may sound.

ADVERTISEMENT - CONTINUE READING BELOW

The Philippine Milk Code of 1986

Our Milk Code was enacted into law five years after the World Health Organization (WHO) released its International Code of Breastmilk Substitutes. Both require formula milk companies to label their products with an expiration date; a disclaimer that breast milk is best for babies; and that it should only be consumed upon doctor's advice.  

Under Executive Order No. 51, formula milk companies are also not allowed to participate in breastfeeding activities. They are not to sell or give out free samples of their product to health professionals in healthcare institutions. This restriction extends to other baby paraphernalia, such as pacifiers and feeding bottles, that can threaten the initiation of breastfeeding between mom and baby.

The objective of the law is to provide restrictions on formula milk manufacturers with aggressive marketing campaigns that significantly undermine the culture of breastfeeding. This means no picture of "idealizing artificial feeding" and no marketing or promotional material for formula milk in any health and nutrition institutions.

The Rooming-In and Breastfeeding Act of 1992

Apart from regulating marketing for formula milk, Republic Act No. 7600 promotes breastfeeding by providing financial incentives to all government and private healthcare institutions that do the same. Health institutions and professionals that do not comply may be subject to sanctions and risk their licenses being revoked. 

Mandatory rooming-in

The law says all newborns, whether born via natural or spontaneous delivery (NSD) or cesarean section (CS), should be roomed-in immediately with the mother as much as possible so she can breastfeed her baby on demand. There are exceptions such as in cases of traumatic births. 

CONTINUE READING BELOW

Recommended Videos

The law also states that "bottle-feeding shall be allowed only after the mother has been informed by the attending health personnel of the advantages of breastfeeding and the proper techniques of infant formula feeding and the mother have opted in writing to adopt formula feeding for her infant."

The ban on baby bottles

The law strictly bans formula milk at any hospital. It should be kept in a closed cabinet and should be brought out only for only emergency purposes and with a prescription. This out-of-sight policy extends to the use of pacifiers and feeding bottles and other non-breastfeeding-friendly paraphernalia. 

Why ban feeding bottles? What if it contains breast milk and not formula? The WHO has an outlined the preferred feeding for infants and bottle-feeding is way below that list. The most-preferred, of course, is direct breastfeeding, but if for some reason that's not possible, the WHO then recommends cup-feeding the baby with expressed breast milk. The next best choices are breast milk provided by a wet nurse or the milk bank.

Human milk banks

The Milk Code covers the establishment and operation of human milk banks and donation of human milk for infants who may have the need for it, (e.g., infants in the neonatal intensive care unit). It also ensures continuing education and training of health professionals, as well as education and counseling of parents about breastfeeding. This is why all hospitals should have lactation counselors ready to help and educate new moms' who may have difficulty latching and nursing during the first few hours after birth. 

ADVERTISEMENT - CONTINUE READING BELOW

What other parents are reading

The Expanded Breastfeeding Promotion Act of 2009

Republic Act No. 10082 amends and adds to the earlier version to further intensify the government's commitment to not only promote breastfeeding, but also protect and support nursing mom by creating an environment where the physical, emotional, and psychological needs of mothers and infants are fulfilled.

Lactation rooms and breaks 

All private enterprises, government agencies, government-owned and controlled corporations should provide lactation stations for new moms. It's a small step towards normalizing breastfeeding. Employers are also mandated to give breastfeeding employees lactation break to allow them time to express milk. This is on top of the usual snack and lunch break times.

Inclusion in the school curriculum

The Expanded Breastfeeding Promotion Act takes the awareness campaign further by adding breastfeeding and its benefits in the school curriculum. This way, even kids are educated early on that breastfeeding is best for babies. Breastfeeding advocates see this as an avenue to help for restoring breastfeeding as a social practice in the Philippines.

Milk Code aims to help

Often, moms complain that a hospital or a doctor do not allow formula or feeding bottles when they're worried that their newborn isn't getting enough breast milk from them. They often complain that they might not have milk. It is a valid concern, and the information gap often happens after birth. Hospitals and health professionals need to become better at educating moms on breastfeeding during prenatal checkups and postpartum recovery.

Again, it is the mom's choice to supplement breast milk with formula or switch entirely, but the Milk Code hopes you do so with the advice of a health professional.

ADVERTISEMENT - CONTINUE READING BELOW

What other parents are reading

Celebrate your pregnancy milestones!


Enter your details below and receive weekly email guides on your baby's weight and height in cute illustration of Filipino fruits. PLUS get helpful tips from experts, freebies and more!

You're almost there! Check your inbox.


We sent a verification email. Can't find it? Check your spam, junk, and promotions folder.
Trending in Summit Network