Bettinna Carlos On Pregnancy After A Miscarriage: 'Pinakanakaka-amaze, Pinakanakakaiyak'

Bettinna is 12 weeks pregnant, and due to give birth in December 2022.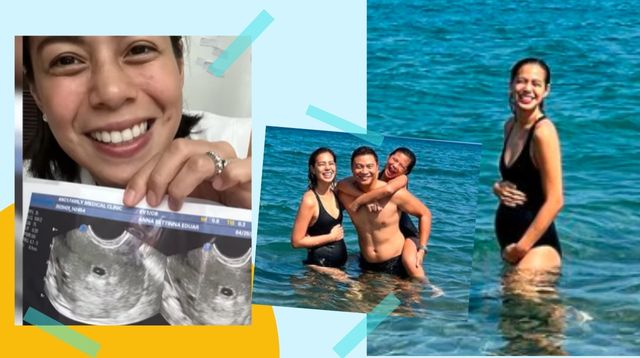 Bettinna Carlos is in the family way again less than six months after she lost what could've been her and her husband Mikki Eduardo's first child (read here). Her daughter Gummy is 11 years old. They all live in La Union.

"Yes, we are!" the digital content creator happily announced in a video uploaded June 18, 2022 on YouTube, via her own A Blessing Channel by Bettinna Carlos-Eduardo. 

"We are 12 weeks pregnant this week. So nakakatawa kung paano namin nalaman na we are pregnant. Sobrang random, sobrang unexpected."

She went on recalling what happened a few weeks prior to her latest vlog. The date was April 19. She and her husband were about to go to their friend's "anniversary taco Tuesday celebration" when a thought hit her: "Because it's tacos, sabi ko, 'Oh, sarap neto i-terno with beer.' But then, naisip ko, I'm supposed to get my period that day."

So, she said, "Wala lang, randomly naisip ko to check." She added, "It was 4:30 in the afternoon. I got a home pregnancy test kit. And then I checked. Wala lang, just to make sure it's safe to consume alcohol. Biglang na-positive. There were two lines, pero 'yung second line, faint."

ADVERTISEMENT - CONTINUE READING BELOW

Bettinna then remembered her first-ever pregnancy test, when she had Gummy, and the second line was also "malabo." Her best friend told her this piece of advice: "Day, kahit malabo 'yung pangalawang linya, linya pa rin 'yan. So positive 'yan."

But, this time, she's unconvinced, thinking: "Huh? Totoo ba 'to? Totoo ba we're pregnant? Eh we're not supposed to get pregnant until six months after my pelvic laparotomy."

Pelvic laparotomy is a surgical incision into the abdominal cavity that Bettinna underwent when she had, in January 2022,  an ectopic pregnancy that ended in a miscarriage.

Since then, she and her husband had not been actively trying to have a child upon her doctor's advice and their joint decision to "take a pause."

She also thought that her new pregnancy could be a fluke because she took the test already late in the afternoon using an unreliable brand. So, the following day, April 20, the first thing she did in the morning was to take the same test. And the result was the same: two lines, with the faint second line.

Still, she's unconvinced: "Sabi ko, 'Baka cheap ang pregnancy test ko. O baka masyado pang maaga. Huwag kang masyadong ma-excite.' Siguro 'yung heart ko, holding off the excitement siyempre kagagaling lang from a loss, a miscarriage. Para mawala na naman. So hindi rin ako give na give na, 'Eto na 'yun, eto na 'yun.'

Five days later, she took the test again, and the result was the same. Later on, she tried yet again, this time using a different brand, and there were two lines. She decided to stop testing on that fourth try. She and her husband then broke the good news to Gummy.

Bettinna's daughter Gummy (right) was similarly surprised and overjoyed by the good news of having a sibling. Gummy previously wrote her mom a note when Bettinna had a miscarriage, saying, "No matter what, I love you, Mommy."

PHOTO BY

YouTube/A Blessing Channel by Bettinna Carlos-Eduardo

ADVERTISEMENT - CONTINUE READING BELOW

Embracing pregnancy again after a loss

Bettinna couldn't contain her joy and disbelief in her lastest vlog. She said, "Sobrang unexpected ng pregnancy namin na 'to. First of all, according to our doctor, we can only start trying again six months after the operation. My pelvic laparotomy was January 28, so dapat July. So dapat by next month pa kami actively mag-try to be pregnant."

She then pointed out, "But you know, talagang si God is a higher authority and more sovereign than the doctors. Si God talaga 'yung ultimate na may hawak ng time. He's all powerful to dictate life, when to allow it to happen. So kahit sabihing six months, kung on the third month, God would want to give it, by all means He would—and He can."

She admitted she and her husband were initially not too keen on having a baby yet "kasi nga kaka-move on ko pa lang" with her pregnancy loss. Additionally, she was just "starting to feel better, feel myself again." So they were "sobrang gulat" for the pregnancy to come this soon.

ADVERTISEMENT - CONTINUE READING BELOW

She went on reviewing her timetime in 2022: In January, a baby came and went. But by April, came another baby, who is set to arrive in December.

"Ang sweet-sweet lang talaga ni God," Bettinna exclaimed. "When I think about my pregnancy, I can't help but say God knows time talaga for everything. Talagang His timing is always perfect.

"We're trying to count backwards to determine when we conceived this baby. You know it would fall on the week we celebrated our first anniversary of moving here. So one year na kaming nakatira dito sa La Union.

"And hindi lang 'yun ang sini-celebrate namin kaya sinasabi ko na God knows timing. Because it was only during that time when my personal, emotional issues of living here were fully resolved. The first year of our marriage, marami kaming challenges.

"When we think about probably why God did not allow me to get pregnant by January was, I guess, He knew we weren't fully, emotionally ready. I wasn't fully, emotionally secured yet. It was only when okay na, resolved na, naayos na, 'tapos na-close book na kung ano man ang issues ko. And that's when the Lord gave. So alam Niya talaga 'yung timing Niya for everything."

ADVERTISEMENT - CONTINUE READING BELOW

Bettinna went on explaining why her current pregnancy is "pinakanakaka-amaze at saka pinakanakakaiyak." She narrated that her ob-gyne, whom she called simply Dr. Ang, asked for an ultrasound at just five months, or a month or so short of the ideal six or eight months.

She explained on her doctor's decision, "Because I had an ectopic pregnancy previously, she just wanted to check na hindi ectopic. And you know what? As of April 19, our baby is right in the middle of my uterus, where the baby should really be."

ADVERTISEMENT - CONTINUE READING BELOW

Read also: When Should You Try to Conceive Again After A Miscarriage?

Trending in Summit Network