7 Common Signs It May Be Difficult For You To Get Pregnant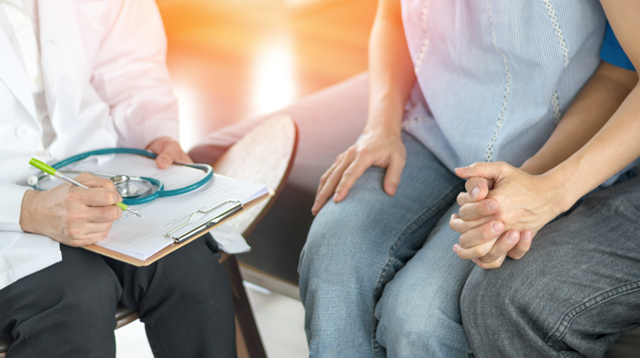 Sometimes, even if you keep yourself fit and healthy to have a baby in the future, you might still have certain conditions that might impede your ability to conceive. These can include issues with reproductive health that you cannot have prevented or foreseen.

Infertility signs in men and women

Unfortunately, many couples do not discover they might have infertility or be tested for it until they experience struggles in conceiving. However, there are a few signs that might indicate it will be harder for you and your partner to have a baby. Here are seven infertility signs to look out for.

Irregular menstrual cycles

According to experts, irregular menstrual cycles or not getting your period at all for months are among the most telling infertility signs for women. Verywell Family says you typically can get irregular periods when you first start menstruating, but cycles should become more regular once one you pass your teenage years.

If you don't get your period regularly, it's going to be hard for you to tell when you're ovulating. Irregular periods may be caused by:

polycystic ovarian syndrome (PCOS)
primary ovarian insufficiency
a diminished ovarian reserve caused by endometriosis or early ovarian failure. (It should be noted that it does NOT mean you will not get endometriosis or PCOS if you have a regular cycle.) 

Meanwhile, if you don't get your periods at all, you may have a very little chance of conceiving without assistance, reproductive endocrinologist Dr. Lorna Marshall tells Parents. If your menstrual cycles are either too short (less than 24 days) or too long (more than 35 days) or if you don't get your periods at all, make sure to talk to your doctor.

ADVERTISEMENT - CONTINUE READING BELOW

Painful and/or heavy periods

Extremely light or extremely heavy bleeding — for instance, if you go through multiple pads an hour for several hours, pass large blood clots, or bleed for more than seven days — can be a sign of infertility. Dr. Marcy F. Maguire, a reproductive endocrinologist, tells Parents that heavy periods may be a sign of uterine fibroids and have been associated with bleeding disorders or endocrine abnormalities.

On the other hand, painful menstrual cramps that interfere with your everyday life may indicate endometriosis. This is a condition when the tissue lining the inside of the uterus (the endometrium) grows outside the uterus. This condition causes scarring of the pelvic structures, which can reduce fertility and increase the risk of an ectopic pregnancy.

Ovulation disorders

Infertility signs include the presence of ovulation disorders, which occur when ovulation is either disrupted or absent. Examples are those mentioned under irregular menstrual cycles usch as endometriosis and PCOS; hypothalamic dysfunction (disruption of the pituitary gland's production of hormones that stimulate ovulation); and uterine or cervical causes (which interfere with the implantation of an embryo or increase the likelihood of miscarriage).

Symptoms that might signal you have an ovulation disorder vary. For instance, symptoms of PCOS include acne and abnormal hair growth on the face or the body, while the most common signs of hypothalamic dysfunction are irregular or absent periods.

Being 35 years old or over

Infertility signs can include age, and it has been established that fertility declines as we get older. Women's risk of infertility increases by the time they are 35 years old and continues to grow as they age. At this age, the risks of miscarriage or bearing a child with a congenital disease become high.

ADVERTISEMENT - CONTINUE READING BELOW

Recommended Videos

Men experience a decline in fertility as they grow older as well. Research has found that as men age, the health of their sperm decreases and they have an increase of DNA-damaged sperm. Older age in men has also been associated with a higher likelihood of miscarriage and genetic issues and congenital disabilities in children.

Smoking and/or drinking

Smoking negatively affects sperm count, shape, and movement, all of which are vital for conception. It has also been linked to erectile dysfunction. Women who smoke, meanwhile, may experience a sped-up process of ovarian aging, which causes menopause.

Mayo Clinic also says excessive alcohol drinking is associated with an increased risk of ovulation disorders in women and low sperm count, poor sperm movement, and irregular sperm shape in men. The safer option is to abstain from drinking alcohol if you plan on getting pregnant and during pregnancy since no amount of alcohol has been established safe for pregnant women.

What other parents are reading

Changes in sex drive

Are you or your partner experiencing less desire to have sex? This can be a sign of infertility. The Carolinas Fertility Institute writes that changes in sex drive may indicate hormonal problems, and improper of the pituitary glands (which control other hormone glands in the body, including the ovaries and the testicles) is a well-known cause of male infertility. Erectile dysfunction, which has also been linked to hormonal imbalance, is another occurrence that might negatively impact fertility.

Exposure to chemicals

It's often difficult to point out the effects of chemicals on our health, but research has proven that exposure to these can negatively impact reproductive health, leading to very telling infertility signs.

ADVERTISEMENT - CONTINUE READING BELOW

According to The Fertility Society of Australia, endocrine-disrupting chemicals (EDCs), which can be found in everything from the air, soil, and water to everyday products like food containers and personal care items, can cause changes in hormone levels, decreased egg and sperm quality, damage to the sperm's DNA, longer menstrual cycles, taking longer to get pregnant, a higher risk of miscarriage, and earlier menopause.

What other parents are reading

Celebrate your pregnancy milestones!


Enter your details below and receive weekly email guides on your baby's weight and height in cute illustration of Filipino fruits. PLUS get helpful tips from experts, freebies and more!

You're almost there! Check your inbox.


We sent a verification email. Can't find it? Check your spam, junk, and promotions folder.

Trending in Summit Network