Despite 'Unimaginable' 4th Miscarriage, Kyla Knows 'Things Will Be OK In The End'

Kyla and her husband Rich Alvarez have been trying to give their 9-year-old son Toby a sibling.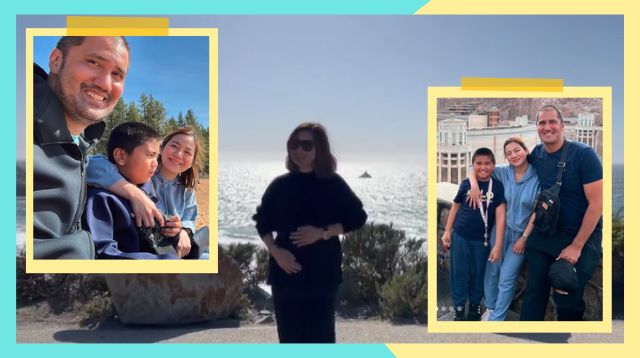 Kyla has always felt vulnerable about her and her husband Rich Alvarez's unsuccessful attempts to give their son Toby, now 9 years old, a sibling.

In 2018, the singer turned teary-eyed while performing one of the songs from her latest album at that time, The Queen of R&B. She said she could relate "in a different way" to lines, such as "I've got to let you go." It turned out she's had a miscarriage.

"Minsan talaga nagiging vulnerable tayo," she told the audience at the album's launch. "You can never be really ready for things like that to happen. I was never prepared, but I know there's an angel watching over me right now."

In 2021, Kyla took to Instagram to share the heartbreaking news of pregnancy loss for the third time.

"My heart is broken in levels deeper than you may ever have imagined," she wrote in the caption.

Today, June 3, 2022, Kyla took to Instagram anew to share another heartbreaking news. But this time, she chose to post a short video of her doing a bit of dance moves while playfully touching her tummy.

In the caption, she wrote a message to her could've been child: "You have brought me so much joy, even for a few months that i carried you within me.. It was all pure joy."

She then turned emotional: "But losing you.. again..for the fourth time is unimaginable. I can't even put my feelings into words."

Kyla gave an explanation in the last part of the caption: "I find it so hard to share my loss because we didn't tell anyone about our pregnancy. We wanted to share our excitement with our family but later on ended up sharing our grief. I am screaming and crying in my head and i couldn't tell anyone."

One thing's for sure, though, she remains hopeful, as she stated: "I know things will be ok in the end."

She went on expressing gratitude: "I thank God for his presence in my life. I thank God for touching my heart right at this moment. Everyday, I have to intentionally look for just about anything that'll make me happy.

ADVERTISEMENT - CONTINUE READING BELOW

"I have to constantly remind myself that God has already placed people in my life to love- people that I need in life. He has blessed me with the best ones to love and love me back. Everything else is just bonus...Lord, have it your way. I surrender all my hurt to you."

In closing, she told her could've been child: "And to you, my little one.. I pray for you. I hope you've felt how much we longed for you, prayed for you and how much we love you.."

5 things you can do to cope after a miscarriage

Here's what another mom learned from her pregnancy loss and how she got healed from it:

Grieve if you must

Healing is a process. Cry as much as you want to. Do what it takes so that you can have the closure that you need. But never forget to stand up after this fall. Know that many have overcome their losses and successfully became mothers in due time. Trust that everything will work out for the best.

Have yourself tested for immunological disorders

It may be an unpopular opinion, perhaps because these tests are not exactly cheap. While the cause of early miscarriages is unknown, it will not hurt to try to cover all bases.

Find the best doctors

It is crucial to find doctors who can empathize with what you are going through and would not just treat you as another number in the queue. Check their background if they have handled cases like yours.

Join a support group

Only mothers who have lost a baby can fully understand how hard it is. The good thing about our world now is everything is just an arm's reach. 

Pray

Pray when it doesn't happen. Pray when it happens. Children are gifts from heaven, and we can only do what is humanly possible to have them. At the end of the day, it is really not in our hands.

ADVERTISEMENT - CONTINUE READING BELOW

Read here for more moms sharing their experiences.

Trending in Summit Network