Pregnancy Symptoms Week 17: Prepare for Itchy Skin and Stretch Marks!

As your tummy expands, your skin stretches abruptly and those white bands begin to appear.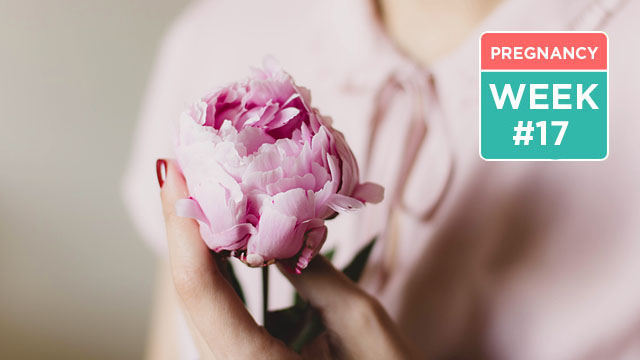 You're about 4 months pregnant, and it feels more real now than ever. Your baby has grown by a lot from the first time you found out you were pregnant. He or she is about 5 inches long now and weighs a little over 5 ounces. At 17 weeks into your pregnancy, you're almost halfway through with your journey! 

Pregnancy signs Week 17

Your breasts and belly itch

As your baby grows, your tummy expands to give him more room. Your skin stretches accordingly, making it more sensitive and causing the itchy sensation around your breasts and your midsection. Moisturizers and special oils made specifically for this can help ease the discomfort.

Weight gain

At the end of the first trimester, you will notice that the less desirable symptoms like morning sickness and dizziness slowly disappear. As you regain your appetite, it is natural that you will put on a bit of weight. About one to two pounds per week in the second trimester is healthy, but anything more than that could potentially complicate your pregnancy.

Stretch marks

Along with your baby's rapid growth and your weight gain, your skin will stretch, and the abrupt change may cause the collagen and elastin to tear. It will appear as white, irregular marks or bands on your skin. Some moms swear by products that help reduce their appearance. However, not all pregnant women develop stretch marks. Hormones and heredity are factors, which means that if your mom didn't have it, you probably wouldn't get it either.

ADVERTISEMENT - CONTINUE READING BELOW

What other parents are reading

Vision problems

You may experience episodes of dry eyes or a blurry vision — don't worry, these are all part of your pregnancy. However, watch out for other symptoms as well, like blind spots and flashes of light, which could also signal potentially dangerous conditions like high blood pressure or eclampsia.

Leukorrhea

During your second trimester, you will continuously have a thin, milky-white discharge called leukorrhea, and that's okay as long as it's not blood. This spotting actually helps your pregnancy by maintaining a healthy balance of bacteria in your vagina and keeping the birth canal free from infection. If it changes colors to greenish or reddish, see your doctor as soon as possible.

Pregnancy symptoms Week 17

Back pain

Pain in the back is one of the most common symptoms of pregnancy. There are many reasons your back aches: first is that your body suddenly has to support the extra weight of your growing uterus. Consequently, your lower back arches along, and your posture has to compensate for it. The hormone relaxin also gets to work by gradually loosening up the pelvic joints for the eventuality of your baby passing through your birth canal. All three combined explains why you may have to endure back pains from here until the time you give birth.

Weird dreams

You'll probably have dreams that won't make sense at all, and it's not only because of your hormones but of your own anticipation for your baby. Don't worry — in about 23 weeks, you'll finally meet her!

CONTINUE READING BELOW

Recommended Videos

What other parents are reading

Your baby's development on Week 17

Unique fingerprints

If there's anything that would identify your baby as a unique individual, it would be his fingerprints. And this week, he will start having them! 

Cartilage to bones

Your baby is indeed flesh and blood now as he grows bones from the cartilage, and the tissues on his body continue to form. He can move his joints already as well. 

Umbilical cord thickens

Your baby's lifeline is the umbilical cord. As he grows stronger, the umbilical cord becomes crucial to his nourishment.

Baby's heartbeat is more regular

Your baby will now have a heart rate of about 140 to 150 beats per minute, twice as fast as your own heartbeat.

He's learning to suck and swallow... in preparation for breastfeeding!   

What other parents are reading

Your to-do list on Week 17 of your pregnancy

Get maternity bras

With your milk-producing glands getting ready to work, expect your cup size to change to give you a fuller cleavage. Time to shop for new brassieres! Opt for maternity bras that provide easy access to your breasts when baby needs to feed.

Decide if you want to know your baby's gender

It's really up to you and your partner whether or not you wish to find out.

Document your pregnancy

If you haven't begun so, now is an excellent time to take photos week by week to actually see how much your body is changing. Keeping a diary is also a good idea so you could track your weight, food intake, and other symptoms you may need to take note of in the future. 

ADVERTISEMENT - CONTINUE READING BELOW

More on your week-by-week pregnancy:

Pregnancy Symptoms Week 16: You May Just Feel Your Baby's First Kick!

Pregnancy Symptoms Week 18: Start Talking to Your Little One!

Celebrate your pregnancy milestones!


Enter your details below and receive weekly email guides on your baby's weight and height in cute illustration of Filipino fruits. PLUS get helpful tips from experts, freebies and more!

You're almost there! Check your inbox.


We sent a verification email. Can't find it? Check your spam, junk, and promotions folder.

Trending in Summit Network