TV Host Sam Oh Shares Her Experience When She Had Her Eggs Frozen

With her biological clock ticking, the radio and television host decides to freeze her eggs. Here's every detail of the procedure including costs.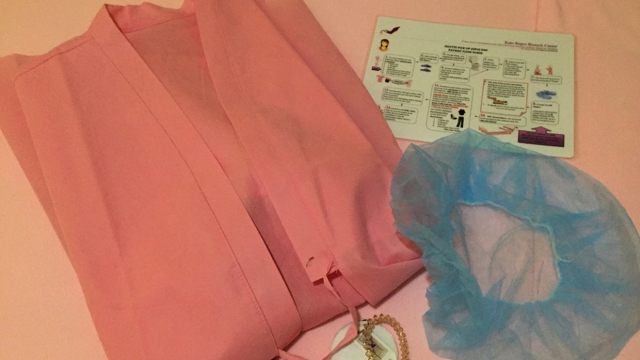 On October 5, radio and television host Sam Oh wrote on her blog about her experience when she had her eggs frozen. It was such a detailed walk through of what happens during oocyte cryopreservation -- and how much the whole procedure can cost -- that we reached out to her if we could share it. 

To clarify, Sam was not invited by the clinic to try out its services -- the clinic was her choice. "I did it of my own free will," she replied via email. 

Among her family, Sam told her brother first about the procedure before their parents. "[My brother] was supportive. My mom was happy. My dad was pretty mum only because he's just one of those reserved Korean men haha."

What other parents are reading

As for those who read her blog, the feedback was surprising -- Sam didn't expect so many people would be curious about it. Sam told SmartParenting.com.ph, "Every comment has been so warm and encouraging, almost to the point that I feel like I'm taking too much credit for merely spreading the word about something that's been around. But I think the ones closest to my heart are the ones coming from women who are in a similar situation as myself -- single women in their 30s who just want more time in the baby window for whatever reason." 

Sam said many people were interested about the procedure, but they just didn't know where to look or that the procedure was even available in Manila. "It makes me smile when they tell me that they've been thinking about freezing their eggs, but were afraid because they didn't have enough information and that they're encouraged by my story. That's more than I ever dreamed would come out of sharing my experience."

Here is Sam in her own words. 

I was made aware of the option to freeze my eggs when I caught Padma Lakshmi, Indian supermodel and host of Top Chef, talking about it on TV a few years ago. The details of the interview are hazy to me now, but I do recall her saying that she would have frozen her eggs much earlier in her life if she had known about it.

Fast forward to 2016. I'm 36, single, childless. It's not a bad place to be, but I was starting to feel a little anxious about the baby situation. While there's encouraging literature out there that says the rapid decline in fertility rates among women in their 30s are questionable, I also didn't know when my baby daddy was gonna show up, and I wasn't gonna sit around twiddling my thumbs. I love children, and I know that I want my own one day. Plus, I didn't know what challenges I faced, having never been pregnant before. It just felt right to cover as many bases as I can.

So it was with excitement, curiosity, and even some apprehension that I went to Kato Repro Biotech Center at the Enterprise in Makati for a consultation. Clinic hours are 8: 30 a.m. to 3:30 p.m. on weekdays, 8: 30 a.m. to 12:00 p.m. on weekends. They operate on a first come, first serve basis for first time patients. It's best to be there as soon as they open or even a tad earlier -- this place fills up fast, and it gets busy rather quickly. My time at this clinic always averaged three to four hours at each visit. Bring entertainment.

The whole process will cost you Php130,000-Php150,00, but this expense is trickled through charges that apply only for the things that are done on the day you are at the clinic. I will list those prices as I go along. Speaking of prices, I'm not connected to this clinic in any way and paid everything in full. Also, if you are a non-Filipino passport holder like myself, you are exempt from 12 percent VAT so bring your passport.

ADVERTISEMENT - CONTINUE READING BELOW

What other parents are reading

Day 1
When you step out of the elevator, you'll see a guard stationed by the door. He will give you a number and ask you to sign a logbook. Take your blood pressure on the machine you see below on the right, wait for it to print out the results and then bring it, along with your number card, to the reception counter.

I consulted with Dr. Rudie Mendiola and after answering all my questions, he said that we could actually get started that day if I was okay with everything. (The recommended day to get the process started is the second day of your period -- I was on my third.) I maybe paused for about two minutes before I said yes. I liked what I saw at this clinic. I was sure that I wanted to do this. Why wait?

The first order of business was a blood test and a transvaginal ultrasound. That's right -- while I had my period. I was not even entirely comfortable doing this during non-period days, so this was pretty weird for me. But the staff was professional, which put me at ease. These procedures tested for sexually trasmitted diseases, the state of my follicles, and hormone levels. When everything turned out to be normal, I was sent home with hormone injections and an ovulatory stimulant in pill form to be taken over the next four days.

I'm the type that goes pale at the sight of blood. I never ever thought I'd be able to inject myself with anything, even a pen injection like this one, but I surprised myself. The needle here is actually very thin so I only felt the faintest sting as long as I relaxed.

Total cost for the day: P36,850.00

CONTINUE READING BELOW

Recommended Videos

What other parents are reading

Day 5
I returned to the clinic to do another transvaginal ultrasound to check how my follicles were responding to the hormone shots and ovulatory stimulant, a time when the doctor determines if you'll stick with the old hormone shot or bump it up a notch. While my follicles were doing well, I got bumped up so I took home a new kind of hormone shot to be had over the next three days. 

I had to administer this shot with a legit syringe, and the hormone came in powder and liquid forms in two separate vials that I had to mix using said syringe. This shot was not only more complicated, but it also stung a lot more because the needle was bigger, and the formula itself burned a little while making its way inside me.

Luckily, I had nurses around during my first two shots. But I had to do the last one myself, which I found to be nerve-wracking. I ended up not doing a very good job of mixing the hormone formula and bruising the injection site (two inches below your belly button), but everything turned out fine. 

Total cost for the day: P21,800.00

Day 9
I went back to the clinic for another transvaginal ultrasound and blood test. All was well, and the doctor told me that we harvested eight eggs. I was told in the initial consultation that a good number of eggs to freeze is 20 -- apparently that figure is based on women of all ages who have undergone this procedure. At my age, eight eggs apparently sufficed for three to four children, but I was urged to consider a second round of harvesting to be on the safe side. FYI, I was told the best age to do this is 36 and under. I told him I'd marinate on it.

We scheduled the egg retrieval procedure in two days. I took home one new hormone shot in pen injection form and was prescribed 200g of ibuprofen to be taken every six hours on Day 10.

I was feeling pretty normal up to this point. But on this day I think the hormone shots were finally taking effect on my mood because I was feeling quite irritable.

Total cost: P6,500

ADVERTISEMENT - CONTINUE READING BELOW

What other parents are reading

Day 11
I was told to be at the clinic 30 minutes before my egg retrieval procedure, scheduled for 8:30 a.m. I showed up bright and early with my signed consent forms in hand and a light breakfast in my queasy stomach. I was shown to a treatment room with several beds separated by floor-length curtains and asked to change into a gown and wait.

This was a really anxious time for me. I had never undergone any kind of surgical procedure in my life, and I was pretty scared. And when I was led to the operating room where I saw the operating table, stirrups, bright lights, monitors, and medical staff in scrubs, I was pretty much out-of-body-ing.

The procedure lasted all of maybe 15 minutes. It felt like a much more intense transvaginal ultrasound because it uses a similar probe but with a needle attached to it. I thought the local anesthesia (which was injected inside me at the retrieval site) would be the most painful part, but I barely felt it. 

The retrieval itself was quite uncomfortable, and there was some dull pain at times, but it was nothing unbearable. More than anything, I think it was my being scared half to death that made it traumatic. My nurse, Joanne, held my hand the whole time and soothed me, even offering a stress ball at some point. It meant the world to me.

I was led back to my bed when it was done, and I thought I was going to faint on the walk over. It's funny now, but I really did! I laid in bed suffering from what felt like acute dysmenorrhea. In about 20 minutes, I was told that I could retrieve and discard the gauze from the surgery site (you should see some spotting but nothing more), get dressed, and wait outside for a doctor to see me.

When I finally sat down with Dr. Ednalyn Ong-Jao, the same doctor who performed my procedure, I was told that we were actually able to harvest nine eggs. The ninth one was immature, but was expected to mature within the day (I'm trying to wrap my head around that -- it's fascinating.)

ADVERTISEMENT - CONTINUE READING BELOW


At this point, the discomfort akin to period cramps was almost gone, and I was feeling pretty normal. I was sent home with three days' worth of antibiotics. I felt a little bit sore inside on Day 12, and then it got progressively better and back to normal within a few days.

Total cost for the day: P65,450.00, which includes my one-year storage fee of P20,000 (annual storage fee in succeeding years is P11,200.)

Grand total cost: P130,600.00

So there! That's what went down in a span of 11 days. I now have nine of my eggs frozen and stored in a clinic in case I'll need them in the future. And, yes, I say "in case" because I still hope that the whole baby thing will happen organically without my having to tap into these reserves. In fact, there's someone in my life right now who I hope to do this with, God-willing. But it sure gives me peace of mind to know that these eggs will be available to me if I'll ever need them.

My heartfelt thanks to everyone who sent loving and encouraging words my way on social media. I read every comment, and it gave me warm fuzzy feelings. If you've been wanting to look into this, I hope this helps you make an informed decision that's right for you! All the best. 

This article originally appeared in Sam Likes It Hot.

*Minor edits have been made by SmartParenting.com.ph editors  

What other parents are reading

Celebrate your pregnancy milestones!


Enter your details below and receive weekly email guides on your baby's weight and height in cute illustration of Filipino fruits. PLUS get helpful tips from experts, freebies and more!

You're almost there! Check your inbox.


We sent a verification email. Can't find it? Check your spam, junk, and promotions folder.
Trending in Summit Network