Naglilihi Rin Si Hubby? What You Should Know About Sympathetic Pregnancies

It's not only the woman who infanticipates, mind you.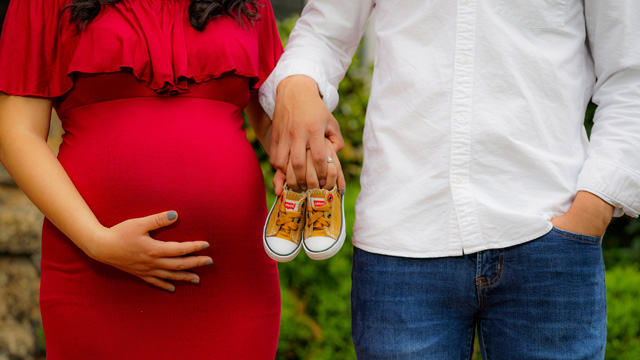 It is a privilege to bring life into this world — hearing your baby's heart beat and feeling him kick as he awaits to be born are some of the most precious moments a pregnant woman will treasure. Having a child is such a gift that some consider becoming a mom as one of the things that completes a woman.

However, all this bliss does not go without its share of pain. A woman heavy with a child will go through a number of pregnancy symptoms, including discomfort and pain, in the 40 or so weeks she will carry her child in her womb, among them: tenderness of the breasts, nausea, back pain, cramping, edema, sciatic nerve pain, and not to mention, stretch marks and sleepless nights! The truth is, pregnancy is as much joy as it is a sacrifice.

This makes it integral to have a husband or a partner who is not only understanding, but also sensitive to the needs of his wife as she goes through nine months (technically, 10 months) of pregnancy. Even better, what if the husband could actually commiserate with the wife by "going through" the symptoms of pregnancy himself?

What other parents are reading

In our culture, it is a common Filipino belief that if a pregnant woman skips over her husband while he is lying on the bed, the pregnancy symptoms will be passed on to him. But there is actually a phenomenon where the man, whose wife is expecting, begins to notice pregnancy-related bodily changes in himself. It's called the Couvade Syndrome, or what is more commonly known as a sympathetic pregnancy.

ADVERTISEMENT - CONTINUE READING BELOW

While it isn't a recognized condition or illness, men have reported manifesting physical symptoms like bloating, heartburn, cramps and backaches, and even nausea. Some psychological symptoms common among those experiencing the Couvade syndrome are anxiety, lower libido, and changes in sleeping patterns.

A man who has the Couvade syndrome is said to exhibit these symptoms around the end of the first trimester, and they only get more intense as the woman's pregnancy progresses.

What other parents are reading

Scientific research shows that there is actually some truth to Couvade syndrome. Morning sickness, for example, could be the result of anxiety the dad to be feels as he anticipates the arrival of his child. Nerves are also to blame for the sudden shifts in mood by the father — a natural reaction to the impending change. 

Some men will also feel find that their sexual appetite changes, for better or for worse, along with the pregnancy, and the explanation is simple. For some men, a pregnant woman's body is a turn on, while it can be the exact opposite for others. The exhaustion associated with the pregnancy experience, as well as the fear of "hurting" the baby during sex, are also factors.

The weight gain? It's a result of you sympathizing with your wife while she "eats for two." When a person is stressed, as a dad to be likely is, he produces higher levels of cortisol (the stress hormone), which sends a signal to the brain that makes your body think it is hungry. If you want to keep within your weight, be aware of this stress signal so you can learn to combat it.

CONTINUE READING BELOW

Recommended Videos

Is Couvade syndrome real or not? There is no clear answer to this day. If nothing else, consider it a wonderful way to share the magic of pregnancy with your husband, even for just a while. 

Trending in Summit Network