17 Pregnancy Symptoms Other Than Morning Sickness

"Is this normal?" you'll often hear preggos ask friends or fellow expecting women.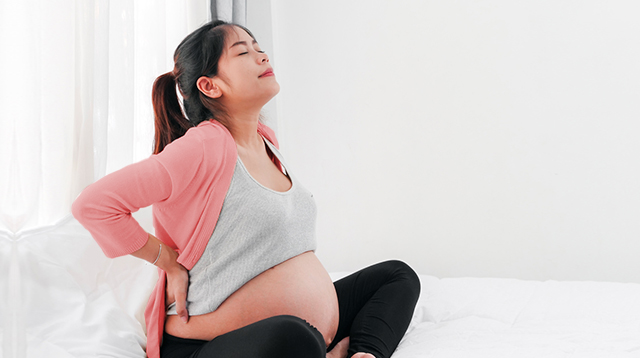 Preggos ask each other "Is this normal?" all the time, often hoping to find comfort in the answers of women who have gone through the same experience. That way, it's not so scary.

Keep in mind, though, that the best person to ask will always be your doctor. Every pregnancy is different, and a woman's first pregnancy may be very different from her second. But saying that "every pregnancy is different" is more than checking a list of the typical pregnancy symptoms; in fact, it may just be the tip of the iceberg.

To give you a rough idea of how weird pregnancy symptoms can be, we asked moms* in our Smart Parenting Village Facebook group to share if they ever had an odd symptom that only happened when they were pregnant. (*Names withheld for privacy.)

Moms' weird pregnancy symptoms other than morning sickness 

Bigger feet size

Swollen feet and legs are not unheard of, but for the size of your feet to change is another issue. "My feet got swollen that they looked like an elephant's feet, and after my pregnancy, my shoe size moved from 8 and a half to 9 and a half," said one mom. Another mom shared that her feet sizes became uneven during pregnancy.

Itchy skin

A preggo's skin, especially on her tummy, expands, making it itchy. But some moms had itchy skin all over their bodies. One had even resorted to taking a bath three times a day for relief!

Sometimes, the itchiness was accompanied by rashes. It's a condition called pruritic urticarial papules and plaques of pregnancy (PUPPP), and doctors may prescribe meds for relief. One mom even reported that she had severely itchy feet during her last trimester.

ADVERTISEMENT - CONTINUE READING BELOW

Heartburn

"I had to sleep sitting down or use three pillows during the last trimester," shared one mom. Another got relief from heartburn by drinking warm water.

Carpal tunnel syndrome

Simply put, it's characterized by pain in the wrist. The mom who shared it said it went away only a month after she gave birth. Another mom said she had to wear a splint for both hands due to carpal tunnel syndrome during pregnancy. (The mom didn't say whether her carpal tunnel syndrome was an effect of her pregnancy.)

Acne breakouts

It's hard to say why some preggos experience severe acne on their face and even their backs, while other preggos swear their skin has never been smoother. A few moms who had psoriasis, a common chronic skin condition that causes itchy and sometimes painful scales or red patches on the skin, reported it went away during their pregnancy. But it did come back after they gave birth.

Hypersalivation

One mom shared that she had to bring a tumbler with her because of uncontrollable hypersalivation. "I always had a tumbler with me, which I used when spitting. Candies, ice chips, chips, crackers didn't help, so I just let it be. But I made sure I had my mouthwash with me," the mom said.

Lower leg spasm

One mom who had lower leg spasm said it hurt so much that it could make her scream in pain. Thankfully, it went away after the pregnancy.

Another mom had restless legs syndrome (RLS) during bedtime, which she addressed by putting her feet up when sleeping.

ADVERTISEMENT - CONTINUE READING BELOW

Recommended Videos

One mom, who started experiencing extreme pain in her right hand and leg on her 35th week, said she was not able to walk for a week. "When I had to use the comfort room, bubuhatin ako ni hubby. He'd give me a bath. I could hardly move my hand and leg," she shared.

A few moms also revealed that they had sciatica when they were pregnant. It's a condition characterized by pain that radiates along the path of the sciatic nerve, usually only on one side of the body, and can stretch from the lower back through the hips and buttocks and down the leg.

Sweet tooth

"Never tolerated chocolates and assorted sweets before, but on my second trimester, I developed my sweet tooth! Hindi ako mabubusog hangga't walang dessert, but it went away postpartum," said one mom. Sweet cravings don't help when preggos need to reduce their sugar intake to prevent gestational diabetes. Ask your doctor if you feel your need for sweets has become more than just a craving.

Skin discoloration

We all know that skin darkening can happen on a preggo's neck and armpits, and there is even the dark vertical line on the baby bump (linea negra). One mom says she developed a skin tag on her right cheek, which grew at the same time her tummy got more prominent. It gradually got smaller after she gave birth.

Another mom says moles grew all over her body, while another mom developed huge brown patches on her lower legs, which took years to lighten. One mom developed light patches of skin all over her body, which her doctor diagnosed to be a skin condition called "tinea versicolor."

ADVERTISEMENT - CONTINUE READING BELOW

Profuse nose bleeding

One mom went to an ear-nose-throat specialist with this concern, and she was told it was pregnancy-related. Another mom admitted she had it, too, and the blood would drip so fast from her nose it would cause awkward pauses in a conversation.

Nightmares

Some preggos associated their bad dreams with pregnancy (the culprit: hormones). "My dreams were all about death, blood, and I even dreamt about having a miscarriage," says one mom.

Intense body pain

The mom shared that in her 5th or 6th month of pregnancy, she "couldn't even climb the stairs, move my arms to eat, or comb my hair. I had to be on total bed rest for two straight days to recover."

Sweat gland changes

Some moms said they were extra sweaty; others swore their underarms smelled differently from when they were not yet pregnant.

Acid reflux

One mom had extreme gastroesophageal reflux disease (GERD), also known as acid reflux. "It keeps me awake because of the pain and discomfort unless I force myself to vomit," she shared. Her doctor already warned her about forcing herself to vomit "due to the heavy acidity that will pass through my esophagus, but it's the only way to be relieved of the discomfort and pain."

Unusual hair growth / hair loss

"I grow hair, like, everywhere. I do have now in some areas where I don't normally have hair, especially on my abdomen and chin," shared one currently expectant mom. One mom's eyelashes fell off during pregnancy. 

ADVERTISEMENT - CONTINUE READING BELOW

Bleeding and sore gums

"It was so disturbing," the mom said. Her sister said it was because of her pregnancy but never got to confirm it with a dentist. "I [would] only gargle with salt and water, and then it'll be okay for a while. My gums went back to normal right after my delivery," she added. (Click here to find out if pregnancy really ruins your teeth.)

Pelvic pain

Some moms said their pelvic bones were so painful, it felt like they were being separated. One mom said her doctor diagnosed it as symphysis pubis dysfunction (SPD), also known as pelvic girdle pain. There are several reasons why there would be discomfort in the pelvic region, like when the pelvic joints become stiff or move unevenly. She had to wear a support belt 24/7 to be able to carefully walk around.

Many expectant moms have experienced so much discomfort just to get through the nine months. A lot of these pregnancy symptoms are due to hormones. Many of them have logical explanations. For example, heartburn is due to the body's higher blood volume circulation. UTI sometimes stems from a growing uterus crowding the kidneys.

When the symptom doesn't endanger the unborn baby's health, moms are forced to just endure. Some of them refuse to take prescribed medication, fearing it may harm the baby.

"After the baby is in there, you're just getting ultrasounds. We become so fetus-focused, but I want to be more than that," Nancy Redd, author of Pregnancy OMG: The First Ever Photographic Guide for Modern Mamas-to-Be, told The Washington Post. "We can't just let our bodies go to pot." Sure, it's a sacrifice all preggos are willing to make, but pregnant women are still entitled to relief.

ADVERTISEMENT - CONTINUE READING BELOW

Self-care should start not just when you've adjusted to motherhood; it should very well be part of your pregnancy journey as well. If you have pregnancy symptoms, best ask your doctor for the best course of action. To be the best home for your unborn baby, you need to be healthy, comfortable, and happy, too!

What other parents are reading

Celebrate your pregnancy milestones!


Enter your details below and receive weekly email guides on your baby's weight and height in cute illustration of Filipino fruits. PLUS get helpful tips from experts, freebies and more!

You're almost there! Check your inbox.


We sent a verification email. Can't find it? Check your spam, junk, and promotions folder.

Trending in Summit Network