Want a Healthy Baby? Stock Up on These 4 Vital Nutrients During Pregnancy

Make sure you are eating foods that contain these nutrients!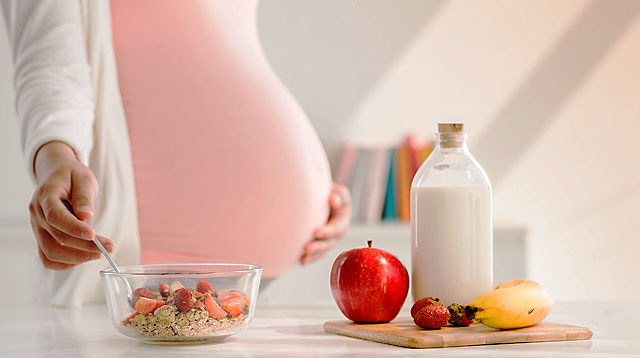 Gaining weight when you're expecting is normal, but it does not give you the license to eat pig out on anything. Remember, whatever you take in goes to your baby, so eating healthily is expected. 

At the first leg of Makati Medical Center's Pregnancy and Beyond seminars, obstetrician-gynecologist Dr. Geraldine Mendoza pointed out a pregnant woman should consume 2,400 calories a day to be able to sustain her and her baby's nutritional needs. 

But what nutrients do pregnant women need throughout the nine months? Dr. Mendoza gives us a detailed breakdown of the nutrients your body will need when pregnant.

Protein
Dr. Mendoza says protein is good for your placenta, blood, and the amniotic fluid. A preggo needs 60 to 75 grams of protein daily, which is just 10 grams more than the usual recommended intake for non-pregnant women. The good news is the Filipino diet doesn't lack in protein, which is crucial during the second and third trimesters. But make sure you go for lean meat, eggs, poultry, fish, cheese, beans, and tofu. 

Calcium
Calcium is essential for so your baby can form and develop healthy bones. A pregnant woman needs a total of 1,600 milligrams of calcium daily.Dr. Mendoza lists milk and milk products, dark-green leafy vegetables such as broccoli and canned fish such as sardines as common food sources of calcium. 

"Women who don't drink milk, are lactose intolerant, or who takes less than 600 milligrams of calcium should receive calcium supplementation," advises Dr. Mendoza. 

Iron
If you're pregnant and deficient in iron, it can lead to an increased risk of low birth weight infants and makes you three times more prone to deliver preterm.

ADVERTISEMENT - CONTINUE READING BELOW

There are two kinds of iron: Heme iron is what makes the blood red, while the non-heme iron is absorbed in the small intestine, according to Dr. Mendioza. Good sources of heme iron are meat, poultry, and fish. You can get non-heme iron from dark-green, leafy vegetables such as broccoli, spinach, legumes, simple camote, and tofu. 

During the first three months of pregnancy, iron supplements are not usually recommended. "But as you [enter] the second trimester, the maternal blood volume increases, the red cell mass expands, and [your body's] iron requirement increase substantially," Dr. Mendoza stressed.

Iron is essential in your third trimester because it helps prepare you for the blood loss you will experience during childbirth. Building up your body's storage of iron helps you have an easier postpartum recovery. 

Taking supplements, though, should be done right. "Iron supplements should be taken between breakfast and lunch, 30 minutes after breakfast and an hour before lunch for your iron to be absorbed," Dr. Mendoza advises. The schedule decreases your chances of experiencing gastritis, heartburn, or vomiting the iron you just took. "You can also take it before you go to bed, but not right after dinner," she suggested. 

Also, never drink iron supplements with your calcium supplements. "Calcium negates the absorption of iron," Dr. Mendoza stressed. To get the most of your iron supplements, don't drink it with milk, coffee, or right after you had a meal. Vitamin C-rich foods, on the other hand, helps your body absorb iron. 


What other parents are reading

Folic acid
Low folic acid could cause neural tube defects such as spina bifida and anencephaly (though genes is also a factor). Folic acid deficiency also increases your risk of preterm delivery. If a woman is smoking, neglecting her vitamins supplements, using oral contraceptives, or have been pregnant multiple times, it could make her more prone to folic acid deficiency. 

CONTINUE READING BELOW

Recommended Videos

According to Dr. Mendoza, neural tube defects usually forms during the first 28 days of gestation or the first three months. That's why folic acid supplements should be taken three months or at least a month before getting pregnant. To be safe, Dr. Mendoza recommends all women of child-bearing age to take folic acid every day regardless if they plan to become pregnant anytime soon.

Preggos need a total of 600 micrograms of folic acid. Food sources of folic (or your vitamin B9) include beans, legumes, citrus fruit juices, whole grains, dark green, leafy vegetables, poultry, pork, shellfish, and liver.

"Your supplement should preferably be a pure folic acid supplement and not the one that comes with other vitamins," Dr. Mendoza suggested. 

What other parents are reading

Other vital vitamins to note, according to Dr. Mendoza, are: 

Vitamin B12, which is essential for forming blood cells and works with well with folic acid. Food sources include fish, meat, poultry, and eggs.
Vitamin B6 strengthens the immune system, aids in the nerve transmission, and assists in nerve metabolism and synthesis in red blood cells. 
Vitamin C is an antioxidant, and as mentioned, helps your body absorb iron.
Zinc is also essential in cell division and forming the baby's immune system. 

Healthy eating during pregnancy is a must. Just think: What you eat now benefits your baby's physical development to brain power. So before you eat, ask, "Will this be good for my baby?"

What other parents are reading

Celebrate your pregnancy milestones!


Enter your details below and receive weekly email guides on your baby's weight and height in cute illustration of Filipino fruits. PLUS get helpful tips from experts, freebies and more!

You're almost there! Check your inbox.


We sent a verification email. Can't find it? Check your spam, junk, and promotions folder.
Trending in Summit Network