9 Ways To Ease Morning Sickness And Vomiting During Pregnancy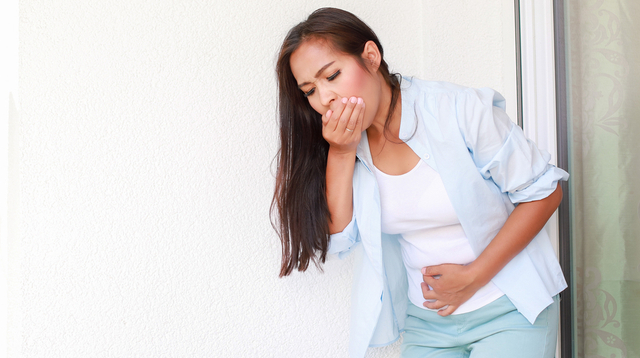 In TV shows and movies, a woman who feels nauseous or with a sudden urge to vomit suspects she is pregnant and will confirm it with a pregnancy test. In real life, morning sickness or in pregnancy vomiting is a common symptom that happens during the early weeks of your journey. 

What causes vomiting during pregnancy?

While it is dubbed morning sickness, it can actually happen at any time of the day. Some women can also feel nauseous all day long.

The exact cause of vomiting during pregnancy is unknown, but experts have linked it to the increased level of hormones that can cause various changes in the body. Another factor that can contribute to this is reduced blood sugar levels.

Research shows that around 80 percent of pregnant women experience morning sickness, starting at week 6. It typically ends at Week 12, but it can also extend up to Week 16 to Week 20. In some cases, vomiting  can last the entire duration of your pregnancy.

Can vomiting harm baby during pregnancy?

If it's your first time being pregnant, you are probably worried whether turning your guts inside out is harming your unborn child. While it is uncomfortable for the mom-to-be, it does not typically pose any risk to your little baby.

According to some studies, if you are experiencing vomiting during the early stages of your pregnancy, it could be a good sign that you'll have a healthy baby! However, if you're experiencing severe vomiting, it can mean you have a condition called "hyperemesis gravidarum," which is an extreme form of morning sickness.

ADVERTISEMENT - CONTINUE READING BELOW

This severe vomiting can cause dehydration and weight loss due to lack of fluids in your body. If left untreated, it may result to your baby having a low birth weight. Be sure to consult your doctor right away if you suspect your morning sickness is not normal.

How can I stop vomiting in pregnancy?

Because this symptom can make you uncomfortable and uneasy, there are a few lifestyle changes and even medication that can ease your vomiting.

1. Try a bland diet

A bland diet includes food that are easy to digest, soft, low in fiber, and are not spicy. You can try putting peanut butter to an apple slice if you want, or if you're into munching snacks then go ahead and enjoy nuts, celery, cheese, and crackers.

Eating dairy products that are low-fat like milk, yogurt, or cottage cheese can also help. To soothe your stomach, you can have gelatin, broths, frozen dessert, or saltine crackers, but make sure to avoid fatty foods and salty foods.

2. Have small meals

Instead of the usual 3 full meals and 2 snacks a day, try eating small meals every 1 or 2 hours. Don't let yourself indulge too fully eating foods or don't let yourself be hungry.

3. Drink plenty of fluids

Vomiting can cause dehydration, so make sure to replenish what you've lost by drinking lots of water. According to the U.K. National Health Service (NHS), sipping water little by little but often can help reduce vomiting.

4. Try taking vitamin B supplements

Taking B Vitamins may help curb and reduce your morning sickness. Rest assured that taking B Vitamins supplement will not harm your baby in any way, but it is best to ask your doctor first before taking any vitamins or medication.

5. Eat food or take drinks with ginger

According to the recommendation of American College of Obstetricians and Gynecologists (ACOG), using ginger in any form, may it be used as tea or ginger capsules, can ease your symptom of morning sickness. Ginger helps in easing the vomiting with its power to neutralize stomach acid as it secretes different digestive enzymes.

6. Avoid food that make you feel sick

You can also try eating cold food versus hot meals if the smell makes you feel nauseous.

7. Try acupressure

Getting an acupuncture or acupressure treatment can be relaxing as it targets certain points in your body that will help ease tensions. According to the NHS, there is some evidence that putting pressure on your wrist, like using a special band or bracelet, may help relieve vomiting.

8. Get plenty of rest.

Your nausea can worsen if you are exhausted. Remember to relax and get enough sleep.

9. Ask for medication.

If you've tried all of the above to ease your nausea and vomiting and none of them worked for you, you may try asking your physician to prescribe you medication. For pregnant women, antiemetic drug is typically prescribed as it is safe to use during pregnancy.

ADVERTISEMENT - CONTINUE READING BELOW

Mommy, we know pregnancy can sometimes give you a hard time, but we hope these tips will help you as you brave your journey to motherhood. Just look forward because soon you will be welcoming your bundle of joy!

Trending in Summit Network