Experiencing Intense Contractions? Familiarize Yourself With The 4 Stages of Labor

Prepare yourself for the process of giving birth by reading about the different stages and phases of labor.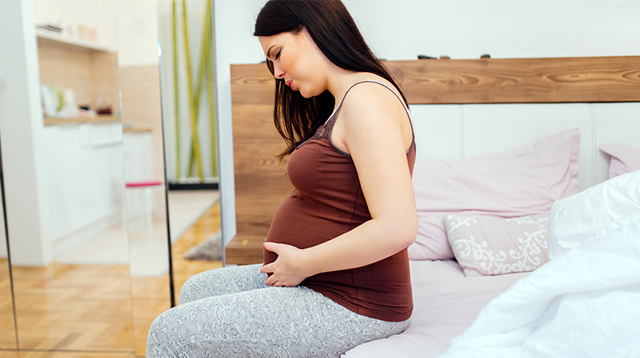 Labor is not just about contractions and waiting for the baby to finally come out into the world; it is a long process that involves different stages and phases. While every mother's birthing experience is going to be different, it's still good to keep yourself adequately informed, so you can make the necessary preparations.

During the Smart Parenting Baby Shower event on April 13, 2019, attendees learned about the process of labor from a talk given by Betty Lugay-San Luis, a certified labor, birth, and postpartum doula.

Four stages of labor

Labor is divided into four stages: the opening of the cervix, which takes place in three phases; the birth of the child; the delivery of the placenta; and finally, the period of recovery for both the mother and the baby. Each mother's experience of these four stages can vary depending on different factors, but one thing is certain — it all ends with the best gift, your bundle of joy!

Stage 1: The cervix begins to open

The first stage of labor is further divided into three phases: early labor (also known as the latent phase), active labor, and transition.

Early labor

In the weeks and days leading up to the day you give birth, you will begin to experience mild, irregular contractions lasting around 10 to 40 seconds, due to the softening, effacement (thinning), and dilation (opening) of your cervix. This phase can last hours, days, or even weeks — it really depends on the mom.

Generally, the cervix opening will reach up to four centimeters. This stage is when your baby begins to move into the birth canal, according to  the Mayo Clinic. This is also when you might release your mucus plug, which can come in a clear, pink, or slightly bloody discharge, and experience bleeding.

ADVERTISEMENT - CONTINUE READING BELOW

While contractions are generally a good sign of early labor, it is also possible that in the months and weeks leading up to your due date, you experience false labor, by way of Braxton Hicks contractions. One indication that you are going through false labor is that the contractions are irregular and do not increase in intensity or frequency. If you experience this type of contractions and go to your doctor, they will likely find that your cervix is not dilating at all.

What other parents are reading

San Luis shared a code called TACO, which refers to the different factors moms should pay attention to in taking note of their contractions. First is the time when your contractions start, since it is likely that after your bag of water breaks, your OB-GYN will name a specific time period within which you are expected to give birth. "You need to ask your OB, ano 'yung sa practice niya? Kasi may iba, within 12 hours or 18 hours, 'yun 'yung time na they want the baby to be delivered. Pero [for] other doctors, it would be 24 hours. Kaya dapat, take note of the time."

The second factor is amount, referring to the gush or trickles of water you discharge. Third is the color of the discharge. "The normal color is clear, parang tubig talaga," San Luis explained. "Pero, siyempre, may instances na may kulay. Ito 'yung if it's greenish or it's dark. Ibig sabihin, the baby inside pooped already. Kaya important na sabihin niyo kay OB kung anong kulay 'yan."

CONTINUE READING BELOW

Recommended Videos

Finally, there is odor. San Luis said, "Hindi siya like pee, hindi siya mabaho. So, earthy smell [dapat]. Pero… if it smells like rotten fish, dapat sabihin niyo."

How might you be feeling at the early labor stage? "Mostly, excited," shared San Luis. "Siguro this is the day that you've been waiting for. So, more of excitement." It might help to keep in mind these wise words from San Luis, when you go through the stage of early labor: Rest, eat, and be patient.

Early labor is not the time to push yourself to exercise to progress to active labor. "You listen to your body," San Luis said, "kasi, ito 'yung time na makakatulog ka pa. Ito 'yung part ng labor na kaya mo pang kumain… So, nourish yourself. Eat a full meal. Kumain ka talaga."

If you are a working mom, you might be planning on putting off going on your maternity leave until you start labor — something that San Luis thinks can be a good idea. "It's really best, since birth is a physiological process, and your baby will show the sign if he is ready, through the contractions."

What other parents are reading

Active labor

At this point, the baby is moving deeper down your pelvis and into a position which will allow him to be born. "Nag-ro-rotate [siya], pumupuwesto na siya," San Luis said. During this phase, the cervix has fully effaced, and has opened around four to 10 centimeters, and the contractions commonly come stronger and more regularly. These will last about 45 to 60 seconds, with intervals from two to five minutes. For first-time moms, the active phase might last around 10 to 16 hours, while for subsequent deliveries, it might be shorter.

ADVERTISEMENT - CONTINUE READING BELOW

During active labor, you will likely be feeling a lot more serious. San Luis said, "Whenever there's a contraction, mapapahinto ka, whatever you're doing." To get through this stage, she reminded moms to learn to work with their bodies. "Nangungusap talaga 'yung katawan natin, kung makikinig lang tayo."

To ease your discomfort, there are a lot of things you can do. First is the right kind of breathing: "Slow, abdominal breathing," according to San Luis. This means that when you breathe, it should be your tummy area rising and falling, instead of your chest.

Breathing will not only help you cope with your contractions; it will also allow your baby to be supplied with air. "Si baby hindi makahinga; kulang ang oxygen niya kapag may contraction. So kailangan huminga tayo, para relaxed tayo, and we're giving a good amount of oxygen to the baby, and to the different parts of the body para relaxed 'yung mga muscles — para maganda 'yung process."

What other parents are reading

It is also important for you to know how you can relax yourself. "Hindi mo pwedeng i-compare ang labor mo sa labor ng ibang tao, kaya ngayon pa lang in pregnancy, you have to find out what relaxes you," San Luis shared. "Is it music? Is it massage? Iba-iba 'yan eh… Whenever a contraction comes, you have to make sure your body is relaxed. Walang tense na muscle," she said.

Finally, changing positions is another helpful technique to consider. "Ang best is any leaning position," San Luis suggested, to aid in managing contractions better. You can lean on a table, a wall, or even on your partner, then make sure that you are also breathing well.

ADVERTISEMENT - CONTINUE READING BELOW

When is it time to go to the hospital? While active labor is generally the point where you need to go, San Luis shared another technique you can use as reference. It's called Code 5-1-1, and happened when the contractions are 5 minutes apart and 1 minute in duration, within 1 hour. However, she also explained that it still depends on your own experience. "Sa totoo lang, kayo pa rin ang makakaalam. It's more of how you feel."

What other parents are reading

Transition

It is during this phase when mom starts the process of moving towards the second stage of labor, which is giving birth to the baby. The cervix has now fully effaced, opening up to 10 centimeters. Contractions often last about 60 to 90 seconds, gradually becoming longer and coming closer together. Physical signs you might manifest are nausea, vomiting, burping, and hot and cold sweats. San Luis said that the transition phase commonly lasts about one to two hours, making it the shortest stage of labor.

In this stage, you will understandably be feeling very worn out and overwhelmed by how strong and painful the contractions are. You may also experience very distinct emotional markers. For instance, you may begin to feel like giving up, and that you can't take the pain any longer. You may also feel very restless.

San Luis' guiding words for this stage: Focus and relax. Since it is a very intensified phase, lots of positioning and breathing can be very helpful. San Luis mentioned that she also uses aromatherapy in her practice. If you attended birthing classes with your partner or companion, they can also apply the knowledge they gained by way of helping you breathe and making sure you are hydrated and that you pee regularly, among others.

ADVERTISEMENT - CONTINUE READING BELOW

What other parents are reading

Stage 2: The baby is birthed

While preparing for your baby's birth, you will be given the choice between directed and spontaneous pushing, although it can depend on where you give birth. In hospitals, directed pushing is the norm, while in other places, you may be allowed to go for spontaneous, or mother-directed, pushing.

Your partner's role is incredibly important in this particular stage. "Actually, more of cheerleader [ang role ni] Daddy," San Luis said. "Tsaka giving you a sip of water, lots of love — 'yun ang kailangan talaga."

After the baby comes out, baby needs to be placed directly in your arms, to give way to skin-to-skin contact with you. San Luis explains how vital this part of the birth is: "Don't miss this moment, kasi your baby is wide awake, parang nagmamasid. It's a new world for the baby, and he's in a state of quiet alertness. Kung kinakausap mo siya in pregnancy sa womb, and you call the baby by name, kita mo, kilala niya. Alam niya ang boses mo."

San Luis also said that within the first hour of your baby's birth, "gazing" is also very important. "Kailangan, [within] breast distance, nakikita ka niya."

The first time you see your child, you will find that he is coated in a waxy white substance. This is called vernix, and it is the coloring that coats a baby while inside the womb. Experts recommend delaying the baby's first bath until the vernix has been absorbed by the baby's skin, since it acts as a natural moisturizer and protection against infection.

ADVERTISEMENT - CONTINUE READING BELOW

What other parents are reading

Stage 3: The placenta is delivered

After your baby is out, it is time to push out the placenta, which is still attached to your child. You'll still experience contractions, but they are generally going to be closer together and less painful, so pushing out the placenta will not be as difficult. Some doctors might inject you with the hormone oxytocin to help you contract again and deliver the placenta. The process can last around three to five minutes, though it is also possible for it to take about an hour.

San Luis emphasized going for delayed clamping of the umbilical cord. "One-third of your baby's blood, nasa placenta pa. So that blood, dapat mailipat sa kanya. Kaya kailangan, i-respect 'yung time na 'yun na 'wag [agad] i-clamp and cut; hintayin na mag-stop [ang] pulsating ng umbilical cord. Mararamdaman mo na dumadaloy na lang." Birthing methods such as lotus birth and semi-lotus birth involve leaving the placenta connected to the baby until the blood in it has been completely transferred to the child.

Stage 4: Mom recovers

The final stage of labor is all about you recovering with your new baby. You might find that your baby is ready to nurse shortly after birth, and if you are planning on breastfeeding him, nursing him right away can be a great idea, as it helps the uterus contract and cause a decrease in the amount of bleeding you experience. Plus, it's a great way to get some skin-to-skin contact with your little one right off the bat!

ADVERTISEMENT - CONTINUE READING BELOW

What other parents are reading

Celebrate your pregnancy milestones!


Enter your details below and receive weekly email guides on your baby's weight and height in cute illustration of Filipino fruits. PLUS get helpful tips from experts, freebies and more!

You're almost there! Check your inbox.


We sent a verification email. Can't find it? Check your spam, junk, and promotions folder.

Trending in Summit Network