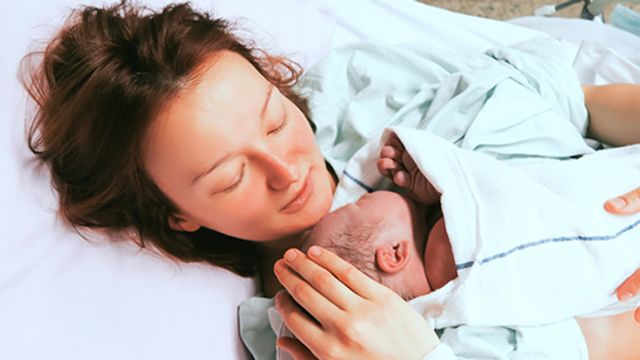 Last week, mom and now-licensed physician Eunice Sibuyan went viral after she revealed on a Facebook post that she passed the Physician Licensure Exam (PLE) despite going through labor pains on the last day of the exams.

On her Facebook, Eunice revealed that on March 11, 2019, the last day of the PLE, she felt her water bag break at 2 in the morning. She didn't tell anyone, not even her partner, but she told him to pack a delivery bag and wait for her at the testing site until she finished her exam.
What to do when your water breaks during pregnancy
In a phone interview with SmartParenting.com.ph, Dr. Jennifer T. Co, MD, FPOGS, an ob-gyn and infectious disease specialist who holds clinic at the FEU-NRMF Medical Center, shares her medical opinion, saying what the new mom did was "extremely risky."

"If she went to the hospital as soon as she noticed na nag-rupture na 'yung bag of water (BOW), hindi na siya papayagan [umalis at] mag-exam," the doctor said. She adds that all pregnant women are advised to go to the hospital as soon as their water breaks, whether or not they experience contractions.

Dr. Co stresses the importance of going to the hospital after your water breaks because "delivery is warranted. We [need to] observe the progress of labor," she says.

In some cases, a pregnant woman might not know that her water has broken. If she feels wetness or discharge, Dr. Co says she needs to consult with her doctor immediately because additional examinations might be necessary to determine if she is leaking amniotic fluid or if there is "pooling of fluids in the vaginal canal."
How long after PROM does labor start
Dr. Co, who is not connected to the case, says Eunice might have experienced premature rupture of membranes, or PROM, a condition where "the membraned sac holding your baby and the amniotic fluid breaks open before you're actually in labor," according to What to Expect. In most cases of PROM, the rupture triggers labor, and no further intervention is necessary.

Mayo Clinic notes that when PROM happens, some doctors might need to induce labor. "The longer it takes for labor to start after your water breaks, the greater the risk of you or your baby developing an infection," according to the website.
Dr. Co says that when PROM happens, a doctor may give antibiotics to the mother to prevent infections, like neonatal sepsis, in the baby.
According to Eunice's post, she experienced labor hours after she felt her water break. Contractions came every 15 to 30 mins during her first exam in the morning. In the afternoon, her contractions were coming at three-minute intervals.
Dr. Co says if she were Eunice's doctor, she would have advised Eunice to go to the hospital when her contractions started to come at 10-minute intervals. She adds, "During early labor, or the latent phase, some moms don't feel pain at all. [Pero] huwag mong antayin na in pain ka na bago ka pumunta ng hospital."
Pregnancy complications
Eunice admits to Smart Parenting that she felt "intense guilt" for prolonging her baby's stay in her womb. Her baby contracted neonatal sepsis, a severe type of infection that is present in the blood and spreads throughout the body. According to Stanford Children's Health, it is more likely to develop when the mother has had pregnancy complications such as PROM for an extended length of time. Dr. Co says it can be life-threatening to infants. Eunice had also mentioned on her Facebook that her baby was turning yellow, which could be a sign of jaundice. 
Dr. Co says she cannot be "100% sure" that neonatal sepsis occurred just because Eunice delayed going to the hospital. "Jaundice [also] has many factors. But [the delay] remains a possibility," she adds. She says that it's a good thing that Eunice's baby turned out all right.
Eunice had threatened abortion and was advised bed rest early in her pregnancy. We asked Dr. Co if she could have been cautioned against pushing with her internship in light of these complications.

According to Dr. Co, threatened abortion happens when a mom experiences "spotting, contractions, at pananakit ng tiyan" within the first 20 weeks of pregnancy. Bed rest is advised, and Dr. Co says they may also give "meds na pampakapit."

After taking the prescribed bed rest, the mom is re-evaluated. If she feels that she can still go about her daily tasks and the doctor sees her condition is improving, the doctor will allow a medical certificate that proves she is "fit to work."
Prenatal checkups are vital
Dr. Co stresses that this is why prenatal checkups are vital during pregnancy. "From the time you learn that you are pregnant up to 28 weeks, we advise you to come for checkups every four weeks unless may nararamdaman ang pasyente. From 28 to 36 weeks, you should come every two weeks. From week 37 onwards, checkups will be once a week because we are already monitoring you for delivery," she says.

In her interview with Smart Parenting, Eunice shares that she had regular checkups with her OB, but a day before the exam's last two days, Eunice experienced spotting and menstrual cramps. She consulted with an ob-gyn and was given medication to manage her condition.

Dr. Co guessed that she could have been prescribed tocolytic, a medication to relax the uterus. If Eunice was at 37 weeks at the time, the doctor added, this medication was par for the course for women in her condition.
Listen to your doctor
Eunice used her medical background to monitor her baby as she was undergoing labor (according to her Facebook post, she was doing fetal movement counting and checking her baby's heart tones), and Dr. Co says, "'Yung basic things na kailangan niyang malaman, alam naman niya."

However, Dr. Co stresses that Eunice is not an ob-gyn, and she would have advised her to go to the hospital if she was her patient. Her actions could have led to any of these possible complications:
The ruptured membranes (bag of water) needed to be evaluated because it may result in cord prolapse, which means the baby's umbilical cord could slip through the cervix before he comes out, resulting in loss of oxygen and fetal distress.
There was a higher risk of infection, which Eunice's baby had.
If she had waited longer to deliver the baby, she would have given birth in the testing site, which is considered a non-institutional delivery and again increases the risk of infection.

"Kapag tumatawag ang pasyente, I always tell them to go to the hospital. It's difficult for me to evaluate you kapag nasa bahay ka," she says. "It's better that we anticipate labor."

Dr. Co does not want to judge Eunice for her actions because she does not have firsthand knowledge of what transpired that day nor does she know what was going through the mind of the mom. But as an ob-gyn, she aims to always "deliver a healthy baby and without complications for the mother."
If there is a lesson to be learned here, Dr. Co says it's that moms should always listen to their doctor. After all, they are not caring for just one patient but two — you and your baby.