Everything You Wanted To Know About Birth Doulas

Are you thinking of getting a doula? Read this first.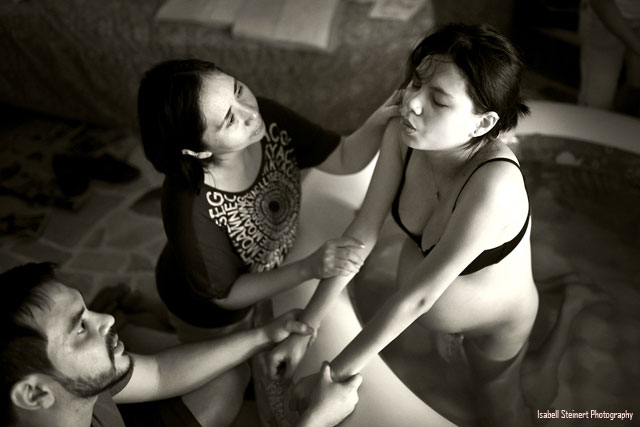 Doulas have always been ingrained in our culture. They are whom we called babaylans in the old days, says Velvet Escario-Roxas, a certified birth doula affiliated with Doulas of North America (DONA) international and a fertility and postartum doula with BeboMia. "Birth has always been a community affair back then; a celebration. When you become pregnant, everybody rejoices, and when you give birth, everybody is there to celebrate.  There is someone who cooks for you, who takes care of your needs, who looks after your older child -- these are the doulas of the olden times, a community of women," she explains.

Now that taking charge of your own birth is on trend, doulas are getting more and more popular. Doulas these days are certified professionals who studied about childbirth and were trained to assist during actual births, explains Betty Lugay-San Luis, a certified labor, birth and postpartum doula affiliated with Childbirth International (CBI). To be certified, they are armed with a combination of literature and hands-on experience.

If you're thinking of getting a doula for yourself, here are a few things you need to know, straight from doula Velvet and doula Betty:

What other parents are reading

What does a doula do?
According to Escario-Roxas, doulas provide education and guidance, and also pregnancy, labor, postpartum, and breastfeeding support, among others. They help the woman get the information she needs to make informed decisions. "We are there to provide physical, emotional, informational support to empower women," she stresses.

In the labor room, "I massage, give proper breathing techniques and help in decision making. When the mommy feels like giving up during labor because of the pain, I remind her: Remember why you're doing this, why you are here? Why did you want this in the first place?" adds San Luis. Whatever birthing option a woman is most comfortable with, a doula gives tips on how to have the best childbirth experience, and prepares the couple to make informed decisions in case a complication happens.

Yes, doulas also extend support for the women's partners during pregnancy and childbirth for when they couldn't handle the pressure or are squeamish with blood, for example. A doula is there to assure that the partner / husband does not panic during birth. "Studies have shown that when a birthing mother gets the help of a doula along with her husband to support her during labor and delivery, the relationship between husband and wife emerges stronger," Escario-Roxas says.


Are doulas healthcare professionals?
Doulas are neither doctors nor midwives, which is why they do not diagnose and treat pregnancy- or postpartum-related symptoms, perform clinical tasks such as blood pressure checks and internal exams, provide medical advice nor prescribe medication for you and your unborn baby, or make specific health claims nor promise medical results.

They also usually do not speak to the medical staff (e.g., doctors, nurses, and midwives) regarding matters where healthcare decisions must be made. However, they can support you in discussions with the medical staff as your advocate, making sure you have the opportunity to discuss your concerns with them, says Escario-Roxas.

ADVERTISEMENT - CONTINUE READING BELOW

What are the different kinds of doulas?
1. Birth doulas provide continuous physical, emotional, and informational support to the mother and her partner before, during, and right after childbirth.

2. Postpartum doulas help with adjustment, and emotional and physical recovery after childbirth; and provide breastfeeding support as well as information on infant soothing and coping skills for new parents, and on newborn characteristics, care, and development.

3. Stillbirth or bereavement doulas help families process the loss of their baby.

4. Fertility doulas provide a 'conceivable environment' by supporting women and their partners' family-building pursuit through encouraging fertility awareness and exploring the many treatment options available.

5. Sibling doulas provide support for the woman's older children while she's giving birth; she makes sure they are cared for and get the chance to be involved in the birth.

6. Doulas who specialize in sick babies in the NICU encourage and prepare the mom and dad on how to care for their child.

CONTINUE READING BELOW

Recommended Videos


When is the best time to hire a doula?
Escario-Roxas recommends that a pregnant mom hire a doula during the second trimester of pregnancy. That way, she has had the time to read and reflect, so when the doula comes in, they can discuss it. "If it's your first pregnancy and you're anxious, you can hire one as early as your first trimester," she suggests.

For women struggling with infertility, they can get a doula when they feel they need someone for support. "We really encourage women trying to conceive to get a doula. She could be a shoulder to cry on, a companion during tests, informational and emotional support or anything she might need help with", Escario-Roxas says.

If you had a miscarriage or still birth, it is okay to hire a doula after the fact; it's not a requirement that she should have been with you throughout the pregnancy.

ADVERTISEMENT - CONTINUE READING BELOW

What the difference between hiring a doula and attending a birthing class?
"A birthing class provides information on exercises, breathing and relaxation. It's not information overload because we pause, reflect, do birth art activities, and give couples some time off to talk to each other," explains San Luis.

"With a doula, it's one-on-one support. During labor and delivery, the doula is there to give you and your partner a customized, more personalized approach. Every birth is different. Each woman, each birth is really, really different," Escario-Roxas says.

Studies have shown that when a doula is there present during your birth, labor is cut short. "I have one mom whose first birth took 12 hours on active labor. Her second childbirth was for an entire 24 hours, and then the third took 12 hours also. In her fourth birth with me as her doula, we took only two to three hours," shares Escario-Roxas.

What other parents are reading

What should I look for when I want to hire a doula? 
Your first consideration should be to get a doula who has training and good background on the issues you feel strongly about. "If you want to breastfeed, then you should get a doula who has good training on breastfeeding. Not all doulas have the same background, so choose a doula based on your needs or what you think you would need," says Escario-Roxas. Of course, you should always check her credentials, but she stresses that you should also go with your gut feel. "If I were to choose a doula, I would go for someone I am comfortable with, whom I can trust, who can boost my confidence; someone whom I know really has my back to give me non-judgmental support," she adds.

ADVERTISEMENT - CONTINUE READING BELOW

Will my doctor be offended if I get a doula?
For starters, San Luis explains that doulas do not take the spotlight. "Hindi ako ang bida — and not even the doctor. Most of the time the doctor has the say, but we empower moms to have options," she explains. Doulas help the woman decide for herself what she wants; they do not dictate.

"If the mom wants you present and you have an issue with the doctor, then you would have to set the issues aside and work as a team — and some doctors appreciate having a doula around. I always tell the doctor, 'Let me know how I can be of help more,' so I could better serve the mom," Escario-Roxas shares.

"It's all in the mom to prepare herself and to find out whether she's in need of a doula; if she will feel more empowered in giving birth with an advocate like me around her," San Luis adds. "It doesn't matter what birthing experience you want -- whether it's a natural birth, water birth, epidural or cesarean -- if you feel you need a doula, then go for it. Doulas support all types of birth." recommends Escario-Roxas.

ADVERTISEMENT - CONTINUE READING BELOW


Our experts:
Velvet Escario-Roxas is also breastfeeding counselor, educator, and trainer at Arugaan, a support system for mothers that provides information on maternal, infant, and young child nutrition. Aside from being a birth and postpartum doula, she is currently focusing on fertility and caring for sick and preemie babies in the NICU. You can reach via email velvethere@yahoo.com or visit facebook.com/velvetbirth.

Betty Lugay-San Luis was the speaker on "Your Birth of Choice" along with her husband at the SP Baby Shower event last April 3. She is the main childbirth mentor of Birthing is a Blessing, and she also conducts childbirth preparation classes and nurtures birthing mothers through her Doula Support Service. You can reach her at (0916) 520-5787, email her at birthingisablessing@gmail.com, visit www.birthingisablessing.com or search for Doula Betty on Facebook.

All photos courtesy of Isabell Steinert Photography. If you would like to get inspired by more beautiful birth photos from the Philippines, follow Isabell Steinert Photography on facebook.com/isabellsteinertphotography  and on Instagram (@isabellsteinert_photography).

* With additional interviews by Katrina Castaneda and Maika Bernardo.

What other parents are reading
Celebrate your pregnancy milestones!

Enter your details below and receive weekly email guides on your baby's weight and height in cute illustration of Filipino fruits. PLUS get helpful tips from experts, freebies and more!
You're almost there! Check your inbox.

We sent a verification email. Can't find it? Check your spam, junk, and promotions folder.
Trending in Summit Network