Mom Shares Gentle Water Birth Experience in a Hospital (Her First Childbirth Was Traumatic)

She did not have a birth plan for her first child because she trusted hospital practices.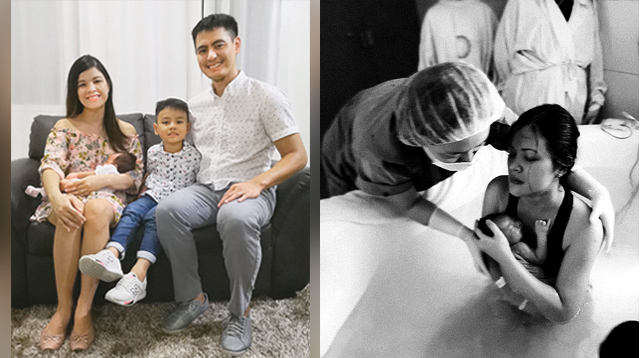 Today's soon-to-be moms can have more options when it comes to childbirth, which is why we always stress the importance of having a birth plan. A birth plan will contain details of your preferences when you deliver your baby, which your birthing team (consisting of your ob-gyn, pediatrician, anesthesiologist, nurses, other medical staff, doula, or midwife) should know, support and tell you when it won't do because of health risks.

After a traumatic first birth experience four years ago, Jesame Nabong-Mesia, 32, now a mom-of-two, was compelled to educate herself about her options for her second pregnancy. She eventually went with a gentle water birth done in the hospital, and she proudly shared her birthing story on a public Facebook post.

What other parents are reading

'My first birth experience was a nightmare'

Before deciding on a gentle water birth, Jesame first considered having a C-section. She and her husband, Michael, were terrified of having another vaginal birth.

"I did not have a birth plan because I thought I was safe with hospital practices," she shares in an email interview with SmartParenting.com.ph. "I had no idea that it would turn my first birth experience into a nightmare."

The World Health Organization's (WHO) latest guidelines aims to reduce medical interventions for healthy pregnant women. "If labor is progressing normally, and the woman and her baby are in good condition, they do not need to receive additional interventions to accelerate labor," says Dr. Princess Nothemba Simelela, WHO Assistant Director-General for Family, Women, Children and Adolescents.

Jesame says it was the opposite of what happened to her when she gave birth in a private hospital in the province (where she and Michael were based). She shares that she was induced even though her labor was progressing nicely. Her ob-gyn also broke her bag even if there was no apparent need for it. Episiotomy was also done without consent.

Jesame adds that she was not given a chance to push her baby out on her own — the midwife forced her baby out. It resulted in a uterine atony, a serious condition that happens when the uterus fails to contract after the delivery of the baby. According to Healthline.com, it can lead to another potentially life-threatening condition — postpartum hemorrhage.

ADVERTISEMENT - CONTINUE READING BELOW

"[I experienced] excessive bleeding for five days postpartum because everything went too fast, and I had healing issues with my tear," Jesame explains. "I was in and out of the hospital for a month. The entire experience made me feel that my body was incapable of giving birth."

What other parents are reading

Jesame with husband Michael.

PHOTO BY

courtesy of Jesame Nabong-Mesia

Choosing a gentle water birth

When she found out she was pregnant with her second baby in February 2018, Jesame was determined not to make the same mistakes because her second pregnancy was such a delicate one.

"My first ultrasound revealed subchorionic hemorrhage. so I was put on bedrest for weeks," she tells Smart Parenting. "My second trimester ultrasound showed that I had low-lying placenta, so bedrest was extended. I had threatened premature labor a few months later and was hospitalized. I was also admitted twice because of GERD (gastroesophageal reflux disease) attacks. I was only able to resume regular physical activities during the last trimester."

Jesame wanted to give birth in a private hospital in Metro Manila and considered St. Luke's Medical Center-Bonifacio Global City (SLMC-BGC), which was near her husband's workplace and Manila residence. Then she became a member of a Facebook group called "Gentle Birth in the Philippines," which eventually convinced her to choose it as her birth method.

"As I read success stories of gentle, unmedicated birth, I became more enlightened about the power of a woman's body and the benefits of having a natural birth to the mother and the baby," Jesame writes on her Facebook account.

She tells Smart Parenting that she and her husband had also attended a childbirth seminar facilitated by Pinay Doulas Collective, which convinced them that water birth was the best option for their pregnancy. It was also where she met her doula, Ros Padua-Macachor.

CONTINUE READING BELOW

Recommended Videos

What other parents are reading

Unfortunately, the ob-gyn she was seeing didn't do water birth. After getting recommendations from her Facebook group, she decided to visit Dr. Menefrida Reyes. "After a one-hour initial consultation, I knew that she was the one," Jesame writes. "She's a natural birth advocate and she's famous for doing successful VBAC deliveries."

It was also Dr. Reyes who gave her a natural birth plan template that served as her guide. Michael, who is a designer, made a custom layout for her.

Part of Jesame's birth wishes included not being given anesthesia or pain meds, not being hooked up to an IV, being allowed freedom of movement, and Unang Yakap with her baby.

PHOTO BY

courtesy of Jesame Nabong-Mesia

Though she had a delicate pregnancy, Jesame conditioned her mind and body in preparation for the delivery. "I kept my body active by doing light exercises and house chores and I read lots of articles and a book about natural birthing — Ina May Gaskin's Guide to Childbirth," she writes. "I also did a lot of mind conditioning and meditation in between."

ADVERTISEMENT - CONTINUE READING BELOW

What other parents are reading

Delivery day

A peek into Jesame's spacious birthing suite.

PHOTO BY

courtesy of Jesame Nabong-Mesia

Midnight of October 10, 2018, Jesame started feeling what she described as "menstrual-like cramps" that came every 10 to 12 minutes. She gave doula Ros a heads up and was advised to reserve her energy for active labor. When she woke up the next morning, the pain became more intense at the contractions came every four to five minutes. But it dissipated and became irregular after a few more hours.

Jesame decided to give her body a little push and walked around their building and climbed up and down the stairs. She snacked on dates (believed to help ripen the cervix) and by nighttime, stronger contractions came again. But Jesame was exhausted and decided to sleep it off.

By October  11, the pain continued to intensify. "I had to pause and do hip circles or go down on all fours to relieve myself," she writes. Fearing she had a urinary tract infection (UTI), she asked her husband to take her to SLMC-BGC.

When she notified Dr. Reyes of her status, she got disappointing news: her ob-gyn was scheduled to perform a difficult procedure in Quezon City. Instead, she was attended to by Dr. Karen Torredes, one of the few ob-gyn's in the hospital that practiced water birth.

ADVERTISEMENT - CONTINUE READING BELOW

What other parents are reading

Preparing for the water birth

Jesame arrived in the hospital at 9 a.m. When she went to the bathroom to pee, she shed her mucus plug. Convinced that she was in labor, she presented her birth plan to the nurse right away. "I consented to an initial internal exam and told her to 'be quick and gentle,'" Jesame shares.

When the OB resident arrived, she did another internal exam and told Jesame that she was already dilated at six centimeters. "This is it!" Jesame whispered.

By 10 a.m., she was transferred to the birthing suite. At 11 a.m., Dr. Torredes came to check on her and her doula also arrived. She was progressing and was dilated at eight centimeters.

At 11:30 a.m., Jesame was allowed to try the tub for 30 minutes to see if it would help manage the pain. "The moment I submerged my body, I knew I was not getting out anymore," she writes. "It was so soothing!"

What other parents are reading

Jesame's firstborn, Eli, was able to join mom and dad in the birthing suite.

PHOTO BY

courtesy of Jesame Mesia

ADVERTISEMENT - CONTINUE READING BELOW

Thirty minutes later, Jesame was fully dilated. Her OB and doula came back and told her it was okay to push when she felt the urge. On her Facebook post, Jesame wrote that pushing was the most difficult but also her favorite part of labor. "For months I've been conditioning my mind to just 'breathe the baby out' when the time comes. But it was easier said than done!" She had a lot of conflicting thoughts and fears but gradually let her body take over.

"I asked God to give me the strength on the next contraction. On the next wave, I took my deepest breath and gave my most powerful but smoothest push. I felt my baby's head crowning," Jesame writes. "I decided to finish it in one long push and felt her entire head, shoulders, body, and legs slide out of me."

Jesame hurriedly scooped her baby out of the water and described it as "the best feeling ever!"

PHOTO BY

courtesy of Jesame Nabong-Mesia

ADVERTISEMENT - CONTINUE READING BELOW

Her baby, a daughter they named Marcela Luna, weighed 7.1 lbs and was born at 12:34 p.m. As instructed in her birth plan, she had delayed cord clamping (around 20 minutes until the placenta came out) and it was Jesame's husband who cut the cord. The Unang Yakap protocol was also initiated.

What other parents are reading

'Trust in your body'

"Our first time together as a family of four," Jesame writes.

PHOTO BY

courtesy of Jesame Nabong-Mesia

There are only two hospitals in Metro Manila that offer water birth (the other one is Makati Medical Center), but Jesame still urges moms to research about water birth and consider it as another method of delivery.

"There's a lot of misconception about childbirth these days because of common birthing practices. Women are made to believe that childbirth is something that they cannot do by themselves — that they have to rely on pain medicine, artificial induction, or episiotomies. Yes, sometimes, these are necessary, but I hope that we don't forget that a woman's body is designed to give birth. It is capable of doing that."

For moms thinking of pursuing a natural delivery, Jesame says it is important to choose the right birth team and to prepare your mind and body for the delivery. Though she was not able to have her original ob-gyn deliver her baby, Jesame says Luna's birth still "turned out to be just as beautiful as I imagined."

ADVERTISEMENT - CONTINUE READING BELOW

What other parents are reading

Meet Jesame's birthing team including her ob-gyn Dr. Karen Torredes (far right) and doula Ros Padua. (second from right)

PHOTO BY

courtesy of Jesame Nabong-Mesia

"I believe that the first step toward achieving a successful childbirth experience is finding an OB who will respect your wishes," Jesame shares. Moments before her daughter's birth, Jesame did a quick rundown of her birth plan together with her doula and her OB. "They both assured me that my birth wishes will be respected."

"It was the most empowering experience I had as a mother, and I think every woman deserves to feel the same," Jesame shares.

One happy family!

PHOTO BY

courtesy of Jesame Nabong-Mesia

ADVERTISEMENT - CONTINUE READING BELOW

What other parents are reading

Celebrate your pregnancy milestones!


Enter your details below and receive weekly email guides on your baby's weight and height in cute illustration of Filipino fruits. PLUS get helpful tips from experts, freebies and more!

You're almost there! Check your inbox.


We sent a verification email. Can't find it? Check your spam, junk, and promotions folder.

Trending in Summit Network