Make a Postpartum Care Plan. It Will Help You Survive the First Few Weeks

Your baby's birth will be filled with adjustments and learning curves. Here's how to plan for it.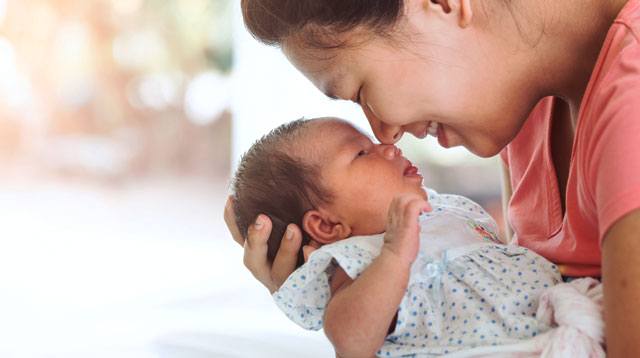 There are only some things we can control in life, and that's why we have nine months of pregnancy: to give us time to prepare for childbirth. Many preggos now have birth plans they thoroughly discuss with their doctors. But we often neglect to create a detailed postpartum care plan or how to take care of yourself and the baby those stressful first days after you deliver.

Ob-gyn Mariel S. Nevado-Gammad, M.D. stressed that whatever arrangements you've made to help you cope with the first few weeks of sleepless nights (also known as the fourth trimester), put it in writing. "It's not the only mom who should know about the plan but everyone in the immediate family. Expectations can be written here as well," she told SmartParenting.com.ph. 

"Most couples find it hard to think beyond the birth, but there's so much they can do to plan for a positive postpartum experience," Elly Taylor, parenthood researcher and author of the book Becoming Us: 8 Steps To Grow A Family That Thrives, told Parents. She calls it nest-building, rallying family and friends to help you get a good start at the most daunting job: parenting. After all, it does take a village to raise a child.  

What other parents are reading

Make sure you cover the essentials of your postpartum plan, whether it's just you and your partner who will take care of your newborn or you have your parents, in-laws or yaya to help. You can start working on this around the same time that you're fixing the nursery or packing your delivery-day hospital bags. 

ADVERTISEMENT - CONTINUE READING BELOW

1. Prep your newborn's essentials. 
"Make sure all baby needs are prepared. Diapers, clothes, etc., are all washed and are ready to be used," Dr. Nevado-Gammad advised. Make sure to wash the baby clothes, breast pump, bottles, swaddle blankets, or anything that your baby will touch. If you have plans to express breast milk, include instructions on how to thaw and which frozen batch to use first. Also, write down feeding preferences and whether you want your baby to use pacifiers. 

2. Prioritize your own needs as well. 
Prepare what will you need on your bedside table whether you're breastfeeding or expressing milk. Do you want to be woken up to feed the baby? Are you co-sleeping? Plot the spaces for your nursery and diaper changing area. There are some things in being a parent that you just figure out as you go along, so make sure you note it down as you and your partner decide on them.

What other parents are reading

3. Get help especially for household tasks. 
When you're attending to your newborn's needs around the clock, you may not have time to cook or clean. Stock your pantry, and then make arrangements for family or friends to visit and cook for you or bring cooked healthy meals. You need the strength to pull the all-nighters, so support does not need to just come from helping you prepare meals. 

"Be ready to ask for help. Whether it's the mom's a first- timer or not, having a newborn is overwhelming," Sr. Nevado-Gammad stressed.

Jot down contact numbers of people who are just one call away to help you, perhaps, order food, or bring you to the doctor in case your husband is not available. They can also be the ones to look after the baby so that you can take a decent shower. Just keep in mind that it's okay to be a little selfish. Remember that the better shape you are physically, emotionally, and mentally, the better you can care for your newborn. 

ADVERTISEMENT - CONTINUE READING BELOW

Recommended Videos

4. Have a list of emergency numbers to call. 
Aside from having your family and friends' on-call list, make sure you list down the contact information of your ob-gyn, your baby's pediatrician's, your lactation counselor or postpartum doula, and your hospital's direct emergency room line, just in case something goes awry. Print it in bold letters, and post it on the refrigerator door or a place in your house where it's easy to spot and read.

What other parents are reading

5. Set boundaries for social visits.
Apart from visits from family and friends who can help you, social visits can be stressful sometimes. "Everyone in the family is naturally excited about the newest (and cutest) addition in the family. However, some moms prefer a lot of visitors, some who prefer to wait for a few days. Do whatever works for the mom," Dr. Nevado-Gammad shared.

Set some rules such as asking visitors to sanitize their hands before holding your baby and strictly no kissing the baby. Since we're in the age of social media, you might want to include rules about taking a photo of you and your baby. Dr. Nevado-Gammad advised visitors, "Kindly ask permission from the parents (especially the mom!) if it's okay to take pictures of the baby, especially if you plan on posting it on social media.

6. Arrange for who can look after the older kids.
If you have older kids, make arrangements on who will look after them when you're still recovering from childbirth and focusing on your newborn's needs. "Make sure someone is available to look after the other children, especially who will bring them to school, attend to their needs," Dr. Nevado-Gammad suggests.

ADVERTISEMENT - CONTINUE READING BELOW

It easy just to pass these tasks to the hubby, but remember your husband should also have his bonding time with the new addition to the family. She encourages dads to be involved. "Here in our country, paternity leave is just seven days. Make a good plan with the husband to make the most out of these days," she suggests. Similarly, find pockets of quiet, relaxed time to bond with your older kids. 

What other parents are reading

7. Start to figure out your parenting style.
It's easy to get overwhelmed by the advice that will come pouring in once the baby arrives (you've probably received them while you were still pregnant!), so writing them down can help you focus and filter them to what suits you.

For grandparents, Dr. Nevado-Gammad suggests that they "let the parents figure things out on their own." They can undoubtedly offer help if asked, but try not to take over or overly criticize the new parents' ways. They may mean well, but they also need to respect the new parent's wishes. You can devise a separate policy for a yaya if you have one. 

Having a postpartum plan can help in prioritizing baby's needs and how you want those needs to be met. It can also help you feel less guilty about spending some alone-time and entrusting baby in someone else's care for a few hours. You'll need those de-stressing hours for your mental health. 

To get you started, find templates online that can serve as your outline. You can delete and add items to the list as you see fit. DONA International has a template that pretty much covers everything. Here's another sample from Nashville Doula Services. 

ADVERTISEMENT - CONTINUE READING BELOW




When you're done, print it and make copies for everyone who will be involved in your recovery and your newborn's care. Having a postpartum plan can really make a difference in your life as a new mom, in your relationships, and your baby's overall well-being. 

Dr. Mariel S. Nevado-Gammad, M.D. is a Fellow of the Philippine Obstetrical and Gynecological Society and the Philippine Society for the Study of Trophoblastic Disease. She holds clinics at The Asian Hospital and Medical Center 771-0805; Medical Center Muntinlupa, Inc 861-1670; and The Premier Medical Center (020 865.2200 loc 165.

What other parents are reading

Celebrate your pregnancy milestones!


Enter your details below and receive weekly email guides on your baby's weight and height in cute illustration of Filipino fruits. PLUS get helpful tips from experts, freebies and more!

You're almost there! Check your inbox.


We sent a verification email. Can't find it? Check your spam, junk, and promotions folder.

Trending in Summit Network