Mom, a Doctor, Had a Vaginal Birth With Twins, One of Whom Was Turned While in the Womb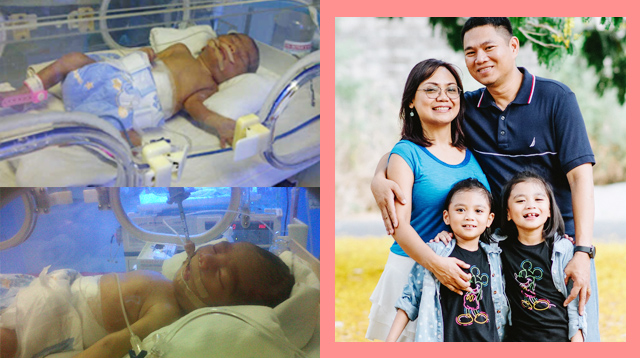 Carrying twins automatically makes a pregnancy a high-risk one. When mom Sheryl Jalaidi, 39, a licensed anesthesiologist based in Bataan and Olongapo City, found out she was pregnant in 2011 and was expecting twins, she was apprehensive.

"The ob-sonologist asked, 'May lahi po ba kayong kambal?' I answered her, 'Meron po. Ang lola ko po ang kambal.' Then, she said, 'Kasi kambal itong anak ninyo,'" Sheryl shares in an interview via Facebook Messenger.

The mom, who was 31 at the time and in her first year of residency training as an anesthesiologist, could not believe it. "My then-boyfriend (now husband), Al Rashid Jalaidi, was also just a post-graduate medical intern. We were a bit nervous because we didn't think we were ready to have a family."

What other parents are reading

The twins, Alenah and Almina, were born at 31 weeks via spontaneous normal delivery.

PHOTO BY

courtesy of Sheryl Jalaidi

Despite the pregnancy news, Sheryl was determined to finish her residency. "As much as possible, our bosses advised us not to get pregnant during training, but since nangyari na nga ito, and thinking na I would be repeating a whole year level if I quit, I pushed through with the training," she explains.

ADVERTISEMENT - CONTINUE READING BELOW

Because it was a high-risk pregnancy, Sheryl's colleagues tried to help her out as much as they could. "[They] arranged certain duty hours for me para makapahinga ako and ni-li-limit din nila ang mga procedures and surgeries na gagawin ko," she shares. (Exposure to anesthesia can possibly contribute to premature birth or birth defects.)

In hindsight, Sheryl admits she may have pushed herself a little too much at the time. "Masipag ako mag-trabaho. I would exhaust myself to accomplish the usual number of workloads dahil ganun po ang stigma sa aming mga training doctors. Matigas rin ang ulo ko," she reveals.

What other parents are reading

A challenging twin pregnancy

The twins stayed inside the NICU for two months, fighting one complication after another.

PHOTO BY

courtesy of Sheryl Jalaidi

Aside from "residency-related" challenges, Sheryl experienced emotional stress because she kept thinking that she was not yet ready to start a family. She had episodes of high blood pressure, which moms of twins are more prone to "because of the hormonal surge," she explained.

Twins are more likely to be born early, and on the night of May 25, 2012, Sheryl's labor pains began. "I had a heavy dinner and after an hour of watching TV, I stood up and suddenly, my bag of water broke." Sheryl, who was on Week 31 of her pregnancy, thought it was just incontinence, but she felt contractions.

Al did an internal exam at 11 p.m. and saw that Sheryl was already dilated at 2 cm. The couple immediately went to the hospital and was admitted.

Unfortunately, Sheryl's ob-gyn and anesthesiologist were both running late. Sheryl was given an epidural when she was already 10 cm dilated at around 7 a.m. the next day when one of the twins was already crowning, scrapping the initial plan of doing a C-section.

ADVERTISEMENT - CONTINUE READING BELOW

Recommended Videos

What other parents are reading

"According to my ob-gyn, maliit lang pala ang babies. Kaya ko i-deliver via normal spontaneous delivery," Sheryl shares. "Right then and there siya nag-decide."

When the first of her twins was delivered, Sheryl heard a very soft cry. "She was limp and was placed on my chest gasping for air," she shares.

Getting the second twin out was more difficult as she was in a transverse position, which meant she was lying sideways in Sheryl's uterus. Sheryl's ob-gyn decided to do an internal podalic maneuver, an obstetric procedure where the fetus is turned inside the womb to deliver the fetus, which is painful as it sounds.

"At that time, I felt a lot of chest discomfort while the doctor was performing the internal podalic maneuver, and that's the last thing I remember. It took around 10 minutes to get my second baby out, but I didn't see or hear her when she was finally delivered," Sheryl shares.

What other parents are reading

Overcoming twin pregnancy complications

Sheryl was with her twins every day in the NICU, talking and breastfeeding them so they can get stronger.

PHOTO BY

courtesy of Sheryl Jalaidi

ADVERTISEMENT - CONTINUE READING BELOW

The twins, Alenah and Almina, stayed in the neonatal intensive care unit (NICU) for two months as they fought for their life. They had patent ductus arteriosus, a congenital heart defect where there is an unclosed hole in the aorta. This major blood vessel should have closed had the twins reached full term.

The lungs of the girls were not yet fully developed, and it resulted in acute respiratory distress syndrome. Since they were on respirators for almost a month, they also developed bronchopulmonary dysplasia, a form of chronic lung disease that affects premature babies and is the result of damage to the lungs caused by mechanical ventilation and long-term use of oxygen.

The twins also had to overcome retinopathy, a potentially blinding disease caused by abnormal development of retinal blood vessels in premature infants exposed to high amounts of oxygen. Lastly, because of their prolonged hospital stay, they had sepsis and pneumonia.

Sheryl never left her twins' side while they were in the NICU. As a doctor herself, the mom of two knew she had to strictly follow doctors' orders. "I was there every single day," she shares. "I talked to them, I watched over them, and I breastfed them. If I didn't have any milk, the other NICU moms would donate breast milk for my babies."

Sheryl with her husband Al Rashid and her twins, Alenah and Almina.

PHOTO BY

courtesy of Sheryl Jalaidi

ADVERTISEMENT - CONTINUE READING BELOW

What other parents are reading

Celebrating her twin warriors

On their 7th birthday, Sheryl and her husband decided to make a grand celebration inspired by the movie "Chronicles of Narnia" to mark their preemies' fight against the odds.

PHOTO BY

courtesy of Sheryl Jalaidi

Today, Sheryl can finally breathe a sigh of relief because her daughters have overcome the circumstances of their premature birth. The twins are growing healthier each day, thanks to their regular checkups with their pediatricians.

Sheryl mom admits she is still overprotective of her girls because of their "delicate" history. "They had seasonal bronchial asthma and allergies, and we came to a point where we would often bring them to the hospital for simple cough and cold in fear that their conditions would get worse," she shares.

Grateful at how far her daughters have come, Sheryl and Al decided to give them a grand 7th birthday celebration with a theme inspired by the movie The Chronicles of Narnia.

ADVERTISEMENT - CONTINUE READING BELOW

 

 

The twins' birthday is Narnia-inspired because Sheryl views her daughters as warrior-princesses and her little miracles.

PHOTO BY

courtesy of Sheryl Jalaidi

 

The twins did not know their party was going to be Narnia-themed, so they were overwhelmed on the day. "After the party, we noticed a big improvement in their personality. They were so excited to share their experience with their friends and their confidence went on a higher level," Sheryl notes.

"The wardrobe scene [in the movie] really caught their attention," Sheryl adds. "It also depicts 'strong-willed' characters with two of the main characters (Susan and Lucy) as warrior-princesses with special powers," says Sheryl who sees her twins as princesses because of what survived.

She continues, "They are miracles for being able to endure all the prematurity complications so I wanted them to have a memorable and heartwarming party. As in the movie, I always tell them, 'Courage, dear heart.' My daughters fought and beat the odds, and I consider them true warrior-princesses."

ADVERTISEMENT - CONTINUE READING BELOW

 

 

We think mom Sheryl also deserves to be called a warrior princess for beating the odds with her twins!

PHOTO BY

courtesy of Sheryl Jalaidi

 

What other parents are reading

Celebrate your pregnancy milestones!


Enter your details below and receive weekly email guides on your baby's weight and height in cute illustration of Filipino fruits. PLUS get helpful tips from experts, freebies and more!

You're almost there! Check your inbox.


We sent a verification email. Can't find it? Check your spam, junk, and promotions folder.

Trending in Summit Network