LOOK: This Christmas Village In Misamis Oriental Features Your Kids' Fave Disney Characters

Pinoys don't run out of ways to celebrate the holiday season.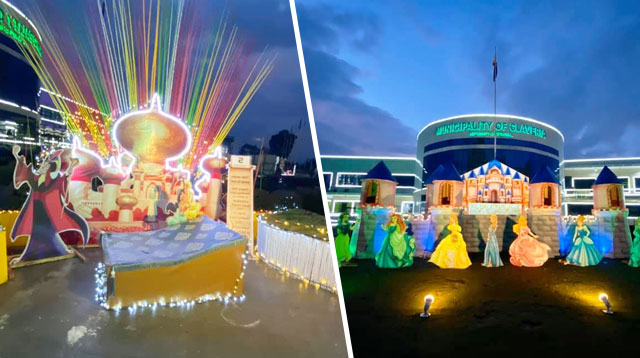 The Municipality of Misamis Oriental proudly opened their Disney-Inspired Village to the public last month, but until now, local residents and tourists alike are stopping by to join in on the festivities.

The Christmas Village features some of the most famous characters from your children's (and probably yours, too) favorite Disney animated movies.

It was a competition set by the local government to allow everyone to experience what it's like to go to Disneyland without having to leave their hometown. You can freely roam around and take pictures with all your beloved Disney characters there.

Guess the answer to Moana's question "How far I'll go?" is this. Moana and Maui's boat made it to Misamis Oriental!

ADVERTISEMENT - CONTINUE READING BELOW

CONTINUE READING BELOW

Recommended Videos

The Frozen Fever is still not over. Want to hear Elsa and Anna sing, "Do You Want to Build a Snowman?"

The search for the magic oil lamp that unleashes a wisecracking, powerful, and larger-than-life genie is over as the Christmas village brings Aladdin.

ADVERTISEMENT - CONTINUE READING BELOW

You will never be old enough with this mini Mickey Mouse-themed house.

The loyal pixie friend of Peter Pan is here. Let Tinkerbell's sparkling pixie dust fly you to this huge boot.

ADVERTISEMENT - CONTINUE READING BELOW

The classic and one of the most favorite character of all time is also here. Take a look at this small garden of Winnie the Pooh and friends.

The five core emotions of the eleven-year-old Riley: Fear, Anger, Joy, Disgust and Sadness from the animated movie Inside Out is here. But do not worry because the only emotion you'll feel is bliss and excitement!

ADVERTISEMENT - CONTINUE READING BELOW

Be reminded of how love and kindness prevails as Snow White and the Seven Dwarfs welcome you into the Christmas Village.

ADVERTISEMENT - CONTINUE READING BELOW

The grand opening also includes competitions like Disney-Inspired Costume Contest and Disney-Inspired Singing Contest. Tourists not only enjoyed the Disney character displays but also the food bazaars and fireworks display.

When asked about the theme, municipal administrator Homer Bana said "Yung tema namin ngayong taon ay 'Pasko Saulogon, Pamilya Lig-onon' (Pasko Ipagdiwang, Pamilya Pagtibayin)."

The Christmas Village lights up every night at six.

Trending in Summit Network