You Can't Resign From Parenting, And That Leads To Mom Rage, Burnout

Parenthood is challenging enough when there was no pandemic.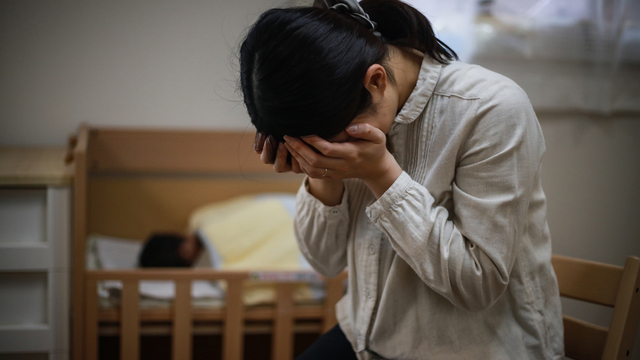 Pre-COVID, we thought 24 hours was not enough to fulfill our parenting responsibilities. But pandemic parenting has moms and dads feeling like they do not even have time to breathe.

"I feel like I am suffocating, like we are trapped, because we cannot quit from this!"

"It feels like I am not allowed to or cry, or to ask for help, even though I know that I can ask (my husband). But I just can't — I will feel like I've failed."

"When (my daughter) refuses to eat, it stresses me out, and I yell at her, without even realizing it. After that, I am consumed with guilt."

Do these lines sound familiar? Have you said them yourself? You may be suffering from parental burnout. But how do you know if it's burnout or you're just exhausted?

What is parental burnout?

Dyah Larasati, a psychologist who has worked with Doctors Without Borders/Médecins Sans Frontières (MSF) in Indonesia, explains.

"Burnout can happen when an individual experience extreme emotional, physical and mental exhaustion as a result of prolonged and excessive stress.

"Parent burnout is a condition of intense exhaustion specifically related to one's parenting role, reducing their emotional capacity and leading them to be emotionally detached from their children.

"In this situation, parents feel so drained, to the point that they do not have any capacity to even think about parenting."

In general burnout, you can manage or come back from it by addressing the cause. If it's work, you can change careers. If it is stress, you take a break.

ADVERTISEMENT - CONTINUE READING BELOW

Parents, however, cannot "resign" from their responsibilities. Describing the feeling as "suffocating" can eventually be literal — one feels trapped.

What makes it worse is it feels like burnout is something you cannot say because it makes you look like a bad parent.

Why does parental burnout happen?

One of the reasons, Larasati says, is a parent's desire that everything needs to be perfect, so much so that the simplest mistake feels catastrophic. He or she tries to control everything, which takes up a lot of energy, leading to extreme exhaustion.

Parent burnout also can happen when you feel undervalued, and you are not getting enough support. It occurs when you are often subjected to criticism or negativity, especially from your co-parent or family.

You're expected to get through anything without complaining "because that's the job of a parent."

Juggling life as a parent requires double of everything: focus, energy, and presence. And guilt creeps in when you can't get an A+ on each task at hand.

S, a mother to a 2-year-old child, shares, "The hardest part is the guilt. I cannot put myself 100%. If I am working, I feel guilty about not spending time with my daughter. But if I decide to spend the afternoon with her, I cannot stop thinking that I will get fired because I decided not to reply to emails."

Signs of parental burnout

Larasati lays out the signs that it could be parent burnout.

Extreme and constant exhaustion

Do you have difficulty getting up every day? Like you have no energy to perform basic tasks such as eating or taking a shower?

CONTINUE READING BELOW

Recommended Videos

It could be mental exhaustion, like if you have difficulty or experience delays in processing information, and your responses are incoherent. Maybe you are becoming forgetful, and you have difficulty concentrating.

Irritability and frustration

Do you quickly get irritated? Stress and exhaustion can easily lead to anger and frustration. This can happen when you don't have time or opportunity to process your feelings or thoughts. When you get irritable, you may have a tendency to overreact when you get upset.

Detachment

Because of intense exhaustion and difficulty processing emotions, you might withdraw from your surroundings and lose interest in the world and in your children. When exhaustion takes control, any interaction can be overwhelming.

If you isolate yourself from your friends and support system, you might feel emptiness and hopelessness, and this can actually make the situation worse.

Fantasies of escape

Do you feel like you have no control? Do you feel helpless over the never-ending tasks? Have you thought about running away?

Since you can't just "resign" from parenting, some experiencing burnout may try risky behavior, like alcohol, cigarettes, even drugs.

What are the effects of parent burnout?

It's essential to recognize the signs of parent burnout because of the possible damaging impact both to parent and child.

Parents who are suffering burnout may start to feel numb, and taking care of a child's needs can seem impossible. That can lead to parental neglect.

Due to intense exhaustion, burnt-out parents can also be very irritable. This leads to a limited capacity to resist violent and disruptive behavior. In many cases, burnt-out parents have been found to have committed both physical and verbal violence toward their children.

ADVERTISEMENT - CONTINUE READING BELOW

Other severe effects can include harmful behavior, including suicide, as a form of escape. There is also a possibility of depression, marital conflict, and other addictive behavior.

How can parents keep it together?

Lyka Lucena is a mental health social worker for Doctors Without Borders/Médecins Sans Frontières (MSF). Her first piece of advice: "Acknowledge that we are all experiencing challenging times and that you are not alone in your struggles. A lot of parents are having a tough time."

It's good to remember that taking care of yourself is just as important as taking care of your kids.

Lucena says, "Be proactive and invest in your own mental health. Take regular breaks and do something that you enjoy doing, preferably healthy activities that are good for your physical and mental being.

"In case you need more specialized help, do not be afraid to seek advice from mental health professionals. You are not only doing this for yourself but for your family as well."

Larasati agrees that asking for help is vital and nothing to be ashamed of. "Sometimes, we feel like we have the whole world on our shoulders, and we don't even realize that other people can help.

Recognizing your limitations is a sign of intelligence, strength, and maturity. It is okay to need help. You are not alone."

You can also find relaxation techniques to help when you find yourself getting annoyed or frustrated. Lucena says, "Even just a minute of breathing exercise can be helpful in keeping you collected and calm. It also gives you time to compose yourself. Just remember that this takes effort and practice."

ADVERTISEMENT - CONTINUE READING BELOW

Larasati also wants parents to remember, "You are human. Allow yourself to feel tired. Allow yourself to cry and oversleep and to feel hungry. Have compassion for yourself.

"If you feel guilty after yelling at your kids, accept it, forgive yourself, talk to them, apologize, and explain. Accept that you are human, you make mistakes, and you can learn from them. You can bounce back."

Many people take "social media breaks," and Larasati says this is a good idea.

"Social media can give the illusion that everything should be perfect all the time. But remember that on social media, people post the best of out of hundreds of lousy pictures, and that's not always their reality. Give yourself a break from that"

How do you help someone who might be experiencing parent burnout?

Do you see a friend or relative exhibiting signs of parent burnout? Of course, you want to help, but you're not a mental health professional.

Lucena explains that anger, loneliness, frustration are not necessarily signs of depression or mental health issues. "It is common for parents to feel such emotions, especially with the extra stresses brought about by the pandemic. Feeling this way does not make you bad parents."

If someone confides in you, listen with understanding and without judgment. You do not even have to provide a solution; often, listening is enough. Remind this person that he or she is not alone. Check on your parent friends from time to time, and remind them that you can be available for conversations and venting.

ADVERTISEMENT - CONTINUE READING BELOW

It can also help inform the spouse or partner of that parent about the concern, so they will have support within the family. Remind them to talk to relatives or other family members.

If coping strategies are no longer effective, encourage these parents to reach out to professionals. Every individual needs support, love, and attention, even — or primarily! — parents.

What other parents are reading

Celebrate your pregnancy milestones!


Enter your details below and receive weekly email guides on your baby's weight and height in cute illustration of Filipino fruits. PLUS get helpful tips from experts, freebies and more!

You're almost there! Check your inbox.


We sent a verification email. Can't find it? Check your spam, junk, and promotions folder.
Trending in Summit Network