We All Need This Stress-Relieving Therapy for Our Aching Backs

We got your back, moms.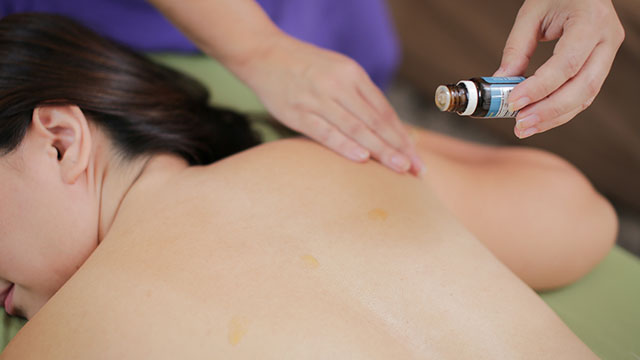 From pregnancy to parenthood, mothers become prone to physical injuries, especially on the back. Pregnancy means additional weight from the baby pulling at your stomach and back muscles.

Post-pregnancy, the constant strain continues as we perform routine tasks such as carrying a baby or a toddler, picking up toys from the floor, or getting stuck in a certain position while breastfeeding. For working moms, the strain can come from driving in dreadful traffic conditions, and sitting (or standing) all day. All of these can cause misalignment of the spine and tightness of the muscles. Over time, this could translate to perpetually-aching back and shoulders. How does one correct years of wear and tear?

According to Kate Moynihan-Gonzalez, a certified aromatherapist, aesthetician and massage therapist, yoga teacher, and wellness experience designer, a natural way to release strains on the back is through aromatherapy. "Aromatherapy can relieve your aching back and address spine issue using certain techniques such as aromatouch therapy and raindrop technique," she says.

What other parents are reading

Moynihan-Gonzalez says the raindrop technique (commonly called RDT) is a very specific aromatherapy treatment that relies on the properties of essential oils instead of manual manipulation to release stress from the back. Unlike swedish, shiatsu, or deep tissue massage, RDT relies mainly on the therapeutic effects of essential oils to help with electrical and structural alignment of the body. "The raindrop technique can provide a deeply harmonizing, rejuvenating, comforting, and relaxing experience," she says. 

It is called the raindrop technique because the treatment involves dropping essential oils from about 6 inches above the spine, which simulates the feeling of raindrops gently falling on the back. RDT is also characterized by the application of essential oils using very light, feathery strokes similar to a massage technique called "effleurage." RDT does not rely on pressure or heavy strokes to affect the muscles; rather, the light dropping of essential oils and the feathery strokes are designed to make a very efficient entry of essential oils into the body.

ADVERTISEMENT - CONTINUE READING BELOW

The selection of essential oils to use are key to the effectivity of RDT. Classic RDT is done using what Kate lovingly calls the "Mediterranean Crew." They're composed of all the herbs you can find in that region: Basil, Cypress, Marjoram, Oregano, Peppermint, Thyme, and Wintergreen. Joining the crew are blends called Aroma Siez®* and Valor®*.

What other parents are reading

Since classic RDT is done using pure, undiluted essential oils, carrier oils like virgin coconut oil can be used to dilute and avoid redness or any sensitive reactions. These essentials oils are key components of the technique because each of them was selected for their specific properties and effects on the body. Together, these essential oils can help balance energy centers of the body, release stored negative emotions, and enhance positive emotions.

Scents from pure essential oils also enter the body through the nose and into the limbic system of the brain, the seat of our emotions. Certain scents like Lavender, and citrus oils like Orange and Lemon, can enhance the mood, encourage feelings of joy, and enhance relaxation.

Aside from RDT, another option for releasing muscle tension is through Aroma Touch Therapy (ATT), Kate's highly personalized session of aromatherapy, body work, and energy healing. "Each person is different, and some people need deep tissue massages or trigger point manipulation to release tension," she explains. Ideally, RDT or ATT can be done once a month for those in the peak of health. Do it more often if you feel depleted or if you are preparing for something big that would require your full attention, like exams week of our kids. 

CONTINUE READING BELOW

Recommended Videos

However, being a mom in itself is "big," and whether it's lifting and carrying your young kids, or performing our daily tasks, or spending hours behind the desk or on the wheel, we use a whole range of motions that strain the muscles and the spine over time. I have personally tried this treatment thrice, and each time, the effect on my spine alignment is immediately apparent that my height increases by about an inch immediately after, as a result of muscle tension release. My favorites that work wonders for me are Basil, Wintergreen, Marjoram, Cypress and Peppermint essential oils. 

Needless to say, quality is everything when choosing essential oils to use for therapies. And since many moms are already into essential oils, Kate says, "If you are one of the thousands of mamas who are blessed with essential oils in your home, do not be a collector; be a user. Liquid magic gold is in your hands. Be the healers that you are. And be recipients of these therapies as well, because we cannot pour from an empty cup." 

*Exclusive Young Living blends.

Learn more about RDT, ATT, and aromatherapy, and connect with thousands of wellness practitioners and fellow moms through The Oil Natural Project, also known as TONP (Instagram: @theoilnaturalproject; email: oilnaturalproject@gmail.com).

What other parents are reading

Celebrate your pregnancy milestones!


Enter your details below and receive weekly email guides on your baby's weight and height in cute illustration of Filipino fruits. PLUS get helpful tips from experts, freebies and more!

You're almost there! Check your inbox.


We sent a verification email. Can't find it? Check your spam, junk, and promotions folder.

Trending in Summit Network